First impressions: Selorm's first 3 months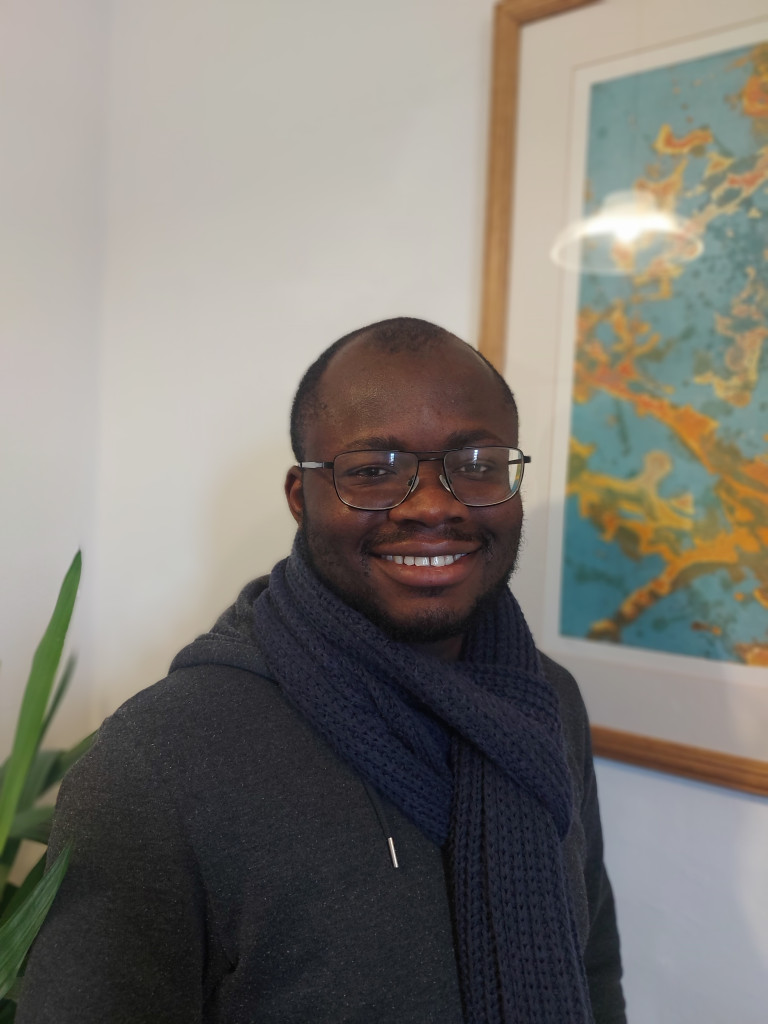 Since joining the team at the end of September, Selorm has really impressed us by his enthusiasm, commitment, attention to detail, ambition, care and boldness. We chatted to him about his experiences so far with the team.
We are super grateful to have you on the Talbot Jones team. What made you apply for the role?
I have always enjoyed analysing risk and data in previous roles as a reinsurance and actuarial analyst. When I moved to the UK from Ghana, I wanted to continue doing this or something very similar. Unfortunately, all the reinsurance and underwriting opportunities that came my way were far from home but being close to my family was a priority.  When I heard of the opening at Talbot Jones, I was excited by the opportunity to apply my knowledge and experience to broking. It was the best – I get to be with family and practice commercial insurance. I had met Richard, our Managing Director, through the CII mentoring programme by then and was impressed by his profile and approach to insurance as a broker. 
What has your role involved over the last 3 months?
Collecting and analysing information from clients for the purposes of reviewing their insurance needs and getting the best and most competitive insurance cover terms. I am also involved in general operations of the office, especially when Richard is away, attending to client queries and following up with outstanding tasks. There is however one I did not expect but enjoyed very much – helping our office relocation to Bensham Grove Community Centre. While helping with several DIY tasks like dismantling and assembling furniture and hanging pictures I discovered there are more potentials. I might just start a part-time business as a Handyman or volunteer to help out with some charities while still practicing insurance broking.
What have you most enjoyed?
The uniqueness of each client, their needs and insurance requirements. This challenges me to learn more, pay attention to details, ask important questions and never assume. Secondly, the quality of the work-life balance is amazing! I have never seen anything like this in my over 7 years of working experience in banking and insurance. In our new office at Bensham Grove Community Centre, we have a studio, with lot of interesting activities and games, where employees can take some time off to recalibrate. I am also considering to take a course in Pottery or Silversmithing, fully sponsored by the business, at part of our fun-packed and networking activities for the year. 
What are your proudest of?
When I won my first new piece of business and the client later called Richard (our MD) to say thank you and give feedback on the service received from me. This client had wanted to deal with Richard, but I offered to help because Richard was away, and it seemed rather urgent as the client had a deadline to submit proof of insurance. The client was very happy with the quick turnaround time to meet her deadline and how very simple I had made the process for her.
What would you like to achieve within your role?
Personally, I want to finish off my Advanced Diploma in Insurance from the CII to become chartered within the next 2 years and at least start a master's programme. The Advanced Diploma in Insurance is a professional qualification from the Chartered Insurance Institute that demonstrates an enhanced understanding of insurance practice, both technical subject matter and overall application skills. For the business, I want to contribute to at least a 100% growth in revenue within the next 4 years and to making Talbot Jones Limited the household name when we think of insurance for charities and Third Sector organisations in the North-East and even beyond.
Tell us about a memorable moment.
My first day at Talbot Jones Limited – 26/09/2022. I felt very much at home and welcome. Everyone was very friendly and supportive. I remember Joanna taking me on a tour of the office building and a photoshoot later that day. From the very first day I could see the values; Community, Excellence & Integrity, not just on the walls but in the way of work and life of everyone at Talbot Jones Limited.
What key learnings have you appreciated?
The conscious and continuous effort to imbibe an organisational culture into how we work and do things at Talbot Jones stands out to me. This is something I am learning to emulate even in my personal life. The willingness to help businesses that are not our clients as well as the team's commitment to providing the right advise to our clients and not just looking out for opportunities to make money really stands out to me in this very competitive insurance industry. This was very encouraging and reminded me of our values of Community and Integrity. The focus and intent on continuous development throughout the company challenges me every day. I have completed a Cyber Insurance Course, First Aid Course and the just recently the Managing Safety Course which have enhanced my knowledge and understanding to better support our clients. That is Excellence, another of our core values!
I want to say a big thank to the directors for hiring me. And to everyone at Talbot Jones – Sue, Miri, Joanna – thanks for making my onboarding and transition a lot more fun.
Talbot Jones Ltd is a family-run Chartered Insurance Broker specialising in Third Sector and Professional risks. Get in touch for free insurance advice, review or quotation.
Talbot Jones Ltd incorporates March Insurance Services, a Chartered Insurance Broker specialising in Agricultural and Hospitality Risks.