Could Dodge's Last 'Last Call' Edition Have 1000 HP? We Hope So
Dodge will reveal its final "Last Call" special edition in Las Vegas on March 20.In anticipation, we speculate about what it could be: How about something with 1000 hp?For those who forget, the "Last Call" editions are send-offs to the outgoing gas-burning Charger and Challenger.
It's no secret that Dodge has one final "Last Call" car on the way—the company has been teasing it ever since the seven-part series started with the Shakedown Challenger last August. Well, strap in, because Dodge will finally reveal the eagerly anticipated machine in Las Vegas on March 20.
Hellephant? Hella Yes!
Since twiddling our thumbs is boring, we decided to dust off our usually dormant thinking caps to brainstorm what to possibly expect from the final "Last Call" car. Dodge won't spoil the surprise by confirming if the last one will be based on the Charger or the Challenger (or maybe both), but the evidence suggests the latter is more likely.
Mopar Hellephant 426 supercharged crate Hemi engine.
Dodge
Projecting what goodies the last "Last Call" Dodge has in store, we see one of two eventualities playing out. One we think (and hope) could happen is a Charger or Challenger packing the 1000-horsepower leviathan that is the Hellephant crate engine. Of course, achieving the reliability standards needed for a production product, even for a limited-run product, may be proving difficult.
Flex Fuel in Its Future?
The other potential powertrain involves E85 flex fuel and upwards of 909 horsepower. Road & Track has been speculating since July that Dodge is planning to give a Challenger a V-8 with that much horsepower by using E85. It could also better explain why Dodge has had to delay the car for so long.
It was originally supposed to show the final "Last Call" model in October at SEMA 2022. Dodge ultimately scrapped that plan after seven engines exploded during durability testing. "So far, we've grenaded seven engines," Dodge CEO Tim Kuniskis told reporters, as quoted by R&T, during a background event leading up to SEMA.
The Dodge Charger King Daytona and Black Ghost Challenger "Last Call" models both feature a boost in performance. Each ups the power to a Jailbreak-matching 807 horsepower. The pairing is based on the widebody Charger and Challenger's 797-hp Hellcat Redeye models, with an additional 10 ponies added to the mix.
The other four of the previously announced special editions are essentially just visual packages being sold in limited quantities, but Dodge promises the last will be something special.
A New Demon Crate?
Kuniskis explained that it is easy to produce more power with the Hemi setup, hence the King Daytona and Black Ghost each earning 10 horsepower. However, upping power by too much brings issues.
"When you take a Hellcat and you want to add more horsepower in street trim, you know for a daily driver or a car you take to the track, you know street and strip, or quite frankly even for Direct Connection, it's very, very easy to do. Unfortunately, when I sell it as a commemorative edition, I've got to put it through the final production duty cycles," said Kuniskis.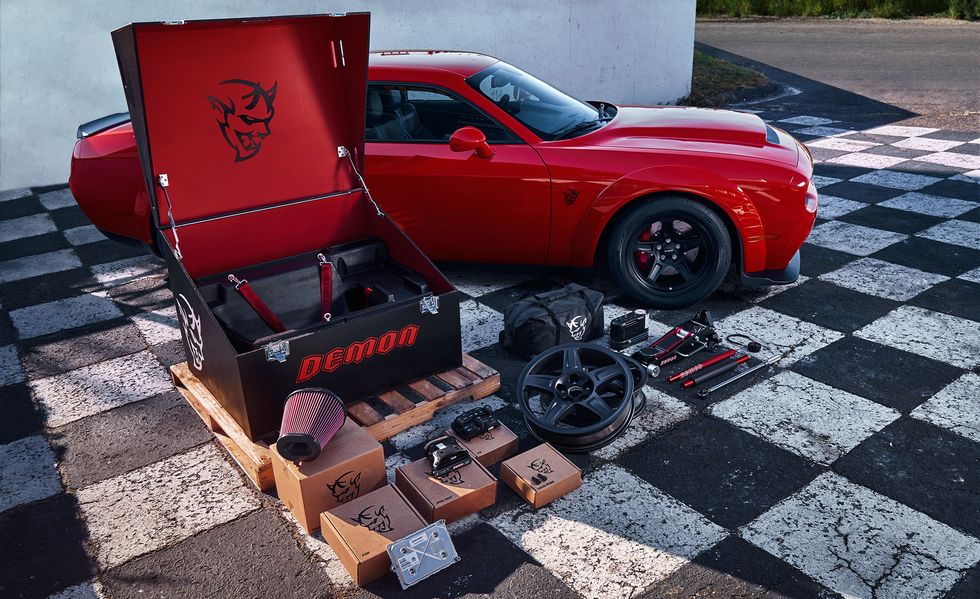 Dodge
Delays aside, it would be great to see Dodge offer more than simply a power boost. Something akin to the $1 Demon Crate from 2018 with its hydraulic floor jack, impact wrench, torque wrench, tire-pressure gauge, fender cover, and matching skinny front wheels designed for the drag strip.
Another car capable of wheelies is a reasonable ask in 2023, right? Either that or something with between 909 and 1000 horsepower will satisfy us.
This content is imported from poll. You may be able to find the same content in another format, or you may be able to find more information, at their web site.