Elon Musk Thinks Tesla Will Make Those Price Cuts Back Though Autonomy
Elon Musk is willing to take the hit on margins if you couldn't tell by all the price cuts, Renault most certainly isn't, and the F-150 Lightning's first conquest outside North America will be Norway. All that and more in this edition of The Morning Shift for Thursday, April 20, 2023.
Tesla's Big Discounts Worked, Sort Of
1st Gear: Fleet Over Margins
Tesla's first-quarter earnings call happened yesterday, and during it CEO Elon Musk defended his strategy of aggressively, repeatedly lowering prices, prioritizing volume and fleet size over margins. From Automotive News:
"We've taken the view that pushing for higher volumes and a larger fleet is the right choice here, versus a lower volume and higher margin," Musk said on Wednesday's quarterly earnings call. "However, we expect our vehicles over time will be able to generate significant profit through autonomy."
Moreover, Musk said, Tesla's margins remain among the healthiest in the industry even after multiple rounds of price cuts this year for its Model 3 sedan, Model Y crossover, Model S sedan and Model X crossover.
"While we reduced prices considerably in early Q1, it's worth noting that our operating margin remains among the best in the industry," Musk said, adding that global production should reach between 1.8 million and 2 million this year. In 2022, Tesla reported global production of about 1.4 million.
Musk also praised ongoing development in Tesla's Full Self-Driving beta, and predicted that Tesla might even achieve "full autonomy" in 2023 — whatever that means. "I hesitate to say this, but I think we'll do it this year," the CEO said on the call, quoted by Electrek.
Clearly, Musk's hope, in the long run, is that Tesla will make up those forfeited margins over the life of its vehicles via autonomous services — not to mention the $15,000 price tag Full Self Driving carries. But that seems unlikely to happen anytime soon, given that the company's self-driving software is under more scrutiny than ever before.
BOGO 50% OFF
Baked Bags Coned Edibles
Mellow out with these grown-up treats
Baked Bags stuff 25mg of Delta-8 THC into each cone, and 100mg per "extra strength" cone. So if you're looking to mellow out, relax, and have a good time, these treats should do the trick nicely.
Otherwise, Tesla's price cuts did help it slightly increase deliveries last quarter, at the expense of slimmer profits that have investors a little nervous.
Tesla reported total gross margin of 19 percent, compared with expectations of 22 percent, according to analysts polled by Refinitiv data cited by Reuters. The EV maker's net income during the latest period dropped 24 percent to $2.5 billion.
Tesla reported global deliveries of 422,875 in the first quarter, a 4.3 percent increase compared with the previous quarter. The small quarter-on-quarter growth suggests price cuts were necessary to maintain momentum amid rising EV competition and higher interest rates.
The EV maker likely sold 161,630 vehicles in the U.S. in the January-March period, according to an estimate from Cox Automotive, for a 25 percent increase compared with a year earlier. Tesla doesn't break out U.S. sales.
Elon's grand plan will fall into place as soon as Tesla launches its nationwide robotaxi service, which has only been slightly delayed from the initial target of 2020. He'll be laughing at all of us.
2nd Gear: Renault Disagrees
French automaker Renault, which does not sell cars in North America but is Europe's third EV brand behind Tesla and Volkswagen, does not believe Tesla's strategy is a sound one in the long run. In fact, the company's CEO and finance chief both made their feelings on the topic known this week, and the word "spiral" may have come up. Guess which direction the spiral goes in. It's not upward! From Reuters:
Renault brand CEO Fabrice Cambolive said earlier this week the brand would be reviewing prices worldwide, calling Tesla's price cuts a warning and a challenge to the whole industry.
But group finance chief Thierry Pieton said Renault did not need to follow Tesla's move, even though the Tesla Model 3 in France now starts at 41,990 euros ($46,017) after last week's price cut, compared with 42,000 euros for the Megane electric.
"There is no big incentive to go and cut the prices…and go in a spiral that some of our competition is following," he told analysts. "If it results in the short term in slightly lower volumes, so be it."
Pieton appears to be very pleased with the margins Renault is raking in on its EVs, per Automotive News Europe:
"When you cut prices significantly, residual values take a dip," he said. "We haven't made any drastic price changes and we don't plan to do so."
He added that the Megane was very profitable from a margin perspective, with 80 percent of buyers opting for a larger electric motor, and more than 60 percent taking the highest trim level. In addition, 80 percent of retail buyers financed the car through Renault.
This sounds like the ideal situation to be in, unless you're obsessed with the idea of having as many of your products on roads as possible so you can flip a switch at some indefinite point in the future and instantly turn them all into robo-Ubers.
3rd Gear: The Lightning Hits Norway
Thus far, Ford has only sold the F-150 Lightning in North America. But soon "a handful" of examples of the big electric pickup will be shipped for deliveries in Norway. From the Financial Times:
The company has earmarked a handful of the models for the country, the world's leading electric vehicle market, where four out of every five vehicles sold run on batteries.
The move is also likely to help Ford hit its European carbon emissions targets, both by adding another fully electric vehicle to its line-up and because the heavy truck may alter the weight-based CO₂ targets it has to meet.
The US carmaker wants all of its cars to be electric by the end of the decade in Europe, while all European vans will be zero emission by 2035.
If you're wondering how the damn thing could possibly fit on Norwegian roads, it turns out there's a bit of extra room to play with up there:
While pick-up trucks are widely popular across North America, the three big US sellers — Ford, General Motors' Chevrolet and the Stellantis Ram brand — have not so far launched them in Europe, in part because the vehicles are much larger than European models and unsuitable for the region's roads and cities.
However, Norway's roads are typically wider than other European thoroughfares, while the outdoor lifestyle of its consumers means the vehicle is considered suitable for the market, said Per Gunnar Berg, managing director of Ford's Norwegian business.
He added that the company decided to bring the vehicle over after a significant number of customers went to dealerships to try to reserve a model following its US launch last year.
"I've had customers literally banging on my door and pleading for us to bring the electric pick-up to Norway," he said.
Norway's flavor of the Lightning will cost a whopping $113,000, which tracks given how pricey that truck can get, and how few of them Ford is shipping out that way. Apparently, Ford is only planning to hybridize the Ranger for Europe in the years ahead, which is a little surprising. Seems as though there'd be a decent market for a smaller electric pickup on that side of the pond.
4th Gear: Class Action Amazon
Amazon has no choice but to face a class-action suit over illegally monitoring private Facebook groups that its drivers used to chat about working conditions, after failing to get the case sent out of court to arbitration. From Reuters:
A divided panel of the San Francisco-based 9th U.S. Circuit Court of Appeals said an agreement that driver Drickey Jackson signed requiring him to bring work-related disputes in arbitration rather than court did not apply to his 2020 lawsuit.
The ruling means Jackson can continue seeking to represent a class of at least 800 Amazon drivers instead of pursuing his claims in individual arbitration.
Jackson in the lawsuit alleges that Amazon invaded drivers' privacy and engaged in illegal wiretapping by creating a "social listening team" to monitor and intercept posts to private Facebook groups using automated tools. […]
He says Amazon used sophisticated digital tools to monitor the groups and gather information about planned strikes and protests, unionizing efforts, pay and benefits and whether researchers examining Amazon's workforce had approached drivers.
Amazon has argued the case belongs in arbitration, citing the agreement Jackson signed. The agreement applies to "any dispute or claim … arising out of or relating in any way to … your participation in the program, or to your performance of services."
But the 9th Circuit on Wednesday said that drivers' use of private Facebook groups and Amazon's alleged privacy violations did not relate to Jackson's performance of services or implicate any provision of his contract with the company.
Amazon has allegedly spied on as many as 43 of these groups, per an internal leaked document retrieved by Jackson. The retailer has denied any wrongdoing, but it looks like it'll have to defend its innocence in a courtroom now!
5th Gear: BYD Is Going Where Nobody Is
It shouldn't surprise you that BYD isn't eyeing a North American debut anytime soon. No Chinese automaker rationally would in this political climate, and besides, the Warren Buffett-backed manufacturer is making so much money without selling cars in the U.S. that it doesn't really need to put itself through that now. Instead, BYD is going to stake claims in regions where there are no established legacy brands that really have a grip over the entire market. From Auto News:
[CEO Wang Chuanfu] estimates BYD will sell at least 3 million vehicles in 2023, a 60 percent jump from last year. But its hands are too full with China and other parts of the world to take on the U.S. market yet. Despite its rapid growth, BYD is still a small player in exports. Last year, it sold only 560,000 vehicles outside China.
That outlook is changing. In addition to taking on Europe, the company is stepping up efforts to export electric sedans and crossovers to Southeast Asia, Latin America and the Middle East. Last month, it started construction in Thailand of what will be its first overseas plant. The new factory will have an annual capacity of 150,000 vehicles when completed next year.
At a March 29 news briefing in Hong Kong after his company released its 2022 earnings report, Wang said that BYD's main target markets in the near term will be countries where no strong local brands exist.
Meanwhile, Buffet has been selling off his holdings in the company for a big return. In the first half of 2022, BYD's sales results sent its stock price soaring, and by the end of January, Berkshire Hathaway sold 73.2 million of its shares in the company, according to information disclosed by the Stock Exchange of Hong Kong. The stock has been trading at more than 37 times what Berkshire Hathaway originally paid for it.
BYD has made it this far all within its own domestic borders. Imagine how it could grow if it stretches its reach — particularly with cars like the Seagull?
Reverse: Danica Triumphs at Motegi
It was on this day in 2008 — 15 years ago — 26-year-old Danica Patrick became the first woman to win an IndyCar race, when she took the top step of the podium at Twin Ring Motegi's super speedway in Japan. Courtesy History.com:
Neutral: You're Gonna Miss Me When I'm Gone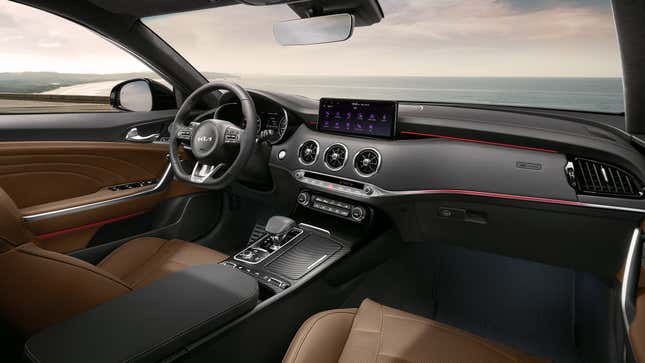 The interior of the Kia Stinger Tribute EditionImage: Kia
That's what's what the Stinger is saying to all of us now, as it bids farewell with a 440-unit limited edition for the U.S. I'd never actually seen the interior of a Stinger before, and I had no idea it was so pretty inside. We failed the poor thing. What car do you think we're going to regret losing that we're absolutely taking for granted right now?