Ruf Is Still Building A Better Porsche
If you know about Ruf at all, it's likely that you either encountered the brand in Gran Turismo and thought it was a bootleg Porsche or you saw Stefan Roser driving the original CTR Yellowbird within an inch of its life in "Faszination On The Nurburgring."
The 2024 Nissan Z NISMO Is Finally Here
The CTR Yellowbird is arguably Ruf's most famous model, and rightfully so; it dominated performance car comparisons in the 1980s and continues to be a car people obsess over. It's so ingrained with the spirit of Ruf that when the company made the leap to using its own bespoke chassis and bodies rather than Porsche's, the first car it made was a yellow CTR. I drove it a few years ago. It was mind-bending.
Faszination on the Nürburgring – The RUF CTR "Yellowbird" | RUF Automobiles Canada | Weissach
Here's the thing, though, Ruf builds other cars, and it does so in a tiny town in rural Bavaria as a family business. The company was started in 1939 by Alois Ruf Sr as a garage and service center, then got into manufacturing by designing a tour bus that was sold around Germany. The bus company was spun off, and then in 1960, Alois Ruf Jr. got into restoring and servicing Porsches. Jr. took control of the company when his dad died in 1974. Since then, Ruf Automobile has focused on restoring, modifying, and, most recently, manufacturing its own Porsche-based and Porsche-inspired vehicles.
Ruf's headquarters aren't what you might expect from a company known for making some of the most incredible German cars in history. It's tiny and sits on a traffic circle. The family's gas station is still in operation and is attached to the main building. Ruf runs an authorized Porsche service center opposite the main facility on the other side of the circle. It's weird seeing one without a dealership attached, but who has time to sell new Porsches when you're building million-dollar carbon-fiber-bodied sports cars?
Photo: Kyle Hyatt/Jalopnik
Entering the Ruf showroom and lobby, I'm greeted by several cars. One is a Ruf green SCR, and the other is a Ruf-modified 911 Turbo Cabriolet. There's an engine on a stand and lots of magazine article clippings and photos framed and on the wall. It's small and quiet, at least until Ruf's CEO, Estonia Ruf, comes into the room.
If you've never met Estonia, she is a force of nature. Almost more so than Alois Jr., she's the charming, smiling and bombastic face of the company. She has this gift of making you feel almost immediately welcome, and when we sit down to have a coffee, there's also this feeling of having her undivided attention. This is despite my visit coming just a couple of weeks before they were set to debut three models at The Quail in Monterey, when everything was unbelievably busy. It's easy to see why Ruf owners feel such a connection to the brand and, more importantly, to the family.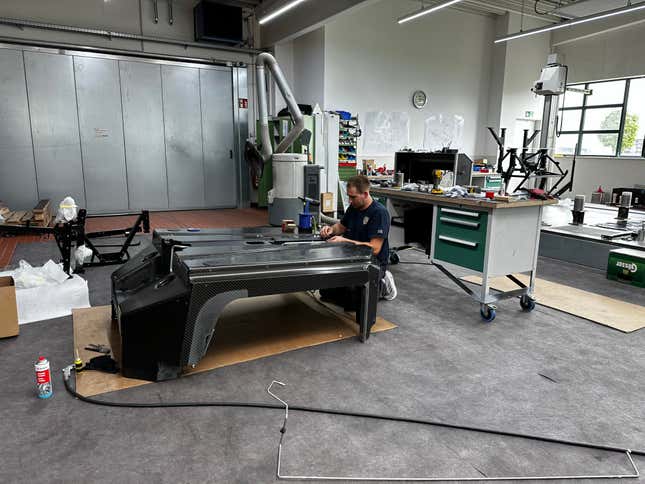 Photo: Kyle Hyatt/Jalopnik
We chit-chat for a few minutes, I thank her for taking the time out of her schedule to show me around, and we start our tour, which begins across the street in the service center. Here, they do work on Porsches and on Ruf models. They also do some sub-assembly of their halo models – specifically, assembling the carbon chassis and carbon body for SCR and CTR. This is done by a couple of dudes working with rivet guns and panel-bond in a room with a chassis jig. It takes around two weeks to fully assemble the chassis and body, which are manufactured off-site by a carbon specialist. The service center is also a warehouse for parts for car builds, and it's surreal just seeing Ruf engines sitting wrapped in plastic on pallets waiting for a car. It's a Porsche nerd's dream.
Moving back across the street and into the old building, things get even wilder. On one of the several lifts, a new SCR (which would go on to be the Tribute car that debuted at the Quail) is being constructed with its engine out and cantilevered suspension and massive brakes just having been installed. Next to that is a classic Ruf turbo getting a full restoration for a very dedicated owner. Next to that, a 356 is getting ready for an alignment on an old-school alignment rack. It's a lot to process if you're me.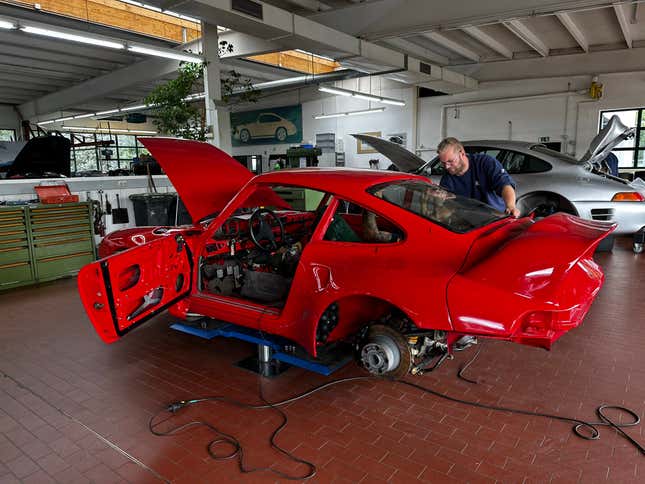 Photo: Kyle Hyatt/Jalopnik
Throughout our walk in this main garage area, Estonia is greeting workers, old and young, by name and with a big smile. As we walk, she tells me that many of the more senior employees have been with the company for decades. New employees come in through the country's super robust apprenticeship program that has them splitting time almost evenly between on-the-job education and classroom education.
We walk to the back of the main workshop, where a bright blue CTR3 is being assembled. I didn't know this then, but this car was also set to get its grand public debut at the Quail, followed by delivery to its expectant owner. The car is a complete shell with most of an interior and an installed engine, but with a wiring harness that wasn't in all the way and no wheels and tires.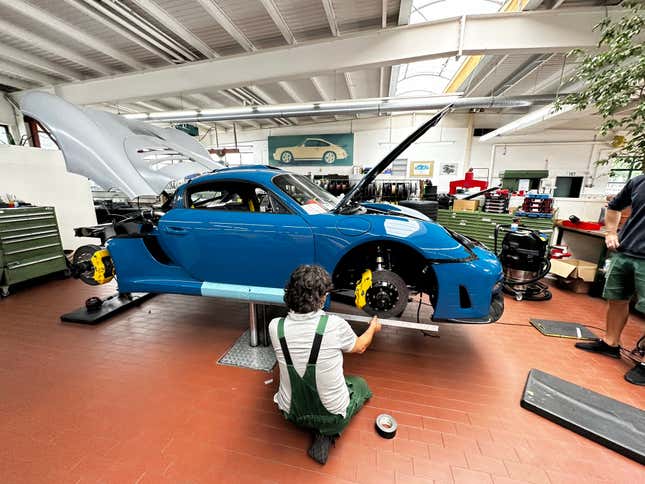 Photo: Kyle Hyatt/Jalopnik
Moving into a back corner, there's a man assembling engines. The environment is far from the hospital-like clean room environment I'd expected. Still, things are pretty organized, and while the methods may look a little alarming, it's certainly tough to argue with the results. Around the shop are old advertisements and calendars with scantily clad women. A massive, faded photo of the original Yellowbird stands guard over the hallway to the engine dyno cells. It feels like a space out of time, and I love it.
In the previously mentioned hallway, there are two dyno cells. One for newer water-cooled engines like the current CTR and SCR models have and another for the older air-cooled motors. The dyno units are painted in Ruf's classic green and white, and the walls are made of bricks with ventilation holes in them. Workers are getting ready to test a water-cooled turbo motor, but we are a couple of hours too early to hear it wail. Here Estonia explains that all the engines get run in and measured for power before going into cars. Consistency from car to car is key, particularly for a company that went from tuner to manufacturer.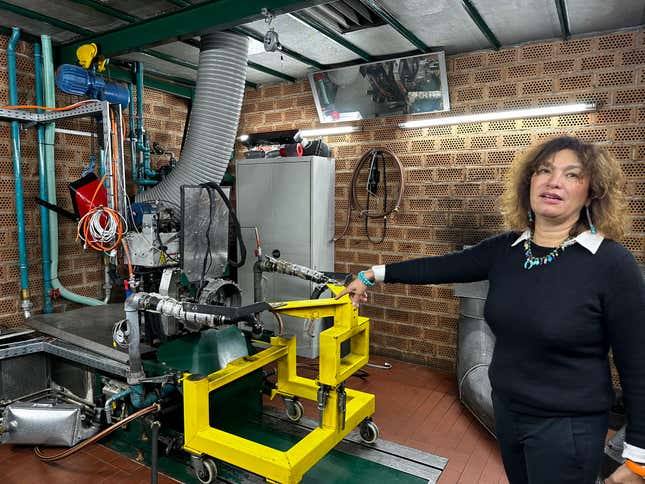 Photo: Kyle Hyatt/Jalopnik
After this, we make our way through a small body part storage area and into the body shop proper. Here, half a dozen men are fettling the bodies of the next crop of Ruf cars to be assembled and shipped out. The older staff are teaching the younger workers as they go, and even on the unfinished shells we see there, the quality of work is apparent. Ruf has its own paint booth at the back of the body shop where owners can get any color they want applied to their new pride and joy.
Throughout the tour, I am constantly impressed by how hands-on and people-driven Ruf is, even in 2023. There are no robots to be seen, just people in overalls building some of the most incredible cars in the world with their hands. It's also very clear that this way of building cars is extremely important to the Ruf family. Many of these workers have been with them for long enough to become something like extended family themselves.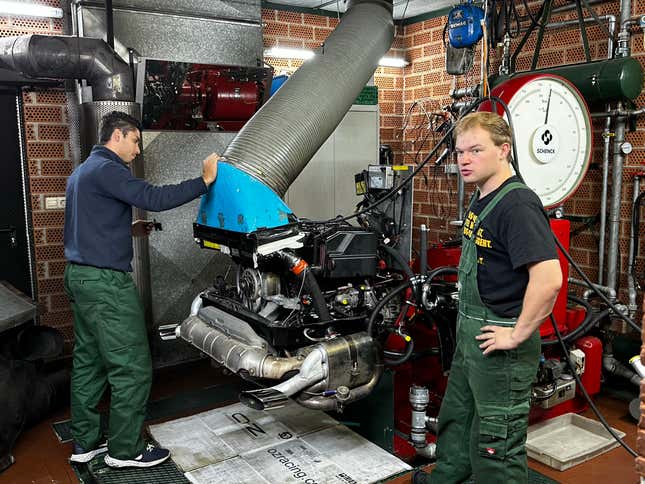 Photo: Kyle Hyatt/Jalopnik
This way of working has its limitations, too, though. If Ruf wanted to make more than a few dozen cars per year, it would have to move to automation, and it might have to outgrow its quaint rural environs, but doing so would take something away from the cars and, likely, the relationship that owners have with the company. That relationship keeps people returning, as many Ruf owners have for multiple models.
To round out my experience in Pfaffenhausen, Estonia hands me off to Michael, their sales director, for a drive in the SCR. Now, I'll preface this by saying that while driving the prototype new CTR in 2018 looms so large on my all-time greatest things to happen to me as a journalist, the SCR is something that is an even bigger deal to me because I love a naturally aspirated sports car and I love a naturally aspirated, rear-engined 911-shaped sports car more than almost anything else.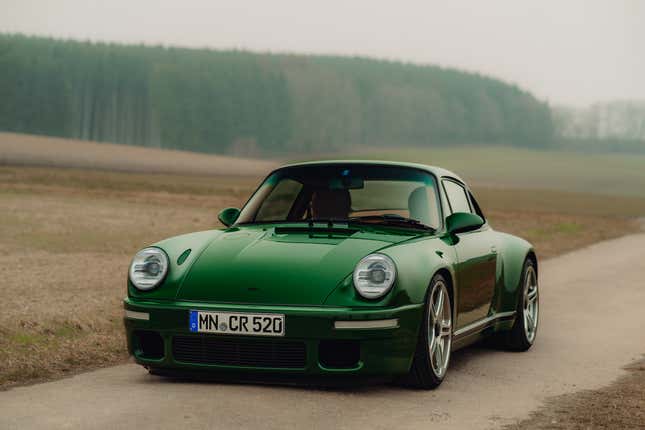 Photo: Ruf
The SCR is a borderline holy relic for 911 nerds with its carbon body, carbon monocoque, 9,000-rpm 503-hp 4.0-liter flat-six and perfectly notchy manual gearbox. It's also around a million bones, or clams or whatever you call them, so it's unlikely that I'll get another chance to drive it. Getting into the driver's seat once the car is warmed up and being told to have fun, more or less, was honestly pretty goddamned emotional. I wavered between being almost maniacally happy, choked up and a little misty-eyed and then just lost for words. It's the best car I've ever driven, and I'd been driving one of Porsche's own museum collection 959s just the day before.
The touchpoints inside the SCR are all familiar. The car's behavior is familiar, too, but it's just amplified. The steering is light at speed but direct and filled with feel that transfers through the small diameter carbon fiber wheel. The throttle is crisp and ultra-responsive. The gearbox is direct with a clutch that's weighty but not oppressively heavy. The suspension is firm but surprisingly supple, and my god, the sound the engine makes through the custom exhaust and the way it vibrates through the carbon tub should be labeled a Class A drug.
Photo: Ruf
We stick to the rural backroads around Pfaffenhausen, where my passenger knows the safe places to open the car up, and I can't remember how many second-to-third gear pulls I end up doing just to hear that engine sing, but it's a lot.
After around half an hour, we make our way back to Ruf's headquarters and park. I need a minute to settle my nerves before getting out and heading back into the lobby. Estonia is there, as is a slightly under-the-weather Alois, and both seem pleased with my reaction to the car. I shake hands, offer many, many thanks, and after attempting to pay for a Ruf hat (they very kindly wouldn't let me), we exchange goodbyes and make plans to say hi at The Quail, which, at this point, was coming up in a few weeks.
Photo: Ruf
On the two-hour drive back to Stuttgart, I have a lot of time to think. I get to process the afternoon and wonder if I learned what I wanted to, and I think I did. I learned that Ruf in 2023 isn't that different from Ruf in 2003 or 1993, or 1983 and that that's part of its appeal.
It's a company that does things its own way and which, while occasionally idiosyncratic or odd, continues to appeal to lovers of sports cars and Porsche fans. It's a way of working that appeals to me, and, if I can be honest with you, should I ever win the lottery or maybe spend the night in the haunted mansion to try and win the inheritance of a distant, previously unknown but fabulously wealthy relative, I know exactly who is getting my first phone call.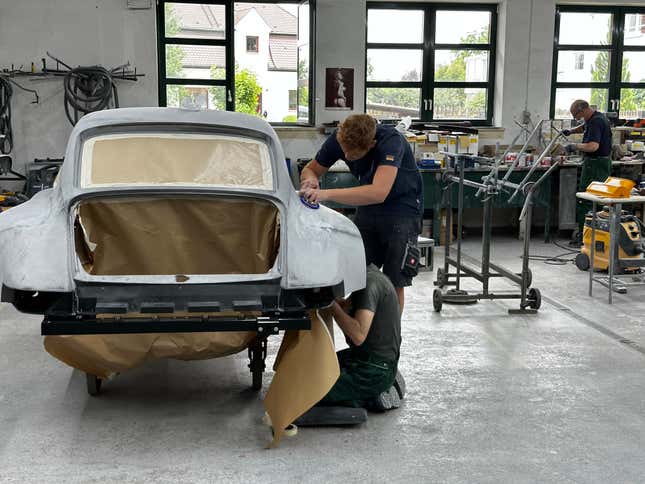 Photo: Kyle Hyatt/Jalopnik
Photo: Kyle Hyatt/Jalopnik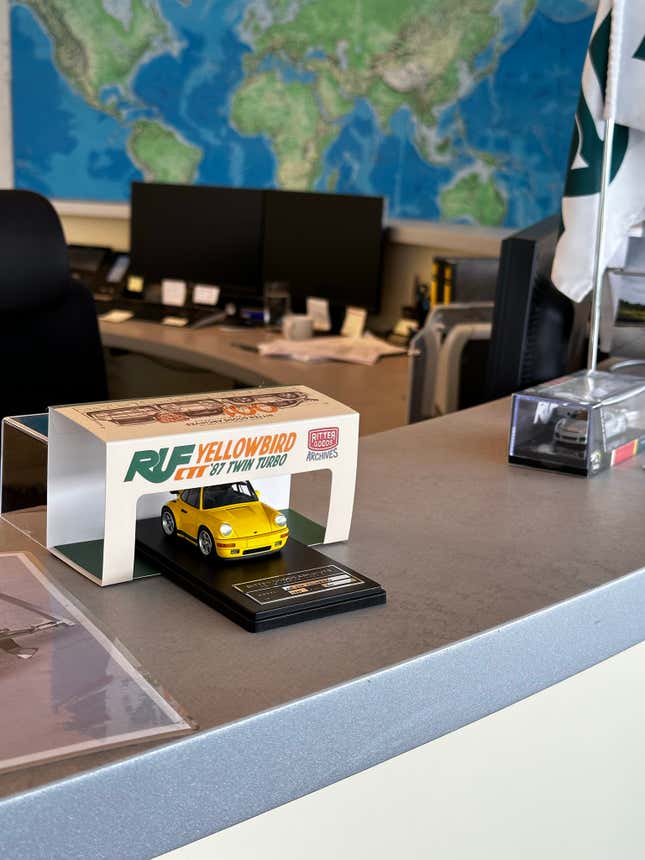 Photo: Kyle Hyatt/Jalopnik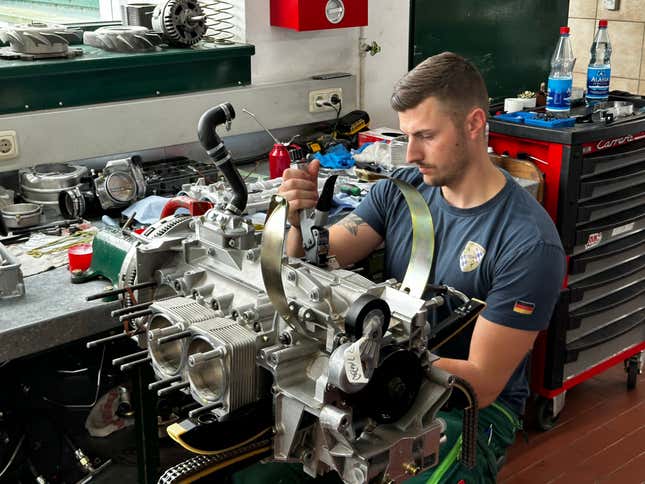 Photo: Kyle Hyatt/Jalopnik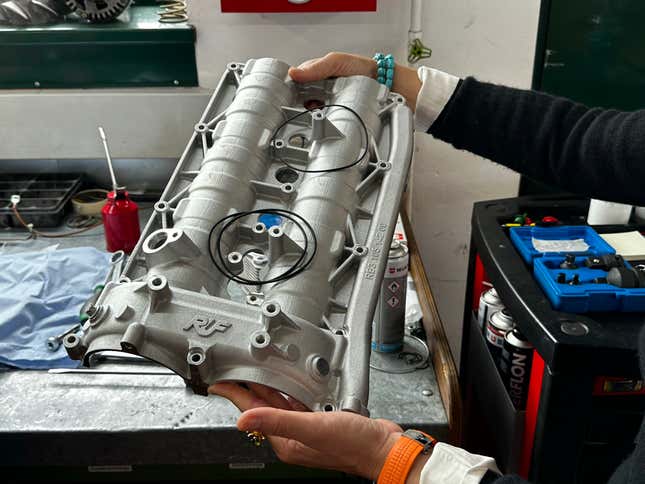 Photo: Kyle Hyatt/Jalopnik