ULEZ Cash Boost For Transport For London Of Almost £100m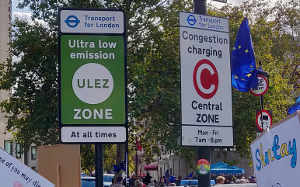 London's newly expanded Ultra-Low Emission Zone (ULEZ) has been up and running for just short of a year, but the cash is already rolling in. Unless you're brave enough to risk a fine, all owners of non-compliant new and used vehicles must pay an entry rate of £12.50 a day.
Transport For London's £93.6m windfall
The RAC has analysed Transport for London (TfL) data for the first 8 months of the controversial scheme covering the period from November 2021 – June 2022, during that time window, there was a monthly average of 1.9m journeys into the zone by vehicles eligible to pay.
As many in the motor trade will already know, drivers of vehicles unable to conform to Euro 4 petrol standards or Euro 6 diesel standards are the ones who must hand over the cash.
Pay out they certainly did, a whopping £112.5 million in revenue! To put this into context, we need to look back to the period just before the scheme went live, according to the RAC, a monthly average of 329,527 non-compliant vehicle journeys were made during the 8 months between February – September 2021, under the old ULEZ boundaries this activity raised a total revenue of just a little under £19 million.
What these figures mean is that TfL have netted themselves at least an extra £93.6m over and above what they would have expected to earn before the ULEZ zone expansion. Another worry for London motorists is that there are plans afoot to expand the zone even further, rumours suggest this could happen as early as August 2023.
But who can afford a new car?
Commenting on one impact of the scheme, the RAC's head of roads policy Nicholas Lyes said: "While we accept that action is needed to reduce toxic emissions from vehicles, the cost-of-living crisis is hurting drivers in the pocket and there is a risk that further enlarging the zone will be hugely costly for those with older vehicles who can least afford to change them for something newer."
"As it is, RAC research suggests drivers are holding on to their vehicles for longer, so there is a real risk that more people with non-compliant vehicles will be forced to pay a charge they can ill afford to."

While the motor trade may wonder what effect this might have on new and used cars sales, older vehicles on the road could also mean drivers have more breakdowns and unfortunately for some, a nervous search through their insurance policy looking for recovery insurance, otherwise an unscheduled conversation with the local insurance broker might soon be on the cards!
Developing the economic-hardship point further, Lyes continued: "We would encourage the mayor to take a pragmatic approach and redouble his efforts to support lower-income families and businesses with non-compliant vehicles with a targeted scrappage scheme ahead of any expansion plans."
So, could a generous scrappage scheme mean many Londoners will soon be driving new eco-friendly motors? Most of these motorists are not holding their breath!