Five sports stars who love motorbikes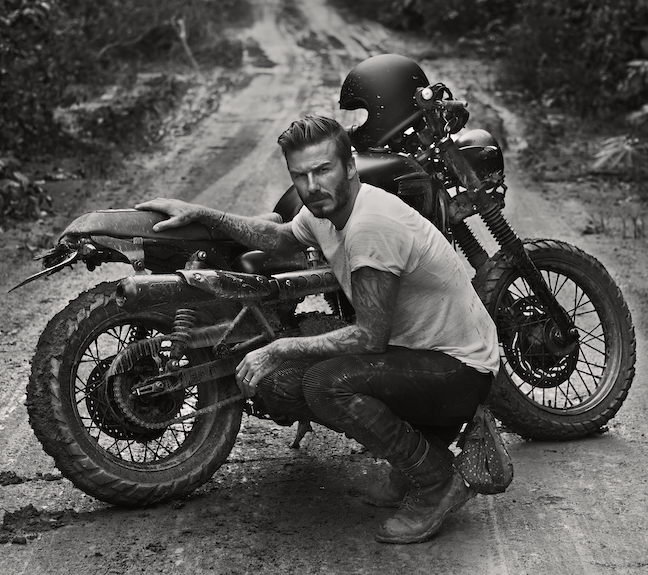 Image courtesy of the BBC
Once you've reached the pinnacle of your sporting career, you might as well start buying your dream possessions, and for many sportspeople that includes at least one motorcycle. Here we take a look at some of the world's most famous sports stars who love their bikes.
1. David Beckham
Mr Posh Spice himself, David Beckham's love of cars and motorcycles is well known. During his time in Los Angeles he was a regular sight on the roads of Hollywood riding a Harley Davidson, and in the years since has added some of the world's best motorcycles to his enviable collection of vehicles.
He's a particular fan of Triumph motorcycles and owns a Bonneville and a custom 850 Street Scrambler. He also has a number of high-end bespoke customs made by renowned garages like Garage Company and British Customs, which took a Bonneville and gave it some cafe racer flair. This was commissioned to celebrate his 2014 documentary wherein he and a group of friends rode across Brazil on Triumphs. In 2022, he even managed to persuade Victoria Beckham onto a motorcycle for the first time in their 23-year marriage.
2. Ian Wright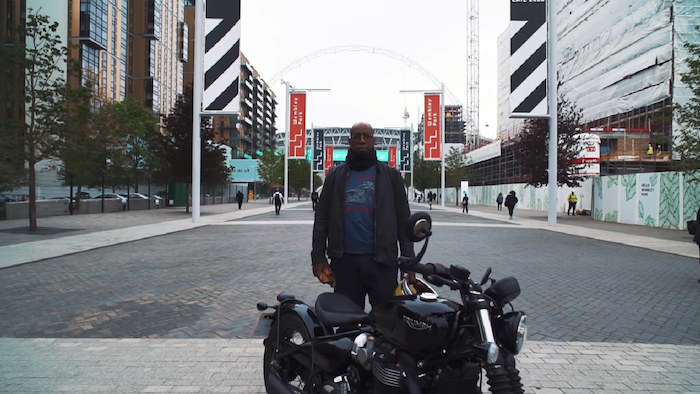 Image courtesy of Triumph
Wright's career with Crystal Palace, Arsenal and the England team made him a footballing legend, and even bagged him an MBE for his services to the game. Since retiring, he has been a regular presence on TV. He's also a big motorcycle head, with a collection that includes Triumphs and Harley Davidsons.
Indeed, he had a tattoo of a Harley during his time as a footballer as the next best thing to owning one as the bosses didn't want him riding while he was under contract. Like Beckham, Wright also got his own motorcycle-based travelogue show, Wright Across America, which saw him travel coast to coast across the USA on a Harley.
Sadly in 2022, he earned himself a six-month break from driving after being caught speeding on his motorcycle through London. A good example of why you should always be following the rules of the road!
3. Mario Balotelli
One of football's 'bad boys', Balotelli has courted a degree of controversy throughout his career, and some of it is related to his love of motorcycles. When he signed for Manchester United in 2010, he was, like most footballers, banned from driving bikes on insurance grounds. This didn't stop him treating himself to his dream bike, a Harley-Davidson, but as far as we know, it spent all its time sitting in his garage.
By 2017 he had moved to play for Nice in France, and while presumably still banned from riding a full-sized bike, he was filmed riding a pocket bike around a small grass circuit with his friends.
In 2019, more footage of bike-based pranks emerged. While on holiday in Naples, he paid a local cafe owner €2,000 to drive his moped into the harbour. As the moped was allegedly only worth €600, the whole incident must have felt like a pretty good deal for the owner!
4. Zlatan Ibrahimovic
If you're not already sitting down you might want to, because you are probably going to be shocked when we tell you that the former Manchester United and LA Galaxy player is quite the fan of Harley-Davidson.
Yes indeed, it seems like we've got enough evidence to support the argument that Harley is the motorcycle loving footballer's brand of choice. What exactly it is about Harleys that appeals to footballers is difficult to say for certain, but it definitely seems to have found its way onto their lists of things to buy once they're super rich.
Zlatan is a particular fan of all black bikes, which to be fair is a pretty stylish look. 
5. Lewis Hamilton
Stepping aside from the beautiful game, we go to one of the few sports where it would be pretty difficult to stop someone from driving fast outside of their day job.
It should come as no surprise that Lewis Hamilton likes motorcycles, and it should also come as no surprise that his collection of bikes goes a lot deeper than Harleys. When he's not being one of the fastest people on four wheels, Hamilton likes nothing better than being one of the fastest people on two wheels. As a certified fan of everything motorised he's added some of the world's speediest motorcycles to his enviable collection of vehicles.
Lewis has worked with MV Agusta on numerous occasions to create custom machines made in super limited quantities. First, there was the Dragster, of which there are just 244 in the world. This was followed a few years later with the F4 LH44, appropriately enough limited to just 44 lucky owners. In 2018, they teamed up again to create 144 units of the Brutale 800 RR LH44, with styling created by Lewis himself. As well as MV Agusta he's also a huge fan of Ducati, but he's not above getting down and dirty on a humble Honda CRF450 when he's in the mood for a bit of off-road action.
Motorcycle insurance designed to save you money 
No matter which motorcycle you ride, be it a classic or a contemporary, Bikesure is able to offer you affordable motorcycle insurance to suit your individual needs. Call for a free quote today on 0330 123 1028 or book a callback at a time that suits you. 
Culture