How to make "Hybrid Working" work for your business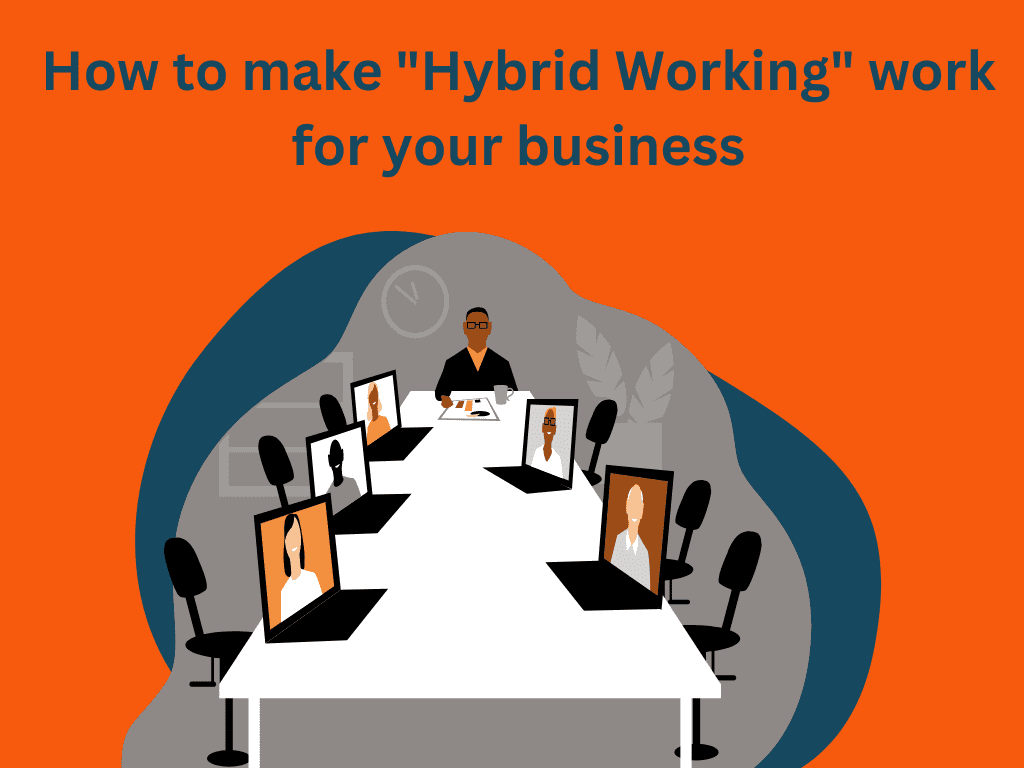 This blog was developed from NIG Risk Assist, to inform you of the risks of Hybrid Working. Use this blog to ensure all employees are supported and adapted to working from home to minimise risks.
________
The impact of pandemic restrictions caused many employers to adopt a "working from home" policy – later evolving into Hybrid working – as the only option to keep their business operating.
Although for many, this new way working was adopted over a relatively short period of time, it was surprising how both employees and employers were able to quickly adapt to such a significant change in their working culture.
Also, it soon became clear that, not only could jobs be efficiently performed remotely without employees having to be based in the same office, but many organisations also found employees were actually working more productively, with reduced costs for the business.
A significant part of being able to do this was due to the fact that technology has advanced so much in the last few decades, allowing employees to be based almost anywhere in the world, and still continue to work effectively as part of a team.
Successful remote working is not just about technology, staff wellbeing is of vital importance and is more difficult to manage when they are not on site and accessible on a daily basis. Employers, therefore, need to ensure they can effectively monitor the wellbeing of their hybrid workers, and provide appropriate support where needed.
Future trends in the way we work
Many staff, who have worked successfully at home during pandemic restrictions, are now reluctant to revert back to their previous way of working, principally because it enables them to manage their home and work life in a way that suits them.
In addition, escalating fuel prices have resulted in a huge increase in commuting costs. This, together with actual time spent travelling on top of their working day, especially at peak times, has resulted in employees considering leaving their job in favour of an employer who actively supports and embraces flexibility around the working week.
Recent research has shown that although working completely remotely is generally on the decline, it is not in favour of a complete return to the office. Many organisations instead favour a hybrid way of working instead. This is, in reality, a form of flexible working – the working week being split between the workplace and some other location, usually the employee's home.
How can "Flexibility" benefit Employers?
The many benefits of flexible/hybrid working for employers include:
Retaining experienced staff who may otherwise jump ship to employers who offer flexible working
Attracting candidates who may otherwise have been excluded because they want or need to work flexibly
Employees who are given the freedom to work flexibly are more likely to be committed and engaged
Reduced absenteeism, as employees are more able to work around their commitments
More flexibility in meeting customer requirements as there may be an extension in the working day due to employees working different hours. This is especially beneficial when working with global organisations on different time zones
Reducing overheads as fewer workstations are required
It is worth remembering that an employee who has at least 26 weeks' continuous service with their employer, has the right to request flexible working. This includes a request to work from home.   Employers have a duty to handle all requests in a reasonable manner (see Flexible Working – a guide in the HR A-Z Guidance)
Solutions to successful Hybrid Working
Hybrid working does have its challenges and considering the welfare of employees is crucial to the success of any flexible working. If you are to retain hybrid workers and avoid them being enticed to work for other, more flexible employers, you will need to be looking at how you can better support the welfare of such staff.
If everyone is working in the same location, and managers know their team, it is easy to catch up, have an informal chat over coffee and make a quick assessment on the general wellbeing of the staff.  But if team members work irregular hours and in different locations, this will require more thought and planning.  It is vital that managers maintain regular communication with the team and involve everyone when making decisions on how best to communicate on a one-to-one basis and as a team.
Some hybrid workers work excessively long hours because they believe their employer does not trust them and feel the need to constantly log into work to show that they are working. This is sometimes referred to as 'virtual presenteeism.' They may also find it difficult to manage the boundaries between work and home life.
Emotional and physical wellbeing is so important to making a success of any flexible working arrangement and managers need to provide support and tips on what staff can do to maintain their own wellbeing when working from home.
The NHS suggests the following advice to enable employees to do this:
Establish a routine, including start and end time to your working day, as agreed with your manager.  Get dressed every day as if attending the office
Make sure breaks are taken throughout the day to get away from the screen
Keep in touch with other work colleagues – pick up the phone instead of emailing and if it starts to become a problem, speak to management
Follow organisational health and safety guidelines around the use of computers at home
Stay active, take a walk during breaks, or use your normal commute time to do some simple stretching exercises at home
In addition, there is a lot a manager can do to encourage good wellbeing amongst the team:
Maintain regular contact – managers should check in regularly with employees through phone calls or virtual meetings. It is important that managers know their team members well, as it makes it easier to spot if an employee is showing signs of mental distress
Set clear expectations, which should include agreeing when employees are available to work, how they will keep in touch, how performance will be managed and who they should contact if they have problems
Managers should inform staff when they are logging off work – this will demonstrate to everyone that working long hours is not an expectation
Provide regular updates and communication in line with the rest of the workforce; this will help those who feel isolated
Encourage employees to have walking meetings, whether they are in the workplace or at home
Use video calling as much as possible as this helps to maintain face to face contact with colleagues, which is an important part of how we relate to others
Be flexible about when work is done – allow staff to work in the most productive way for them and the team, which may enable people to undertake both work and caring commitments
Make time for longer one to one meetings and non-work conversations – staff at home may feel isolated and feel they are missing out with what is happening at work. Encourage team get-togethers either via technology or face to face
Check up on annual leave taken on a regular basis to make sure staff are taking their holidays
Also see in the HR A-Z Guidance Health and Wellbeing at Work – providing the right support and Remote Working.
_______
Talbot Jones Ltd is a family-run Chartered Insurance Broker specialising in Third Sector and Professional risks. Get in touch for free insurance advice, review or quotation.
Talbot Jones Ltd incorporates *March Insurance Services*, a Chartered Insurance Broker specialising in Agricultural and Hospitality Risks.