Woman Died Trapped in Burning SUV After Vehicle Malfunction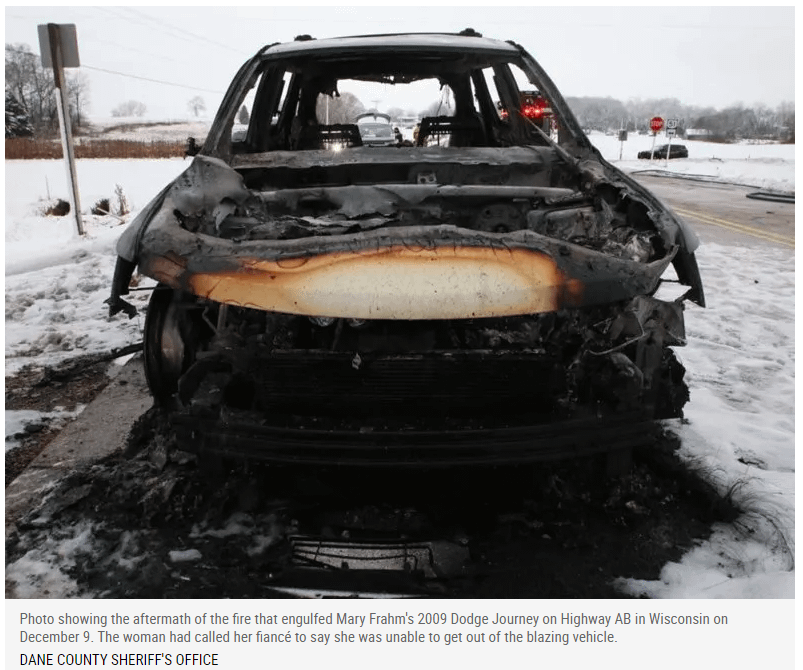 Also, in 2014, the Center for Auto Safety, a pressure group representing car drivers, wrote to the National Highway Traffic Safety Administration (NHTSA) urging them to recall Chrysler SUVs and vans from 2007 to 2014, because of concerns about the TIPM.
The group wrote: "These owners remain at the mercy of a defect which many have likened to the vehicle being possessed and uncontrollable."
By James Bickerton
January 17, 2023
A 73-year-old woman died in Wisconsin on December 9 after her 2009 Dodge Journey caught fire, shortly after telling her fiancé on her cellphone that she couldn't unlock the doors or open the windows.
Mary L. Frahm, the only person in the car, was killed in the incident that took place on County Highway AB, in the town of Dunn.
According to a Dane County sheriff's report, Frahm had been driving home, after taking her son to work, when some of the electrical components of her car began to malfunction. The vehicle started to lose power, while the speedometer was "going crazy" and the windshield wipers began operating without her instruction.
Click here to view the full story from Newsweek.