1992 VW GTI Is Our Bring a Trailer Auction Pick of the Day
This rare and pristine 53,000-mile 1992 Volkswagen GTI is a near match for our editor-in-chief's first car.The last of the second-generation GTI 16Vs, this 2505-pound hatchback is powered by a raucous 134-hp 2.0-liter four.Complete with the factory installed BBS wheels and Recaro seats, this original example is currently being auctioned until Saturday, January 28.
It's said you can't go back, but then you see your first car being auctioned off on Bring a Trailer and you start to question that adage. Staring down at me on my laptop screen is a box-shaped piece of my past: a 1992 Volkswagen GTI 16V with 52,000 miles. It matches my first car down to the Tornado Red paint—other paint colors included white, black, and Montana Metallic, a teal-like hue.
Okay, it's not exactly like mine. My 1990 model lacked the integrated third brake light and had black trim around the rear window. But mine had the same big-bolstered Recaro seats with electronic height control and two-piece BBS RMII cross-spoke wheels that had the look of the far pricier three-piece BBS RS wheels.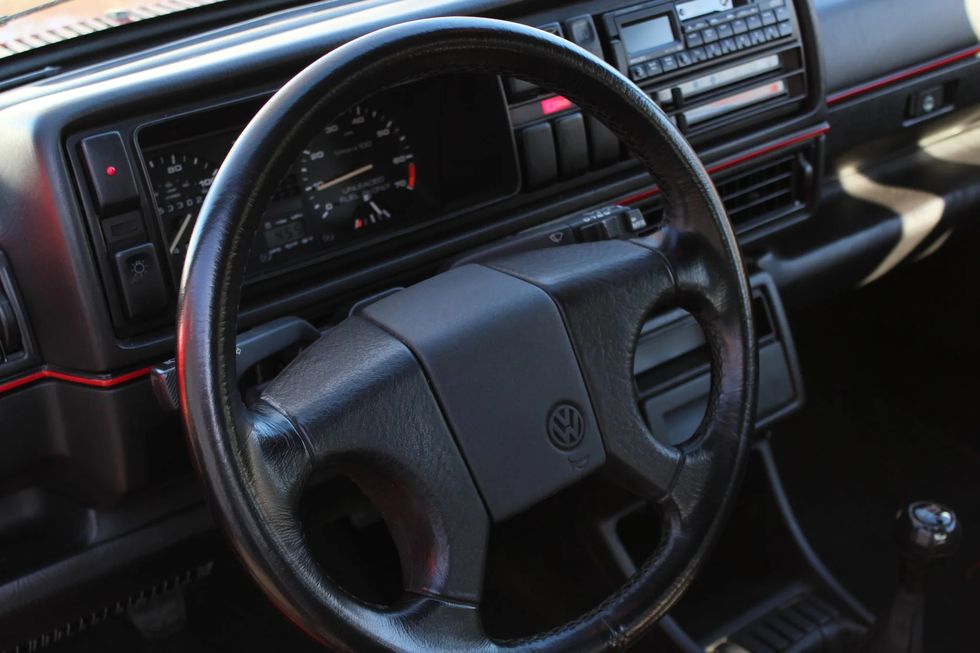 The last of the second-generation GTIs, the U.S.-spec models were assembled in VW's plant in Mexico. Earlier second-gen Golf and GTIs came out of the company's Westmoreland, Pennsylvania, plant, which shuttered in 1988. Early 16Vs arrived in 1987 and featured a 1.8-liter four with 123 horsepower. In 1990, the engine grew to 1984 cc or 2.0 liters, and horsepower rose to 134, with 133 pound-feet of torque at the ready. VW added the four-headlight grille and big bumpers that helped modernize the car. A very high 10.8:1 compression ratio meant the four thirsted for premium, a recommendation that our sister publication Road & Track missed when it tested one in 1991; C/D never tested one. Running on 87 and with an R&T tester at the wheel, the 2505-pound 16V hit 60 in 8.4 seconds (VW claimed 7.8 seconds).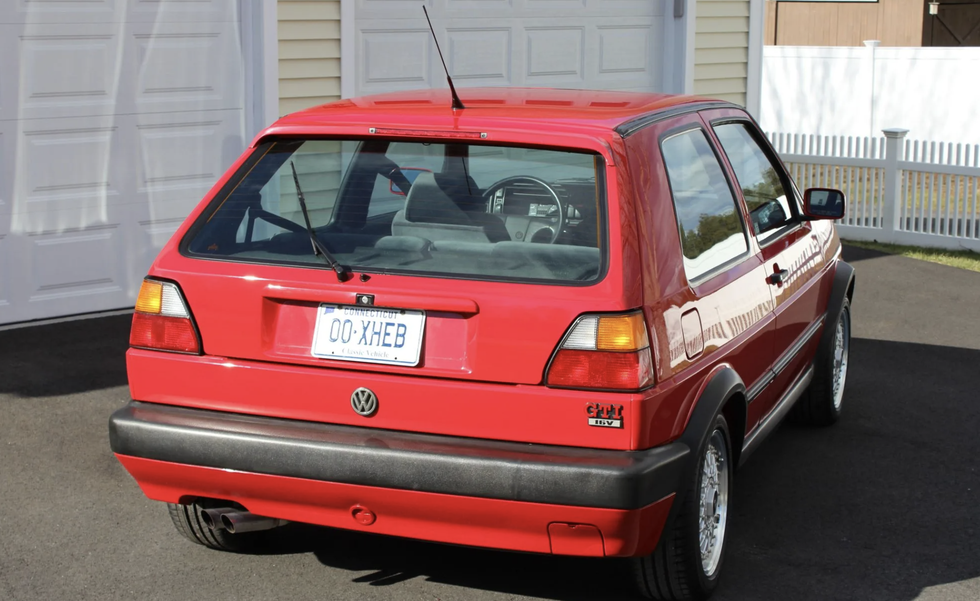 The engine is rough, even by the standards of 30 years ago. Hitting the 5800-rpm power peak sounds abusive, and punching the 6300-rpm redline isn't much of a celebration either. Shifts are light and positive, and the gearing is short. On the highway, the four settles into a steady 4000-rpm buzz at 80 mph. Easily the best part of the late-GTI 16V is the handling. Ride quality is harsh and the structure is lacking, but lots of information flows up from the 195/50R-15 tires to the four-spoke steering wheel. Originally, the 16V would've worn Pirelli P600s; the example being auctioned wears far grippier Michelin Pilot Sport 3 summer tires in the original size.
The cornering attitude is classic GTI as the inside rear wheel lifts off the ground. The three-wheel motion isn't something you notice from behind the wheel; you simply marvel at the joy of hustling this relatively light machine to its limits.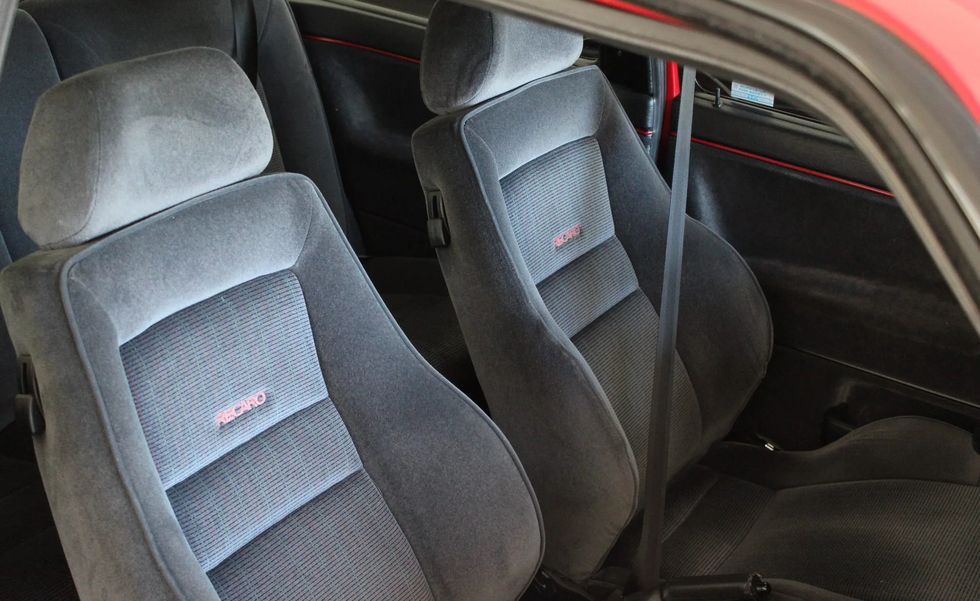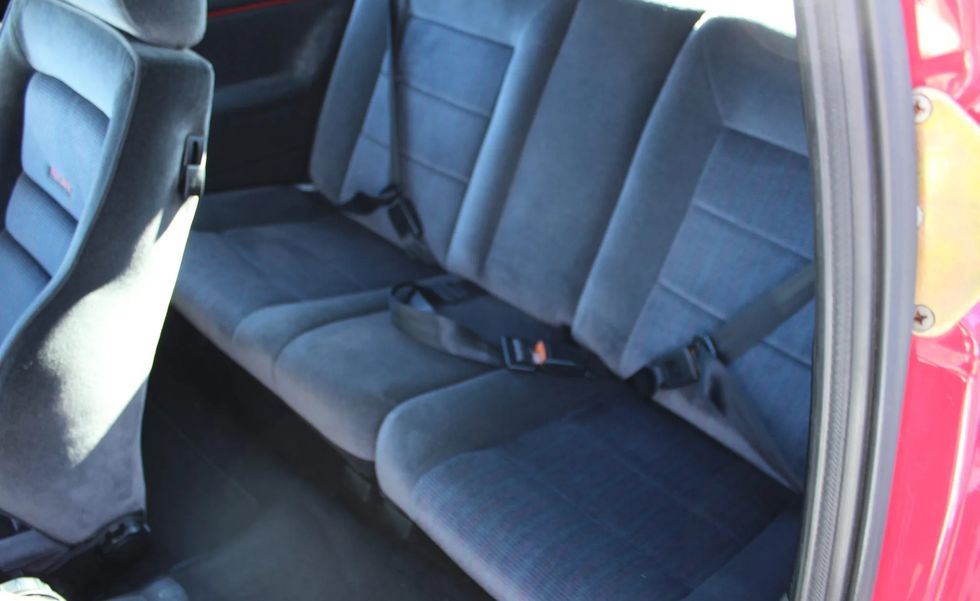 In addition to the Recaro chairs, you also get flares. Front fender flares, the black trim coming off the fenders, are wider to cover the big rubber and 6.5-inch-wide wheels—this was heady stuff for a Golf. Behind those wheels are vented front rotors with solid rotors in back. Anti-lock brakes weren't on the menu; nor were airbags. No airbags meant federally mandated door-mounted belts with separate lap belt. At least they're fixed and not motorized. Fortunately, this example doesn't appear ever to have been in any sort of action that involved an airbag.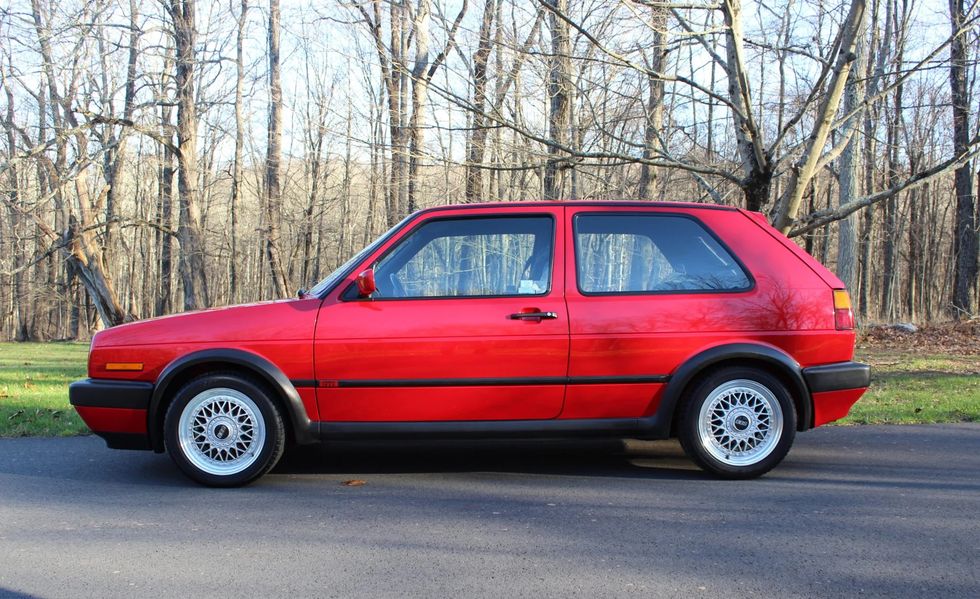 This GTI is hard to fault and far cleaner than the second GTI 16V I purchased in 2002—I've tried to go back before. I sold it a couple of years later when someone left a note on it in the C/D parking lot. Even in the early '90s, these were rare cars and cost roughly $15,000, or about $33,000 in today's money. Today, they're even harder to find as most gave up their lives to hard and fun-filled miles. In a recent column, I wrote about how the spirit and joy of the Toyota GR Corolla reminded me of my first 16V GTI. I believe that this GTI will get up to about $45,000, which is about the price of a nicely equipped GR Corolla.
Go back or go forward? I'd say you can't go wrong with either choice.