2023 Carroll Shelby Centennial Edition Mustang honors the Leesburg legend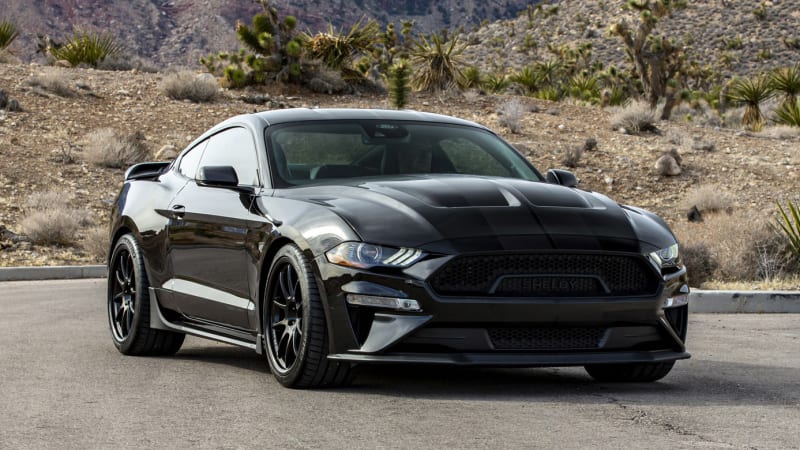 Carroll Shelby was born January 11, 1923 in Leesburg, Texas, a hamlet that the Texas State Historical Association says has counted anywhere from 50 residents not long after founding to 300 residents during boom times in the early 1900s. What better example of the phrase, "From these humble beginnings," eh? Shelby American, which celebrated its 60th anniversary last year, has created a 100th anniversary tribute to its founder in the form of the Carroll Shelby Centennial Edition Mustang. Created as an after-title package for any stock 2023 Ford Mustang GT, it's everything one would expect of the Las Vegas-based torch-bearers, at a price well below something like the $140,270 Shelby Super Snake. 
So long as the donor car contains the 5.0-liter Coyote V8, Shelby isn't partial to hardtop or convertible, manual or automatic transmission, or color. The only exclusions are that the car can't be the California Special or Mach 1 trims. 
Shop builders will install a Whipple Supercharger and Borla cat-back exhaust boosting output to something over 750 horsepower, and a Shelby fluid cap kit. Improved cooling comes thanks to a Shelby Performance radiator and vented hood. The reins of power are managed by a an adjustable suspension, performance sway bars and springs, adjustable caster and camber plates, a Ford Performance Brembo Brake Kit for the front axle, and 20-inch monoblock wheels on Michelin Pilot Sport 4S summer rubber. A new grille, front lip spoiler, wider front fenders, rear wing, rocker panels, rear valance, and satin racing stripes enhance the exterior. Inside, reskinned seats feature Shelby's hatted profile, a white Shelby shift knob between the thrones, and branded floor mats. The obligatory badging and logos feature throughout. 
Every car comes with membership in the Team Shelby club, a Shelby Centennial Book, and a black Stetson. Pricing starts at $49,995, which doesn't include the donor Mustang. Builds will start in the second quarter of the year, with 100 allotted for the U.S. and a "very limited" number made available for approved international shops to build. All have already been reserved, though. So, about that Super Snake…
Related video: