2023 Nissan Altima Review: Good, not exceptional
Pros: Comfortable and quiet; user-friendly controls; available all-wheel drive; efficient engines; top-notch safety credentials
Cons: No hybrid or especially sporty variants; CVT only; numb steering; uninspired styling
The 2023 Nissan Altima is a very good car. It's a very good car in many ways. But it's not a great car, and even with the midsize sedan segment shrinking in recent years, the remaining players are serious with distinctive styling, a wide array of powertrain options and generally refined driving experiences that includes strong handling and a comfy ride. The Altima has the last part of that, but lacks the flash and the variety of offerings the competition puts forward.
The Nissan offers neither hybrids nor sporty options, aiming its engines and trim levels at the meat of the segment, and nothing else. And the conservative styling causes it to blend in next to the aggressive-looking Toyota Camry and Kia K5, or the elegant Hyundai Sonata.
But as we said, there are good things about the Altima. It may exclusively have gas-only engines, but they're efficient and refined. It's an extremely comfortable and quiet sedan, while still offering responsive handling. The infotainment and controls are some of the most user-friendly in the segment. Most of the available safety equipment can be had on any Altima, even the bare-bones base model, and all-wheel drive is an option. So the Altima does have plenty to offer, it just doesn't stand out.
Interior & technology

   |  

Passenger & cargo space

   |  

Performance & fuel economy
What it's like to drive

   |  

Pricing & features

   |  

Crash ratings & safety features

 
What's new for 2023?
The Altima gets modest changes inside and out for 2023. New grilles and LED headlights are added to the outside, and the SR gets some sporty wheel options and trim level badges. Inside, the optional instrument and infotainment displays have been expanded. The former gets a bigger 7-inch screen, and the latter has a 12.3-inch screen. Standard displays are unchanged. The SR gets dual-color stitching. Standard safety features now include automatic emergency braking front and rear, lane-departure warning, blind-spot monitoring, rear cross-traffic alert and automatic high-beam headlights. Finally, Nissan has dropped the Platinum trim level.
What are the Nissan Altima interior and in-car technology like?
The interior is appealing to a degree with interesting and quality materials. The flat-bottom leather-wrapped steering wheel looks good and feels better in your hands, while the leather seats feature contrast stitching that is replicated on the dash and door panels. The instrument binnacle on most models is covered in a soft-touch material, as are the tops of the doors, while other interior surfaces are hard plastic that looks soft. The only detail that stands out in a bad way is some unconvincing wood-look plastic in upper trims. The SR trim's contrasting stitching also does quite a bit to add a sporty flair, even if the rest of the car doesn't add much. As handsome as the interior is, we have found those of the Hyundai Sonata and Toyota Camry to be stronger overall.
In terms of its in-car technology, USB-A, USB-C, aux and 12V ports are easily accessible in the center console's phone cubby, beneath an infotainment screen mounted atop the dash. Apple CarPlay and Android Auto (neither wireless) are also standard. The car has a fairly simple interface for infotainment and navigation. The new 12.3-inch touchscreen looks great, though it does reduce the number of physical controls. It goes to touch buttons for shortcuts and has a single knob for volume, rather than also offering one for tuning. Still, it's more than some other automakers provide, and it's not difficult to work with. The available nine-speaker Bose audio system is middling for a premium option. We also greatly appreciate the cluster of physical HVAC buttons and knobs, rather than integrating the climate controls into the touchscreen. There's also a traditional shifter rather than convoluted push-button setup, though it's a little too easy to accidentally pull the shifter back into Low instead of Drive — it requires more nuance and attention to the pull than it otherwise should.
How big is the Altima?
The Altima feels small to drive but is roomy inside. It is 193 inches long, 73 inches wide and 57 inches tall, with a 111-inch wheelbase. Each of those dimensions is within an inch of the Camry. Altima's curb weight ranges from 3,244 to 3,492 pounds, a little less than the weight range of the Camry.
Head- and legroom are sufficient for 6-footers sitting front and back, which is impressive, but actually now typical for midsize sedans. Parents should note that the Altima's fixed headrests may frustrate when trying to secure a child seat, forward-facing mirror or tablet. As always, we'd recommend bringing the child seat along during a test drive. 
At an accommodating 15.4 cubic feet, Altima's trunk space is a fraction more than Camry's, but the Hyundai Sonata trumps it in the 16-cubic-foot range. Comparisons aside, the Altima's trunk is still quite cavernous.
What are the Altima fuel economy and performance specs?
The Altima has two engine options as well as front- and all-wheel-drive. The base engine is a naturally-aspirated 2.5-liter four-cylinder that makes 188 horsepower and 180 pound-feet of torque. That's a bit less than most of the midsize competition. Power goes through a continuously variable transmission to either the front or all four wheels depending on how it's equipped. Fuel economy varies based on trim and drive wheels, but it's strong across the board, matching or beating the Toyota Camry and Hyundai Sonata among other rivals. The base front-drive Altima gets 27 mpg city, 39 mpg highway and 32 mpg combined.  The SL and SR get 27/37/31 mpg. The all-wheel-drive versions get 26/36/30 mpg.
Optionally available is a turbocharged, variable-compression 2.0-liter four-cylinder. This engine makes 248 horsepower and 273 pound-feet of torque. It also uses a CVT, and it's only available with front-wheel drive. Unsurprisingly, the highest power also delivers the lowest fuel economy, but it's still quite respectable at 25/34/29.
Unfortunately, if you're looking for an ultra-efficient hybrid, Nissan doesn't offer one for the Altima. And while the higher-output turbo engine gives the car more straight-line performance, along with paddle shifters and sportier suspension than the base naturally-aspirated models, there are competitors that go further with sporty upgrades, such as the Camry TRD and Sonata N-Line.
What's the Altima like to drive?
The Altima delivers reasonable if uneventful acceleration from the combination of the standard 2.5-liter four and the continuously variable transmission, a technology Nissan has been using for decades now and that works better than some other CVTs out there. That said, it's still sluggish from a start, requiring the revs to rise for the acceleration to commence. On the road, the Altima comports itself well, providing responsive cornering and a good ride. The SR model offers a firmer suspension tune, and it verges on fun-to-drive on a winding road. It's light and responsive, but still compliant.
The turbocharged 2.0-liter engine is the definite choice for someone looking for a little more driving fun, or at least for aggressive freeway passing. It provides plenty of low-down torque, so it works far less harder when puttering around, and the nearly 100 extra horsepower means it pulls strongly when you do work it hard. The CVT doesn't do it any favors, either, but it gets the job done, and shift paddles are present to simulate gears should you want a little more driving involvement. There's no full manual mode, though, so it reverts to automatic shifting if left alone.
The electric power steering system is our least favorite element. On center, it's completely anesthetized and has what feels like too much play when driving casually around town. As such, it makes the Altima feel distant and uninvolving. But it is accurate and light. And because the whole car also feels light and responsive, the Altima can feel slightly playful. It also has a gentle, cushy ride, so it can be a great all-arounder. 
What other Altima reviews can I read?
2019 Nissan Altima Platinum 2.5 AWD Drivers' Notes Review | Competitive if not class-leading
Our editors in Michigan test the base four-cylinder paired with all-wheel drive and the top-of-the-line Platinum trim level.
2019 Nissan Altima SR VC-Turbo Review
West Coast Editor James Riswick tests the upgrade 2.0-liter turbo engine and the sportier SR trim level. 
2019 Nissan Altima First Drive Review | A sedan for a new generation
First impressions from when the current Altima was introduced, including more in-depth information about its design and engineering.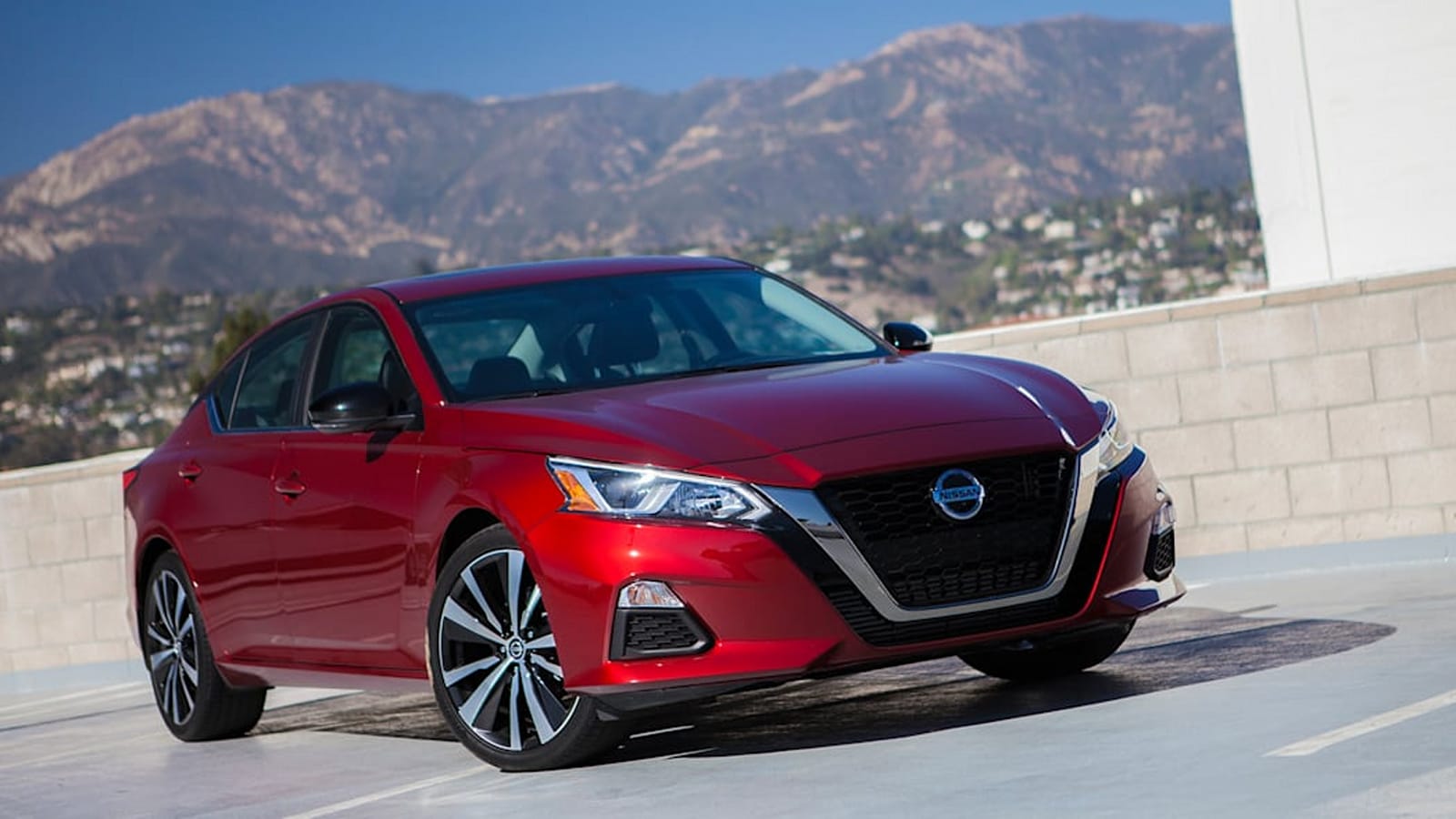 2019 Nissan Altima AWD Second Drive Review | Gaining traction
A closer look at the Altima equipped with all-wheel drive.
2021 Toyota Camry AWD vs. Nissan Altima AWD and Subaru Legacy | How they compare on paper
See how the Altima's specs and dimensions compare to the other two midsize sedans available with all-wheel drive.
How much is the 2023 Altima price and what features are available?
The Altima starts at $26,385 for the base S trim level. It comes with the naturally aspirated four-cylinder and front-wheel drive. Comfort and convenience features are pretty basic on this trim with 16-inch steel wheels with wheel covers, cruise control, power windows and locks, remote start, Bluetooth and single-zone manual climate control. And one major missing feature on the base model is Apple CarPlay and Android Auto.
Unless you're looking for the maximum fuel economy and absolute lowest price, you're likely best off opting for at least the SV trim, which starts at $27,185. For less than $1,000 more, you get many more features. It comes 17-inch alloy wheels, power adjustable driver seat, the bigger 7-inch instrument display and 8-inch infotainment screen, additional USB ports front and rear, proximity key with push-button start and Apple CarPlay and Android Auto. The SV can also be optioned with other desirable features like ProPilot highway driving assist, adaptive cruise control, a sunroof, heated side mirrors, heated seats, the 12.3-inch infotainment screen, wireless Apple CarPlay, wireless phone charging and navigation.
Other notable features and options include all-wheel-drive, which is a $1,500 option available only on naturally aspirated SV, SR and SL trims. The turbo engine is only available on the SR trim now, and it's front-wheel-drive only. The top SL trim also comes with exclusive features such dual-zone automatic climate control, rear air vents, surround-view camera and a Bose 9-speaker audio system.
Base pricing for the whole Altima line is below.
S: $26,385
SV: $27,185
SR: $28,585
SL: $33,085
SR Turbo: $36,085
What are the Altima safety ratings and driver assistance features?
Even the base Altima S comes well-equipped with standard safety features. It comes with automatic emergency braking front and rear, pedestrian detection for front automatic braking, blind-spot monitoring, rear-cross traffic alert, lane-departure warning, driver inattention monitoring and automatic high-beam headlights. Optional features are the ProPilot adaptive cruise control and lane-centering steering assist system, and traffic sign detection.
The Insurance Institute for Highway Safety gives the 2022 Nissan Altima its highest rating of "Good" in all crash tests and named it a Top Safety Pick+. The government also rated the Altima highly in its crash tests, with five out of five stars overall and for side impact and rollover risk, and four stars for frontal crash protection.
Related Video: