2024 Chevy Silverado Review: Just goes about its business
Pros: Top-notch interior in most trims; whisper-quiet diesel; useful MultiPro tailgate; SuperCruise availability; responsive handling
Cons: Rougher ride than competitors; no hybrid or electric option (yet)
The other American truck makers may still get more attention and accolades, what with their Raptors and Lightnings, TRXs and impressive coil-spring suspensions. There's frankly more to get excited about. Yet, the 2024 Chevrolet Silverado 1500 is a fine truck that, after scores of substantial updates two model years ago, is impossible to ignore.
The Silverado may not offer a hybrid or all-electric version (yet), but its TurboMax and Duramax engines pack loads of torque and excellent fuel economy. It may not offer a high-powered desert runner, but the ZR2 is fully capable of getting very dirty. And while there aren't as many luxury trim levels available as Ford and Ram offer, the Silverado's handsome, well-constructed and tech-filled cabin is second-to-none in terms of equipment, quality and appearance. Actually, never mind the ritzy Silverado trim levels – even the LT volume-seller is now pretty great.
Ultimately, there are definitely versions of rival trucks that are more distinctive, appealing and competitive than what the Silverado can manage. Its ride quality also leaves something to be desired. But if we're talking volume-selling versions, the Silverado 1500's high baseline of competence generally puts it neck-and-neck with its American competitors – and far afield of its Japanese ones. It just puts its head down and goes about its business. Many truck owners can probably relate.   
Interior & Technology   |   Passenger & Cargo Space   |   Performance & Fuel Economy
What it's like to drive   |   Pricing & Trim Levels   |   Crash Ratings & Safety Features
What's new for 2024?
There are a handful of small updates, changes and additions for 2024. The 2.7-liter turbocharged inline-four engine gets a snappy new name: TurboMax! The Duramax diesel is now available on the ZR2. The 6.2-liter V8 (what, couldn't think of a "Max" name?) now includes an active dual exhaust with a sport mode. The Midnight Edition appearance package (which requires ordering a host of other equipment) is now available on the High Country in addition to the Custom Trail Boss and 2LT, though the High Country version gets black power assist steps with LED lighting. The Blackout appearance package expands beyond the Custom trims to the RST, LT Trail Boss and ZR2. People really love black car trim these days. Adaptive cruise control is now standard on the Highway Country, and OnStar and wireless Apple/Android connectivity is now standard on even the Work Truck.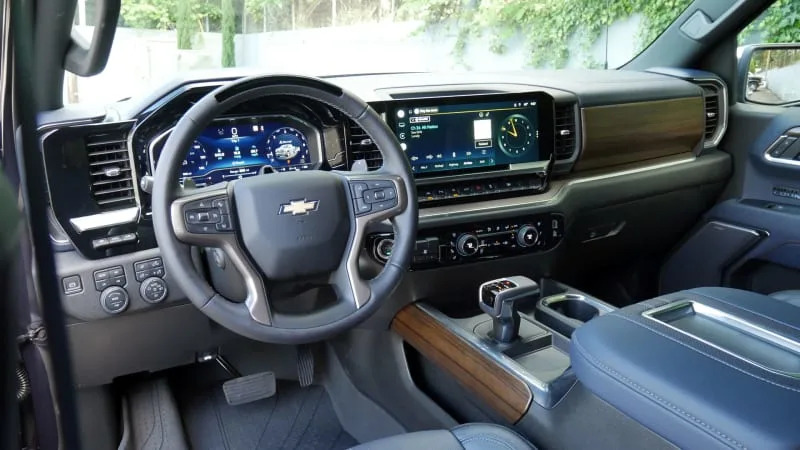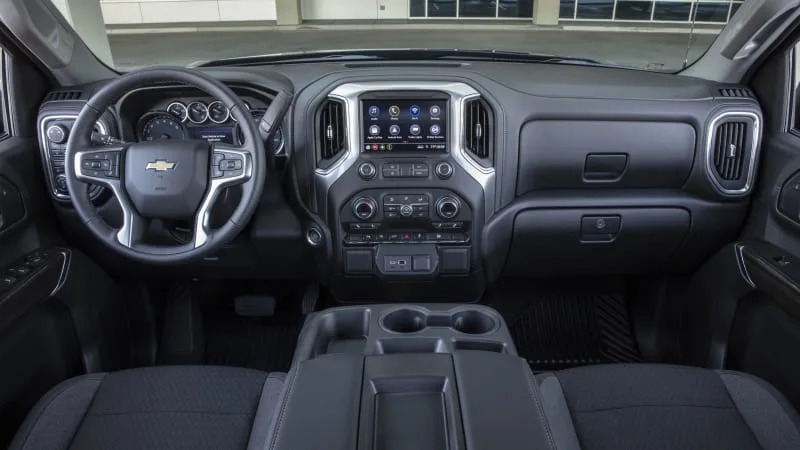 What are the Silverado interior and in-car technology like?
There are two completely different interior designs. The Work Truck, Custom and Custom Trail Boss still have the ugly, half-hearted interior this generation of Silverado originally launched with, complete with 8-inch touchscreen (pictured above, bottom right). This is less of an issue at a lower price point and for trucks, like these trims levels, with a more rough-and-tumble purpose.
All the upper trims get the interior design introduced two years ago that proved what happens when GM actually seems to try. It's thoroughly modern, and in some trim levels, arguably class leading. Although we were very impressed by how nice the LT trim level is (pictured above, top), it's the upper trim levels that benefit most from the overhaul (pictured above, bottom left). There's lovely real wood trim, quality leather (available in blue!) and an attractive design that benefits from the more aesthetically pleasing widescreen touchscreen that comes standard with this interior.
Besides aesthetics, we appreciate the 13.4-inch touchscreen's widescreen orientation as it easily allows you to see and operate multiple screens at once, and also lends itself to a more attractive design (although the right side of the screen is quite a reach). The infotainment system is also among the first in the industry to run on the Android Automotive operating system. It generally works well and is easy to figure out, but doesn't represent an advantage over Ford and especially Ram. Note that if you're an Apple user, don't worry. Apple CarPlay is fully supported, along with Android Auto.  The also-standard 12.3-inch instrument display is bright, crisp, and doesn't wash out even in bright sunlight, while offering different designs based on driver preference and the truck's trim level.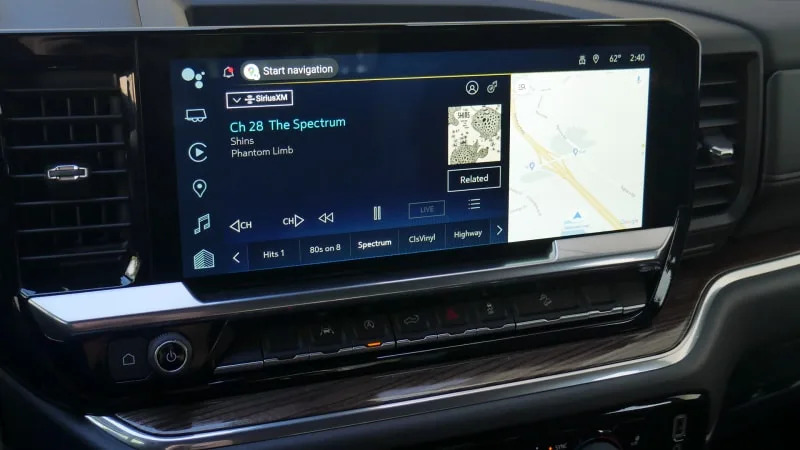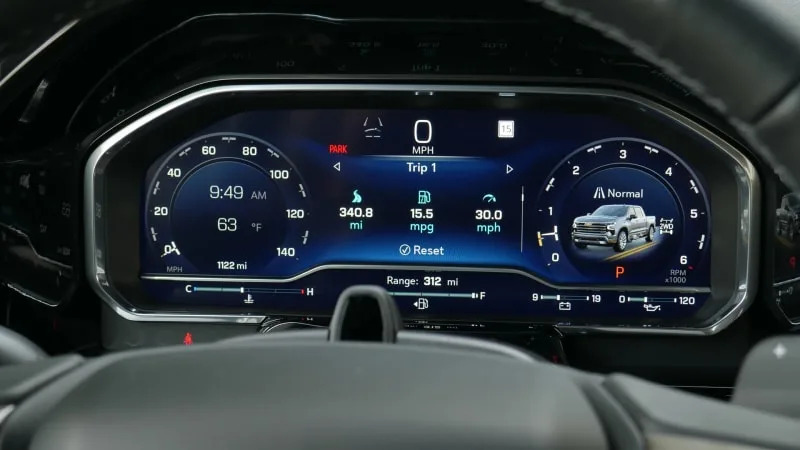 How big is the Silverado?
It's huge. But so are all full-size pickups today. There are three cab configurations: a two-door Regular Cab with an 8-foot bed, a Double Cab with four doors and a 6.5-foot bed, and the larger Crew Cab four-door with either a 6.5-foot or a 5.8-foot bed. The Regular Cab measures 229.5 inches from stem to stern, while the Double Cab and the Crew Cab short box are just 2 inches longer, and the Crew Cab long box tacks on another 10 inches. The ZR2 off-road version is sold only as a Crew Cab with the short box.
The Silverado features higher bed sides than most competitors, allowing Chevy to claim greater cargo volume. You can also get it with GM's Multi-Flex tailgate shown above left that provides various functional upgrades and features over a traditional one-piece tailgate. Quite simply, it makes it so much easier to load and unload the bed.
Payload ranges from 2,130 pounds for the 4×4 Crew Cab to 2,280 for the 4×2 Regular Cab. Buyers who would routinely max out the payload, however, should look instead at the Silverado HD.
The vast majority of Silverados sold are the four-door Crew Cab configuration (pictured below with blue interior), which has sprawl-out space in the rear seat. The rear seat bottom also can flip up to help when carrying cargo inside. Access is easy through huge doors, although it's a climb up to get inside (more so on the off-road-themed variants with their raised suspensions). The Double Cab is less spacious, and its rear seatback is more upright (pictured below in red truck. The Double Cab's narrow rear doors are a clue that its back seat is meant for occasional use, but at least they're front-hinged rather than Ford's awkward clamshell design. You can also see the Silverado's six-passenger configuration below left, which includes a front middle seat.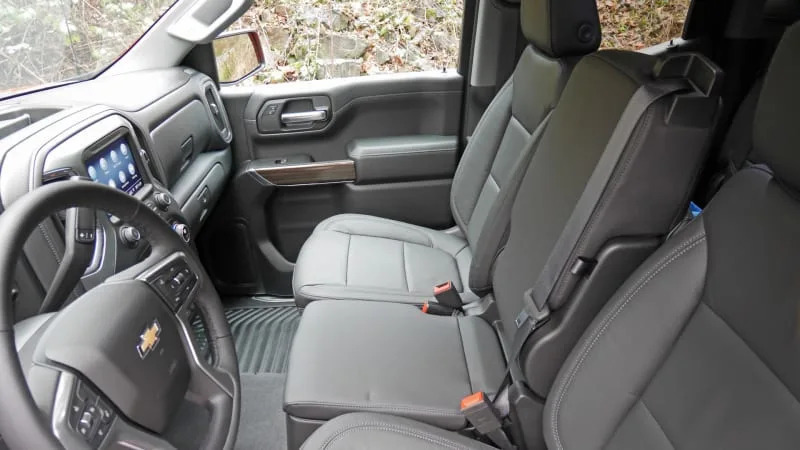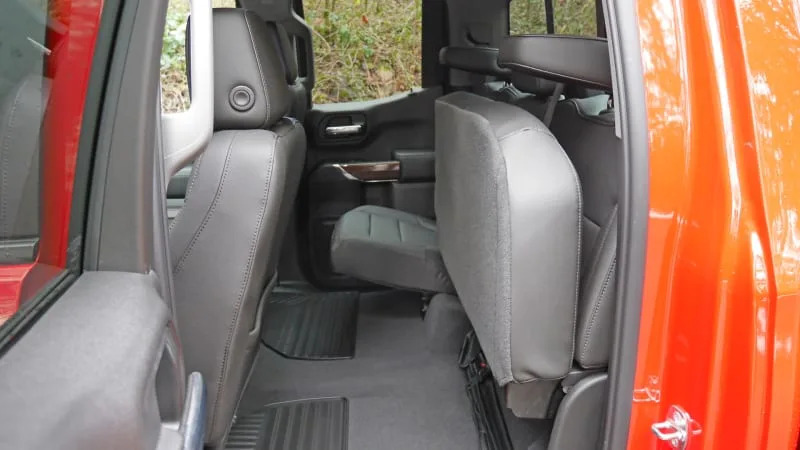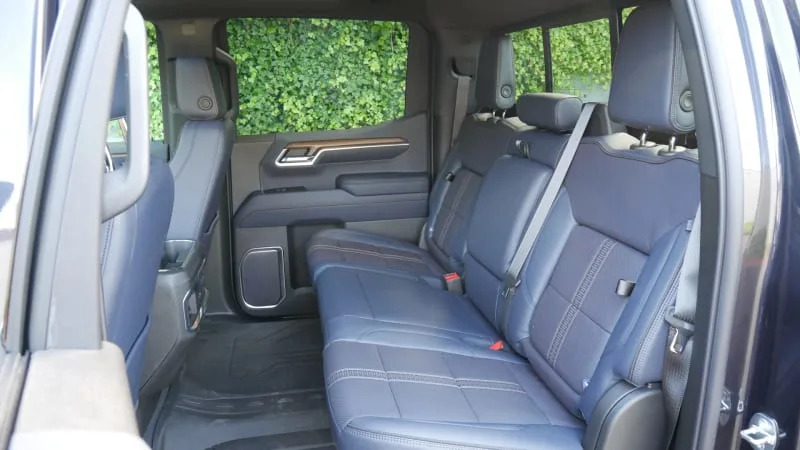 What are the Silverado fuel economy and performance specs?
The Silverado has a sprawling powertrain lineup with four engines, three transmissions and of course two- and four-wheel drive. As a result, performance and fuel economy vary widely. There is also the Silverado EV, but apart from the name and the fact it's a truck, it's a very different vehicle we will review separately.
The base engine, now dubbed TurboMax, is a unique 2.7-liter turbocharged inline-four good for 310 hp and 430 lb-ft of torque. That torque figure is considerably better than the 5.3-liter V8. Paired with an eight-speed automatic, it's the standard powerplant from Work Truck to LT Trail Boss. Fuel economy for this engine was not available at the time of this writing, but it's unlikely its changed significantly from last year's EPA estimates of 20 mpg combined for 2WD models and 18 mpg combined with 4WD.
Standard on the LTZ and High Country, and optional on all others but the Custom, is a 5.3-liter V8 good for 355 hp and 383 lb-ft of torque. A 10-speed automatic is now standard (there used to be six- and eight-speed options). Unlike in the past, it is only available with GM's more advanced Dynamic Fuel Management system (DFM) that can shut down various numbers of cylinders to save gas. The result is fuel economy that ranges from 16 mpg combined for a Trail Boss with Mud Terrain tires to 18 mpg combined for 2WD trucks. We'd advise buyers to take a test drive of the 2.7-liter turbo or diesel before deciding to go with the smaller V8.
Speaking of the Duramax diesel, the 3.0-liter inline-six produces 305 hp and 495 lb-ft of torque. It too is coupled with the 10-speed automatic. Fuel economy ranges from 26 mpg combined with 2WD to 22 mpg combined for a 4×4 mud terrain tire model (the new ZR2 diesel is 21 mpg combined). That's as big of a fuel economy advantage as it seems over the other engines, but unfortunately, high diesel prices wipe out any sort of economic advantage. Should they go down, however, you'll be back to saving money, especially compared to the V8s.
The 6.2-liter V8 is the top-dog offering with 420 horsepower and 460 lb-ft. It too gets the 10-speed and is only available with 4WD. The 6.2 is standard on the ZR2, and optional on the RST, LT Trail Boss, LTZ and High Country. EPA estimates range from 15 mpg combined for those with mud terrain tires to 17 mpg for a more road-going version.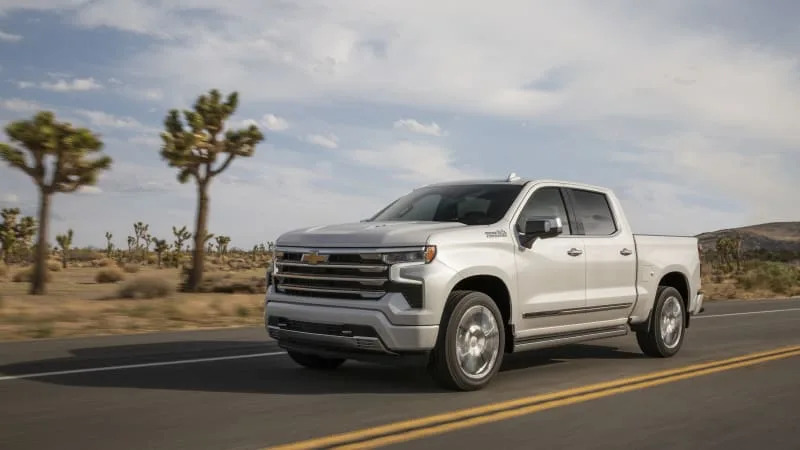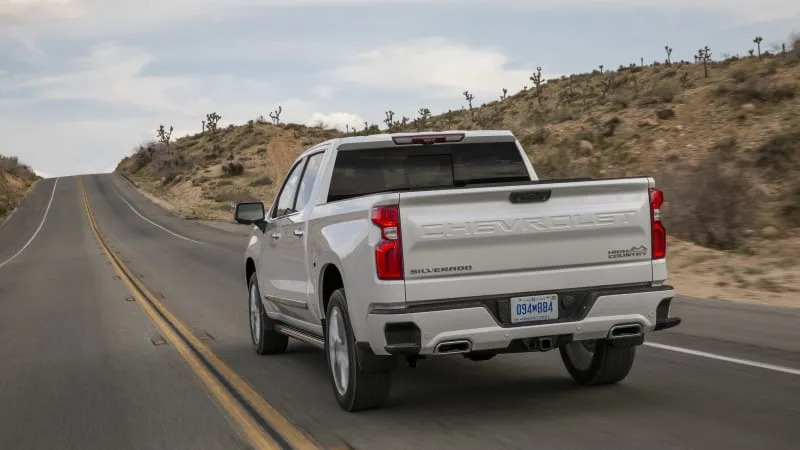 What's the Silverado like to drive?
We've been impressed with the Silverado's road holding and steering since its last major redesign for 2019. Despite its size, the Silverado is not ponderous to drive. Handling is actually fairly responsive, and it feels nimbler than its rival trucks. The ride quality continues to be a sore spot, however. An LT Double Cab we tested bounded nautically over bumps, while other trims with bigger wheels produce tiresome impact harshness, and there's some rear axle hop when the bed is unloaded. The top-spec High Country now comes with adaptive dampers that should smooth out the ride at least somewhat, but expect the Ram and F-150 to ride better regardless of version.
We've spent just enough miles in Silverados powered by the TurboMax four-cylinder engine to feel confident recommending it as a viable alternative to a more traditional V8. It may seem weird and possibly sacrilegious to have a four-cylinder in a full-size pickup, but if you can get past that mental hang up, we think you'll find it'll be a solid work horse. That said, we'd probably opt for the Duramax diesel. For starters, it's shockingly quiet – both inside and, most surprisingly, outside. You'd be hard pressed to tell it's not a gas burner until you lay into the throttle and discover all that low-end torque. Fluctuating diesel fuel prices may wipe out any sort of cost savings at the pump, but there's enough benefit here to still consider it a net gain over the TurboMax and 5.3-liter V8.
Now, as for the V8s, the mid-level 5.3-liter is a fine engine that pairs well with its 10-speed automatic, but is ultimately unremarkable considering the other engines offered as well as those of rival trucks. The bigger 6.2-liter most definitely does feel significantly more powerful than any of the smaller engines — it's rated at a stout 420 horsepower and 460 lb-ft of torque — and works very well with its standard 10-speed auto. Most buyers won't truly need the extra power of the bigger V8, but for those who do plan to tow heavy loads, it's a good option.
Shifting gears (or transfer cases), let's touch on the Silverado's various off-roader trim levels.  An off-road stint in the Trail Boss showcased its mud-slogging capabilities, although those come at a cost to on-road comfort. The Trail Boss is a solid off-roader, available in two trim levels no less (Custom and LT), but buyers looking for the ultimate Bowtie-badged off-road pickup truck will want to check out the Silverado ZR2. It features excellent Multimatic DSSV shocks and boasts an approach angle of 31.8 degrees, a breakover angle of 23.4 degrees, and a departure angle of 23.3 degrees. Those are class-competitive figures that allow the ZR2 to tackle the same kind of off-road terrain that Ford Raptor buyers have had access to for years. But the ZR2 doesn't get an upgraded powerplant; the standard 6.2-liter V8 is the same as it is on other trims.
What other Chevy Silverado reviews can I read?
2022 Chevy Silverado ZR2 First Drive | Raptor rival? More like an alternative
We break down all the upgrades that make the new-for-2022 Silverado ZR2 more capable off of pavement than any other truck in Chevy's stable. It's priced similarly to the Ford, but doesn't match up spec-for-spec with the segment-defining Ford Raptor. It instead stands separate as an alternative that ought to be easier to live with on a daily basis.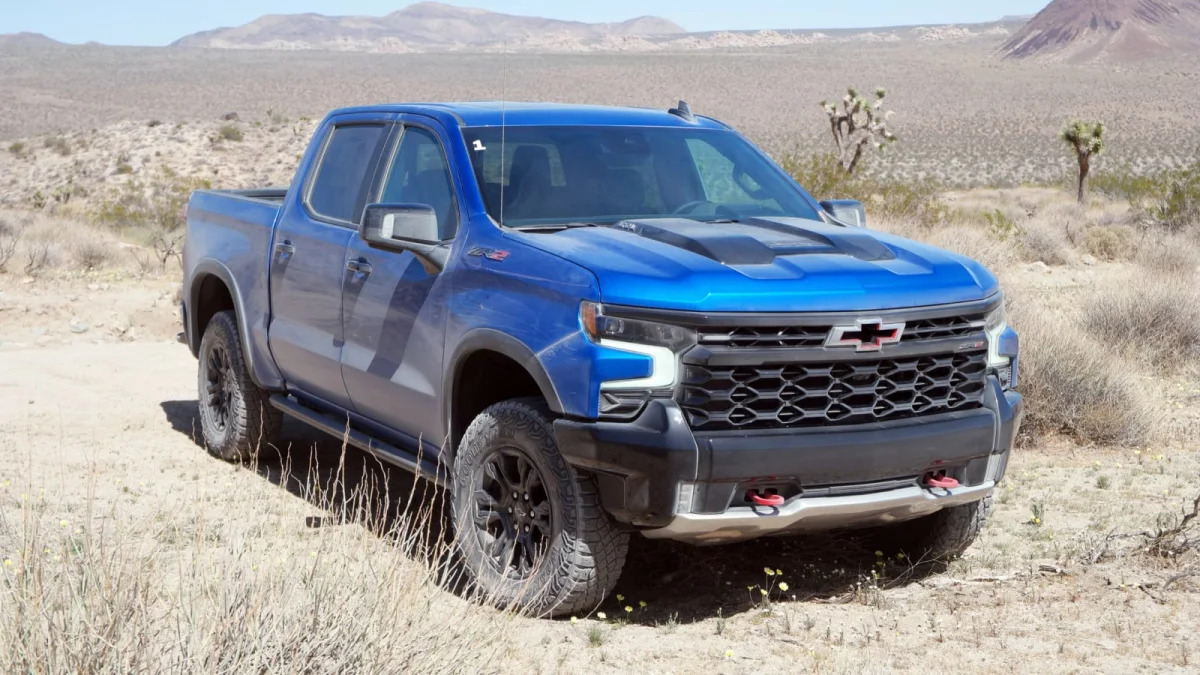 2020 Chevrolet Silverado 1500 Duramax First Drive Review
Here's our most comprehensive review of the Silverado when fitted with the Duramax diesel engine.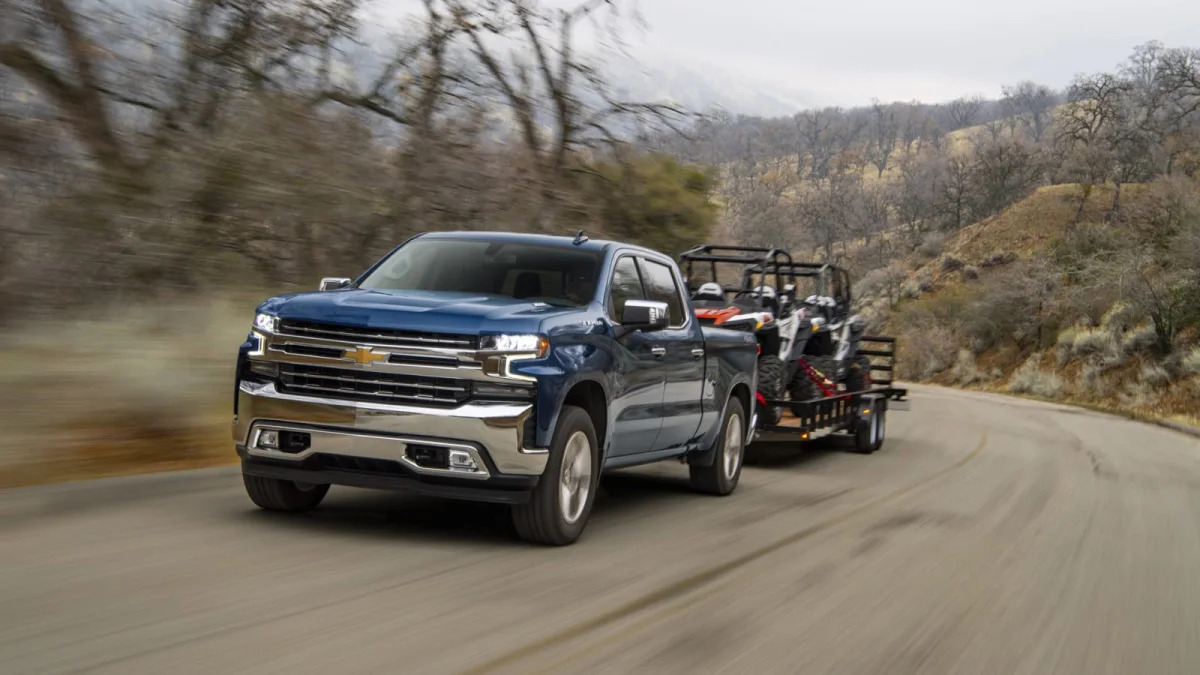 2019 Chevrolet Silverado LT Double Cab Review
This is our only test of a Double Cab Silverado, so it's still worth a look even though the truck's LT trim level and 2.7-liter engine have both been significantly updated since this was published.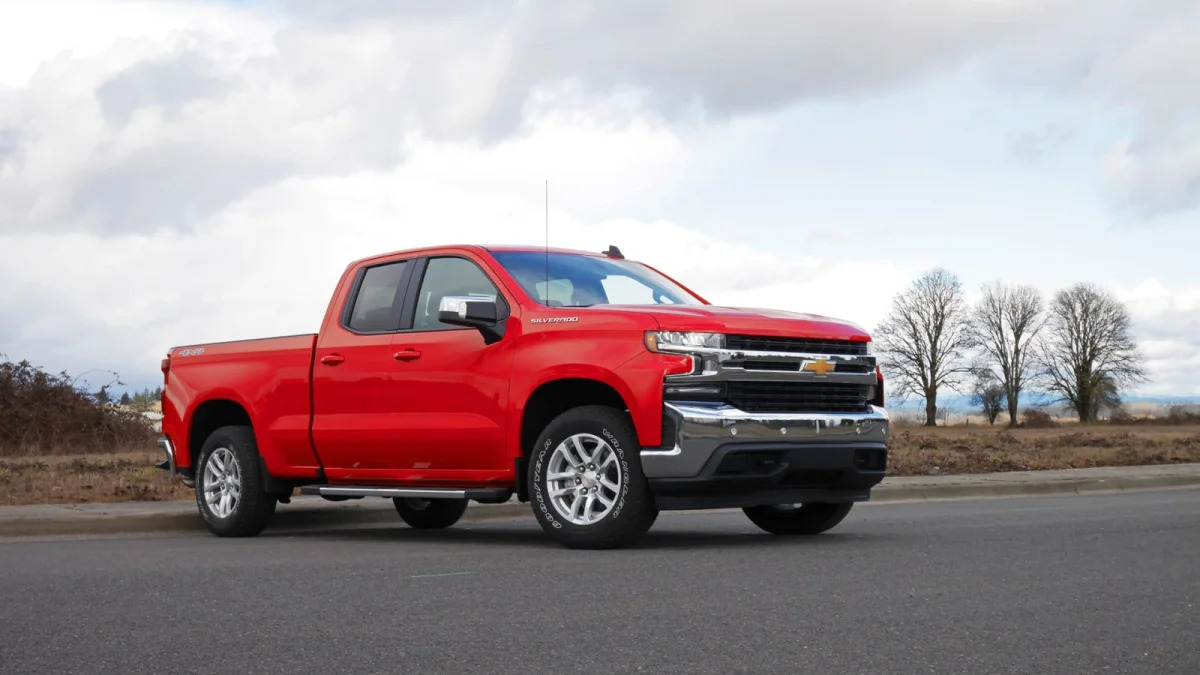 2020 Chevy Silverado Trail Boss Off-Road Review
We take the most off-road-oriented Silverado 1500 off-road, finding it to be plenty capable but with a few compromises.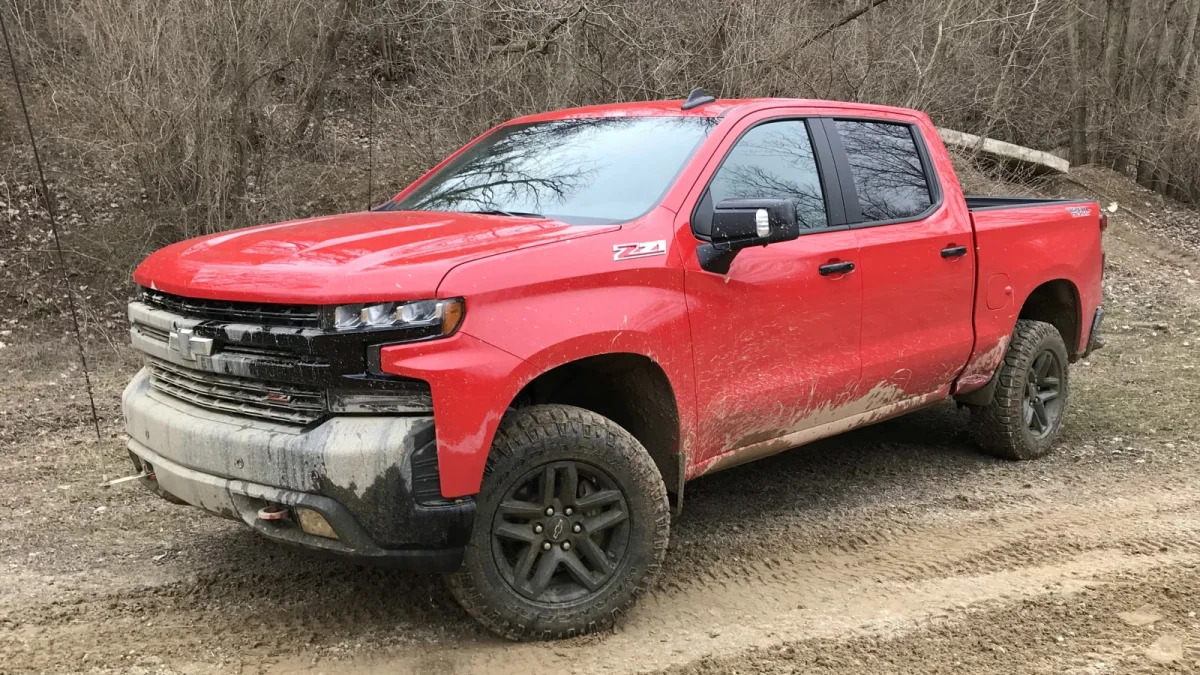 2019 Chevrolet Silverado 1500 First Drive Review
Here is our more comprehensive review of the 5.3- and 6.2-liter V8 engines, including while towing. We also provide in-depth details about the new Silverado's overall engineering and design.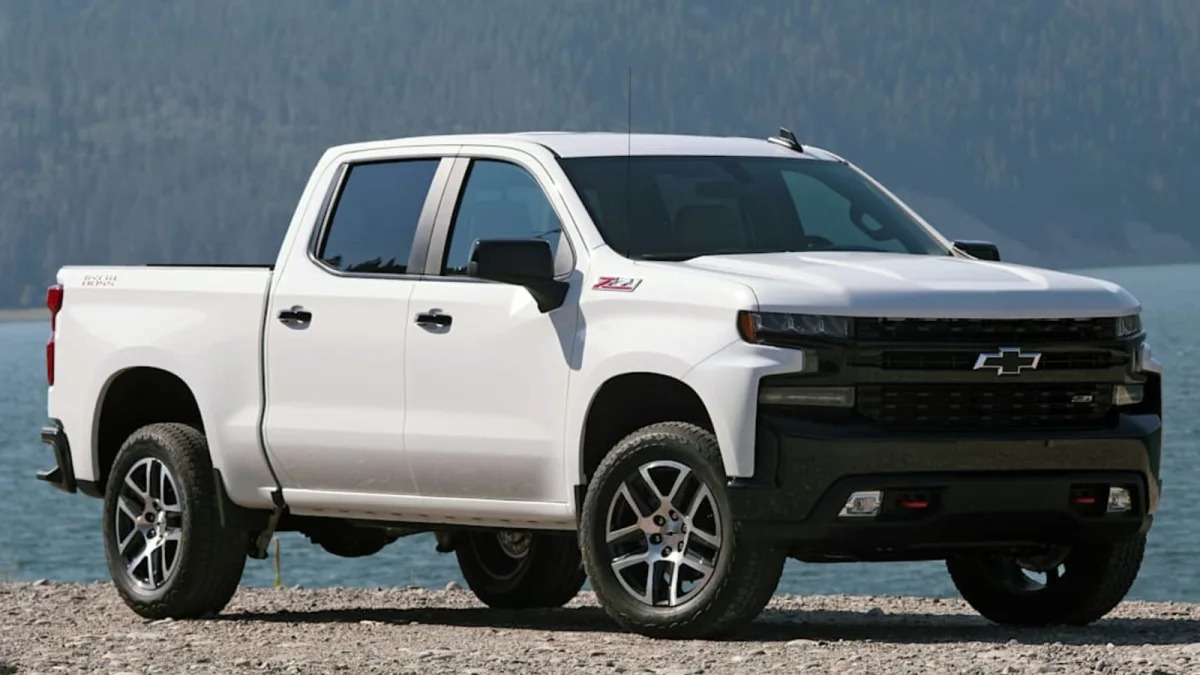 What is the 2024 Silverado price?
After massive price increases last year, the Silverado's price only jumps by a couple hundred bucks, which is far more normal for year-to-year changes. The most basic Silverado now starts at $38,695 including the enormous $1,895 destination charge. That regular cab Work Truck is really only for businesses. The first version likely to be considered by regular customers is the Custom at $45,495, while the first with the new interior design is the LT at $49,895.
All prices below are the cheapest price each trim level is available. We have separated the off-road-oriented trucks, which come standard with four-wheel-drive and various mechanical upgrades. The others come standard with rear-wheel-drive. You can find a comprehensive breakdown of every version within each trim level here on our 2024 Silverado pricing page. There are also various appearance packages available on certain trim levels
Work Truck: $38,695
Custom: $45,495
LT: $49,895
RST: $53,295
LTZ: $59,095
High Country: $64,595 (pictured below in white)
Custom Trail Boss: $53,695
LT Trail Boss: $59,895
ZR2: $71,795 (pictured below in blue)
ZR2 Bison Edition: $78,490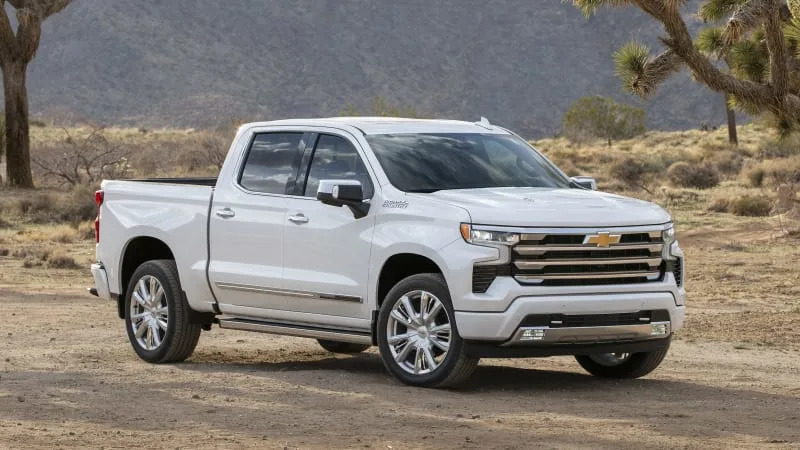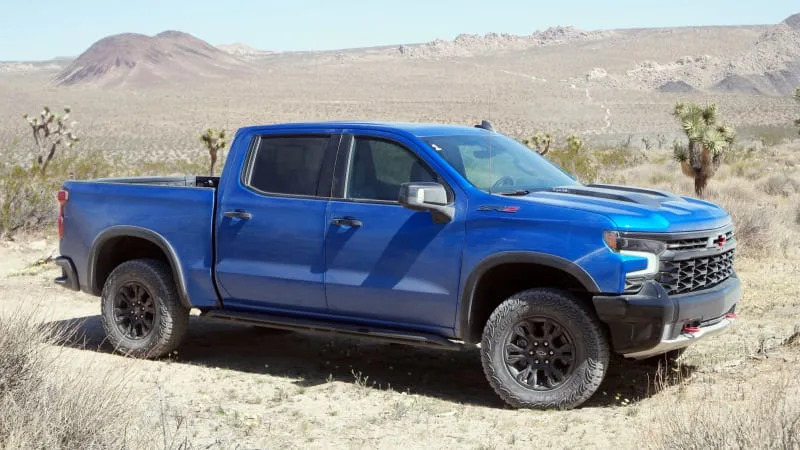 What are the Silverado safety ratings and driver assistance features?
All 2024 Silverados come standard with automatic emergency braking with pedestrian detection, lane-keep assist and automatic high beams. Adaptive cruise control is standard on the High Country and optional on most other trim levels as part of various packages. Only the High Country is available with Super Cruise, which is a hands-free partially automated driving system for highway use. It also operates with a trailer, and it can execute lane changes. 
The NHTSA gave the Silverado Crew Cab a five-star overall crash rating (out of five stars), along with a four-star frontal rating and five-star side crash rating. The Regular and Extended cabs were only tested for side protection and they too got five stars. The Insurance Institute for Highway Safety gave the Silverado the best possible score of "Good" in all but the "small overlap front: passenger side" test where it got a third-of-four "Marginal" score.