2024 Lotus Emeya: This Is It
Electric cars have a problem, one that's unrelated to charging or range or the environment: They're just too dang heavy. For Lotus, traditional purveyor of lightweight, nimble track cars, this presents a real struggle. How do you stick to "simplify and add lightness" in the electric age?
What Is The Most American Car? | Jalopinions
As it turns out, you don't. You pivot to "luxury performance," expand your lineup to include a hypercar and a crossover, and drown out the cries of the fifteen Elise owners who care with all that sweet, sweet lifestyle-buyer cash. Then, to reinforce that performance pedigree, you cram 905 horsepower into a four-door grand tourer, and call it the Emeya. Simplicity and lightness are dead, long live speed.
Photo: Lotus
The Emeya is Lotus's latest salvo in the EV speed wars. The company claims the tourer will have 905 horsepower, 726 lb-ft of torque, and a zero-to-60 time of 2.78 seconds when it starts rolling off the assembly line next year. Lotus didn't specify a range figure, only that the Emeya should be "broadly similar to that of the Eletre."
For that famed Lotus handling, the Emeya features computer controlled air ride suspension, which is pressed to the ground by active aero in the car's body. Lotus hopes that this suspension, paired with the dual-motor AWD drivetrain and "race-grade braking system," will make the Emeya a true driver's car.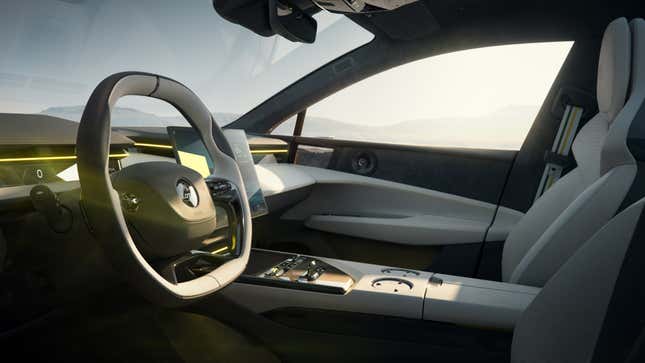 Photo: Lotus
Inside, the Emeya is replete with luxury appointments. Alcantara, Nappa leather, aluminum — all the usual high-dollar accoutrements are here and accounted for. Lotus claims the car's interior is "a space with many luxury materials and tactile surfaces," which just means "a place where the things are nice to touch." What more can you ask for in a car, really?
The Emeya does boast a sound system that's a league above the rest. Lotus claims the car's stereo will support Dolby Atmos for full 3D sound — not just around the passengers, but above and below them as well. A good Atmos system is absolutely worth hearing, and will likely make the Emeya a great place to sit for those big grand tours.
Lotus hasn't announced pricing for the Emeya, but the company expects the tourer to go on sale sometime next year. The days of the uncompromising, ultralight track car are dead — now is the time of zero-to-60 racing four-doors.