A complete guide to Energy Performance Certificates
If you've bought, sold or rented a property in the past few years, you'll have likely encountered energy efficiency ratings and certificates. These are the home equivalent of the energy efficiency rating stickers you'll see on new household appliances.
But with energy costs soaring each month, understanding energy performance certificates and what the coloured bands mean is more important than ever. This is because they can help you make your home more energy efficient by identifying where you can implement energy-saving measures.
However, this isn't the only reason you may need an EPC. If you intend to sell or rent your property, you will need to ensure you either have a valid EPC or book an assessment to get a new one. Failure to do so can result in a fine — this is the last thing you need if money is already tight.
With all these factors in mind, we'll explain everything you need to know about Energy Performance Certificates (EPCs), from exactly what they are to when you'll need one. We'll also cover what you need to do when preparing for an EPC assessment to take place in your home and what will be contained in the document. This will help you make the most of the information and take the best steps to ensure your home is more energy efficient. So, let's jump in!
What are Energy Performance Certificates?
An Energy Performance Certificate (EPC) is a document valid for ten years that outlines the results of a property's energy efficiency assessment. It contains an EPC rating which identifies how energy efficient a property is. This is shown on a scale from A to G, with A being very energy efficient and G being inefficient — much like the coded traffic light stickers you'll find on new appliances.
Furthermore, an EPC also contains information on how much a property costs to run and its potential carbon emissions. You'll also be able to use the certificate to identify improvements that can be made to the property to increase its energy efficiency and reduce energy bills.
What is checked for an EPC?
There are several factors that an EPC energy assessor will analyse and consider when looking to identify the energy efficiency of a property. These factors include:
Property age: older properties tend to be less energy efficient as they use outdated construction methods that are less effective than modern ones.Property size: the larger the property, the harder it can be to heat and the more energy it requires.Construction materials: the assessor will identify the specific materials used for the property and how energy efficient they are.Heating systems and controls: the inspector will look at the current heating system to see how old it is, how it is operated, and whether it has additional controls, such as thermostatic radiator valves.Secondary heating systems: if the property has any renewable heating systems in place, these will be taken into account during the inspection.Insulation: the assessor will need to identify whether the loft is insulated and, if so, how much insulation is currently in place — the recommended thickness for loft insulation is currently 270mm. Where appropriate, they may also need to look in the loft to identify the type of wall that connects your property to your neighbour's.Wall thickness: thicker walls and effective wall insulation will both contribute to a higher overall energy efficiency rating.Floor and roof construction: properties lose a high percentage of their heat through the roof and floor. Therefore, a well-insulated roof and floors will dramatically improve a property's energy efficiency.Windows: a property's energy efficiency rating will be impacted by the type of windows it has fitted. For example, single glazing is far less energy efficient than double or triple glazing.Lighting: the assessor will identify the number of light fittings and the number of low-energy lightbulbs being used.Hot water cylinder details: properties with hot water cylinders can increase their energy efficiency by utilising timers. This allows the homeowner to programme the system to heat up water when needed, rather than having it on constantly.
What are the EPC ratings?
EPC ratings are shown on a lettered traffic light system. Properties are assessed according to the government's Standard Assessment Procedure (SAP) and then given an overall score to show their energy efficiency. The scores are then shown in terms of the lettered band and the colour they fall into. The energy efficiency ratings are as follows:
EPC rating A: 92-100 SAP points (Green)EPC rating B: 81-91 SAP points (Green)EPC rating C: 69-80 SAP points (Green)EPC rating D: 55-68 SAP points (Yellow)EPC rating E: 39-54 SAP points (Amber)EPC rating F: 21-38 SAP points (Orange)EPC rating G: 1-20 SAP points (Red)
A property's overall score is usually shown in terms of the letter band its score falls into. As previously mentioned, the ratings range from A to G, with A being green to show it is the most energy efficient.
Why get an EPC?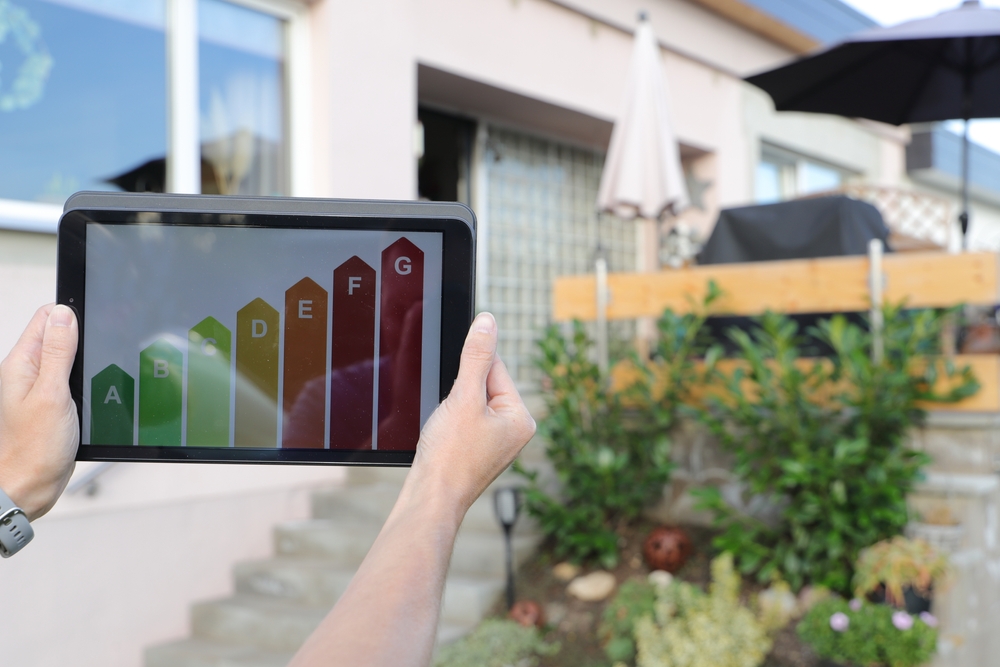 EPCs are legally required when a property is being built, sold, or rented. If you're a landlord, you'll need an EPC before you can start a new tenancy agreement. You're also legally required to ensure that your property meets the minimum energy efficiency standards before you can rent it — we'll explain this in more detail later in this article.
If you're a buyer, an EPC can help you decide whether a property is right for you by outlining improvements that need to be made to increase the property's energy efficiency. It will also give you an idea of how much the property will cost to run in terms of energy bills so you can determine whether it's affordable to maintain.
On the other hand, an EPC is an incredibly valuable document even if you plan to keep living in your property. The reason is that it will help you identify areas of improvement for your home's energy efficiency so you can help the environment and save money in the long run. It's also worth remembering that improving your home's energy efficiency doesn't necessarily have to mean making big changes all at once. There are plenty of recommended energy-saving hacks you can start implementing straight away.
Who produces EPCs?
EPCs can only be carried out by accredited assessors. You can ask your estate or letting agent to find one for you, or alternatively, you can head to the government website to search the EPC register. Depending on the country you are located in, you'll need to choose the appropriate register from the following:
How do you know if an EPC is legitimate?
If you need to check whether a property has a valid EPC or whether an EPC is legitimate, you can search the government website to find an energy certificate. The document can then be checked to see who the property was assessed by and who the EPC was accredited by.
Can I do my own EPC?
No, an EPC assessment must be carried out by an accredited domestic energy assessor. Many estate agents will offer EPCs as part of their services, but this can often be more expensive than going directly to an inspector. For this reason, the best way to find an accredited EPC assessor is to head to the relevant government website — we covered these in the previous section.
How do I prepare for an EPC?
EPC assessments are thorough, so when you arrange for one to take place, prepare for it by ensuring the inspector has access to the following areas of the property:
Front and rear of the buildingEach room within the propertyThe boiler (including access to the rear of it)The hot water cylinderThe loftGas and electricity meters
For these areas, you may need to clear personal items out of the way so that the assessor has unobstructed access. For example, if you store linen and towels in your airing cupboard. Or, you may need to remove a board from the loft if it prevents the inspector from measuring the thickness of the loft insulation.
Where applicable, it also helps if you can provide the following:
A building logbookBuilding plansBuilding regulationsCavity Wall Insulation GuaranteePrevious building surveys and assessmentsA FENSA certificate — if you have had windows installed in the past 15 years by a registered fitterA Building Control Completion Statement — if you have had your property extended or a loft conversion
The inspector will take photographs of your home. This will include photographs of things like fittings and fixtures, the heating system, and the hot water tank. They will also include relevant documents that you can provide.
Finally, if you have children or pets, it is advisable to notify the inspector about them before the assessment commences. Where possible, keep your pet outside or in a cage for the duration of the inspection. You should also supervise young children.
What is included in an EPC?
It's worth noting that not all EPCs look identical. That said, an EPC will usually contain the following sections:
Current and potential energy saving costs: this first section will give you an idea of how much energy bills for the property will cost. You'll also be provided with an estimate of how much you could lower these bills if improvements were made to the property.Energy performance summary: here, you'll find an in-depth breakdown of each of the property's features with individual energy ratings alongside them. This can help identify key areas of improvement. It can also help prospective renters and buyers choose between properties.Recommendations: this document section runs through measures that can be taken to improve the property's energy efficiency. It will also provide estimated costs for the improvements and give an idea of how much each improvement will increase the EPC rating.Information about the data: this section contains basic information about the EPC itself, including who it was carried out by, the date of assessment, and the accrediting body.
Is an EPC a legal requirement?
An EPC is a legal requirement if you intend to sell or rent your property. You will need to provide any prospective buyers or renters with a valid EPC issued by a qualified EPC assessor. This should be made available at the earliest opportunity, free of charge. In Scotland, you must display the EPC somewhere in your property, e.g. next to the boiler.
It is also worth being aware that as of 1 April 2018, it is a legal requirement for landlords or estate agents to ensure that domestic properties being rented out meet the minimum energy efficiency standards (MEES), which is an energy efficiency rating of E or above. So, if you are currently renting a property that does not meet the minimum rating, you'll need to improve its energy efficiency or apply for an exemption immediately. Alternatively, if you are planning to rent out a property with an EPC rating of F or G, you will need to improve the rating or register for an exemption before starting a new tenancy. If a landlord fails to provide a valid EPC when needed, they could face a fine of up to £5,000.
Do all properties need to have an EPC?
No, some properties are exempt from needing an EPC. These include:
Buildings used for worshipBuildings that are set to be demolishedTemporary buildings (those that will be used for less than two years)Non-residential agricultural buildings, workshops, and industrial sites that have low energy consumptionListed buildings (where minimum energy performance requirements would alter character or appearance in an unacceptable manner)Stand-alone buildings that have a floorspace of less than 50 square metersResidential buildings that are intended to be used for less than four months a yearHoliday accommodation rented out for less than four months per year
Summary
An Energy Performance Certificate (EPC) is a legally valid document that is provided by an accredited assessor after an inspection has been completed to identify how energy efficient a property is. The EPC will include a lettered EPC rating from A to G, where A is very energy efficient and G is inefficient. The document also includes recommendations for improving the property's energy efficiency, a breakdown of the current energy costs, and potential improvements to energy bills if the recommendations are implemented. It may also increase a property's saleability if you choose to improve its energy rating.
Finally, EPCs are a legal requirement when a property is built, sold, or rented. In these instances, the certificate should be made available at the earliest opportunity, free of cost. Landlords must also ensure that properties intended to be rented meet the required energy rating before a tenancy commences.
Also read:
News about energy grants
6 ways to make your home more eco-friendly
What is an EWS1 form?