Another Car Has Somehow Ended Up In The Second Story Of A House
Photo: Facebook/Junction Fire Company
If you're going to crash a car into the second story of a house, you would think you'd want some kind of performance car. Maybe even something with some obnoxious performance mods. A 1,000-hp A80 Toyota Supra would make sense. Or a Mustang of some sort because, well, there's a reason Mustang jokes became a cliché. But for some reason, the last couple of times we've written about cars launching themselves into the second stories of buildings, they've been surprisingly mundane, regular cars.
Cedric the Entertainer's First Car Was the French Hatchback Renault Encore
For example, there was the Nissan Altima in Santa Ana, California. And the Subaru Outback in Placer County, California. This time around, it's a Toyota Corolla in Decatur Township, Pennsylvania. At least it's not in California this time? ABC27 reports that the driver was the only one hurt in the crash on Sunday and was taken to the hospital for treatment. It wasn't some late-night crash, either. It reportedly happened in the middle of the afternoon.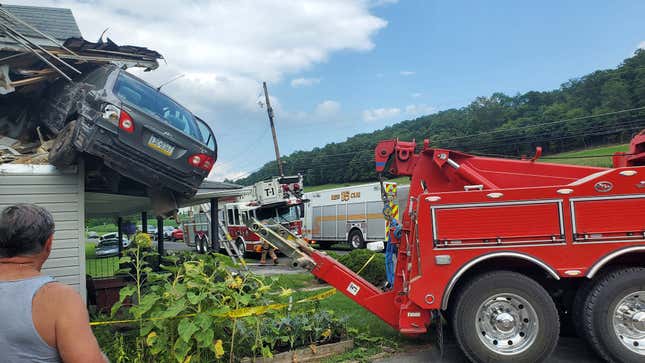 Photo: Facebook/Junction Fire Company
As for how the driver managed to wedge their Corolla into the second floor of the house, the fire crew that responded said it believes the car hit a culvert next to the driveway, sending it flying. How fast the driver was going at the time of the crash, however, is still unknown. It's entirely possible they weren't driving especially fast, and it was just a freak accident, but even considering how slow that generation of Corolla was, we have our doubts.
Pennsylvania State Police are reportedly investigating the wreck, so it's possible we'll get more information soon. In the meantime, rescue crews were apparently able to stabilize the house and cover the gaping hole with a tarp. Unfortunately for the owners, even assuming insurance will take care of the damage, it doesn't look like it's going to be a quick fix.
Photo: Facebook/Junction Fire Company