Another Massive Airbag Recall Is Coming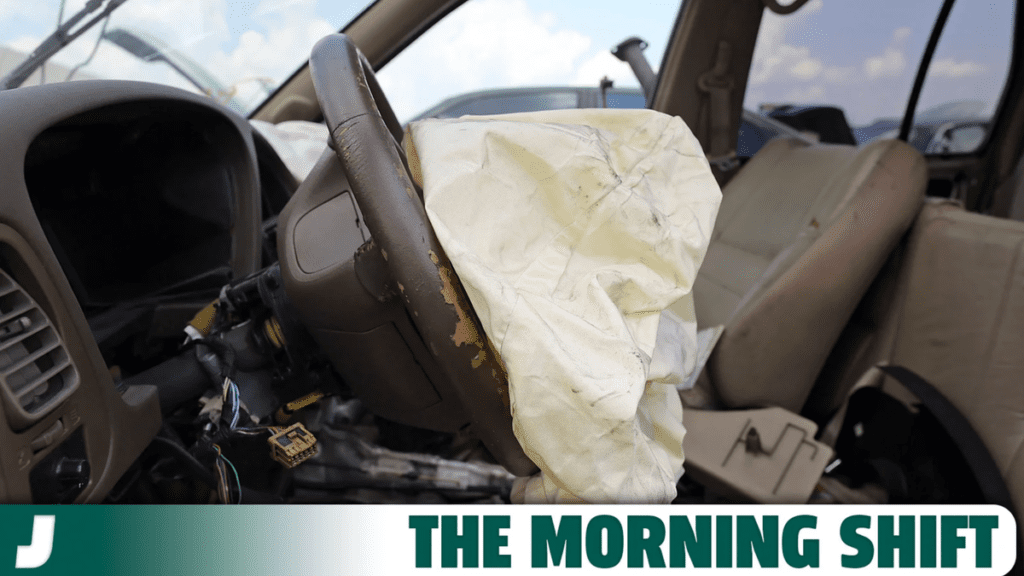 Good morning! It's Wednesday, September 6, 2023, and this is The Morning Shift, your daily roundup of the top automotive headlines from around the world, in one place. Here are the important stories you need to know.
We Hope Steve Never Has to Test This Motorcycle Airbag Vest
1st Gear: NHTSA Says 52 Million Defective ARC Airbags Should Be Recalled
The National Highway Traffic Safety Administration says it has determined 52 million airbag inflators made by ARC Automotive and Delphi are defective and should be recall.
The decision impacts about 41 million driver and passenger inflators made by ARC between 2000 and January 2018. A further 11 million inflators made by Delphi under license with ARC are also reportedly affected. From Automotive News:
The inflators are installed in vehicles manufactured by 12 automakers, including Ford Motor Co., General Motors, Chrysler-parent Stellantis, Hyundai, Tesla and Toyota.
"These airbag inflators may rupture when the vehicle's airbag is commanded to deploy, causing metal debris to be forcefully ejected into the passenger compartment of the vehicle. A rupturing airbag inflator poses an unreasonable risk of serious injury or death to vehicle occupants," NHTSA wrote.
[…]
The latest action comes amid an eight-year-long investigation of rupturing airbag inflators manufactured by ARC, a Knoxville, Tenn., Tier 2 supplier.
In a letter made public in May, NHTSA demanded that ARC recall 67 million airbag inflators produced through January 2018 that the agency "tentatively concluded" are defective.
ARC rejected NHTSA's demand. The company stated that it "strongly disagrees with the agency's 'tentative conclusion' that a safety defect exists" in the driver and passenger inflators.
Since the launch of the ARC investigation back in 2015, automakers like BMW, Ford and Volkswagen have initiated eight recalls to address potential safety defects.
NHTSA will hold a public hearing on October 5 allowing ARC to present arguments showing there is no defect. If NHTSA makes a final decision that there is one, ARC will have to file notice of the defect with the agency, and automakers will be ordered to carry out recalls the likes of which we haven't seen since the Takata scandal.
2nd Gear: The Durango Hellcat Refuses To Go Away
The Dodge Durango SRT Hellcat is coming back for another round, baby. The 710 horsepower super SUV will stick around for the 2024 model year, even though the rest of the Hellcat lineup is racing off into the sunset. From Automotive News:
The Durango Hellcat was introduced for the 2021 model year and was supposed to have a one-year run. But after a hiatus, Dodge revived the Hellcat variant for the 2023 model year in response to enthusiast demand — a move that prompted seven customers to file a lawsuit accusing the automaker of deceiving consumers by saying the 2021 Durango Hellcat would be offered for just one year.
A Stellantis spokesperson confirmed the return of the spry SUV on Tuesday. The company listed the model on its 2024 "What's New" product site for media.
Dodge hasn't told AutoNews if there will be any sort of price change or how many the automaker plans to produce. The 2023 Durango Hellcat starts at $95,200, including shipping.
Dodge CEO Tim Kuniskis said in August that Dodge has carved out its own space in the utility segment with its focus on performance. After the Hellcat model that tops the lineup, the vehicle offers a 475-hp SRT trim along with the R/T and Citadel trims that get 360 hp from the 5.7-liter Hemi V-8.
With the Durango, Dodge has been "leaning into the performance and the attitude of that [and] making it different in that segment," Kuniskis told Automotive News during the Roadkill Nights drag racing event in Pontiac, Mich. "It does two things: No. 1, it separates us in the showroom, which is very important, and two, it separates us from everything else in the marketplace.
With the Durango, Dodge has been "leaning into the performance and the attitude of that [and] making it different in that segment. It does two things: No. 1, it separates us in the showroom, which is very important, and two, it separates us from everything else in the marketplace," Kuniskis told Automotive News during Roadkill Nights.
3rd Gear: Chinese Execs Think Germans Must Speed Up EV Transition
In an interview Chinese EV startup Xpeng president Brian Gu said German automakers are under heavy pressure from Chinese competition to speed up their transition to electric vehicles and enable partnerships. Eight percent of new EVs sold in Europe in 2023 were Chinese. That's up form six percent last year and four percent the year before.
"It is perhaps the darkest moment for German automakers but I also feel their strongest determination ever to change at the IAA," Gu told Reuters at Munich's IAA car show. From Reuters:
Xpeng recently struck a deal with Volkswagen to jointly build two new models in China. Others, like LeapMotor are also seeking partnerships to boost sales globally and help them survive China's highly competitive and consolidating domestic market.
But boosting sales further requires overcoming obstacles including stereotypes of Chinese manufacturing, import costs, and a less developed EV market.
"We need to seek cooperations in a humble position even if we have grown into giants," Jia Jianxu, general manager of the joint venture between Chinese state-owned SAIC and Volkswagen, said at an event hosted by Chinese magazine China Auto Review in Munich on Tuesday.
[…]
At the IAA's opening ceremony on Tuesday, German chancellor Olaf Scholz said Chinese competition should spur German industry on, not scare it.
The number of Chinese companies at the auto show has reportedly doubled, and China's largest EV conference, the World New Energy Vehicle Congress, is taking place during the IAA on Wednesday and Thursday.
4th Gear: Tesla's Indonesian Plant Probably Isn't Happening
Indonesia doesn't reportedly expect Tesla to invest in the country anytime soon after coordinating minister Luhut Panjaitan met with CEO Elon Musk in August.
"I said fine, we are doing OK, if you cannot invest in Indonesia for a moment, no problem," Panjaitan said about the meeting with Musk that lastest over two hours. From Bloomberg:
Speaking at the Bloomberg CEO Forum in Jakarta on Wednesday, Panjaitan said Musk was concerned about the global economic outlook and oversupply in the electric vehicle industry.
[…]
Bloomberg reported earlier this year that Tesla was closing in on a preliminary deal to set up a factory in Indonesia.
Indonesian President Joko Widodo has set out a vision of building out an end-to-end electric-vehicle supply chain onshore by offering potential investors access to the nation's reserves of key battery metals as well as its more than 270 million consumers. That plan is starting to take shape as global EV and battery producers plan billions of dollars of investment, from Contemporary Amperex Technology Co. Ltd.'s $6 billion mining-to-batteries complex to Hyundai Motor Co.'s new EV plant.
Musk is reportedly set to once again visit Indonesia in October for talks between the government and his satellite internet company, Starlink. Panjaitan believes it could help connect Indonesia's rural areas, especially in the east, to better education and health services.
Reverse: My Mom Had A Garmin When I Was Growing Up
Neutral: Throwback Plane Liveries Rock
Photo: Andy Kalmowitz / Jalopnik
Continental Airlines for life, baby.
On The Radio: Billy Joel – "The Downeaster 'Alexa'"
Billy Joel – The Downeaster 'Alexa' (Official Video)
This song has been stuck in my head for days. Now it gets to be in yours.