At $6,000, Is This 'Saffron' 1998 Volvo V70R Worth Your Gold?
Coming in at the tail end of a movie can be frustrating. Today's Nice Price or No Dice V70R isn't quite at the tail end of its useful life, and if the price is right, it may be worth riding into the sunset.
There's a myth that Benjamin Franklin lobbied for the turkey to be America's National Bird instead of the Bald Eagle. The truth is that Franklin disparaged the Bald Eagle in comparison to the turkey in a letter to his daughter, but that's apparently as far as the actual story goes.
And it's a good thing that story is just a story since had the myth been true and Franklin proved his case, instead of the 1983 AMC Eagle Sport Wagon we looked at yesterday, we might have been faced with an AMC Turkey. That Eagle was no turkey though. And at $6,500, it proved a decent deal too. At least that's the 66 percent Nice Price win implied.
In form and function, today's 1998 Volvo V70R could be considered a distant descendant of yesterday's Eagle. Both offer AWD and a compact wagon body, and both eschew the traditional wagon trapping of woodgrain appliqué. That's pretty much where the similarities end, though.
Unlike yesterday's relatively low-mileage AMC, this Volvo rocks a solid 195,000 miles on the clock. Now, not all of it has made it that far, as the ad lists a slew of replacements and repairs. Lots of the major replacements, like the pricey Nivomat self-leveling rear shocks should still have plenty of life left in them.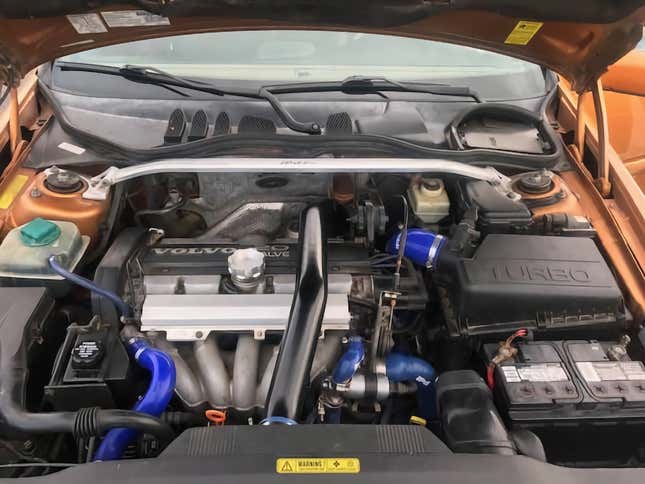 Along with the maintenance and repairs, the car also offers an aftermarket tune on its 2.3-liter turbocharged five-pot. From the factory, that engine was rated at 237 horsepower and 228 lb-ft of torque. With the bigger turbo, injectors, and higher pressure pop-off, this one might flex a little more. That all happens through a five-speed automatic and full-time AWD drivetrain.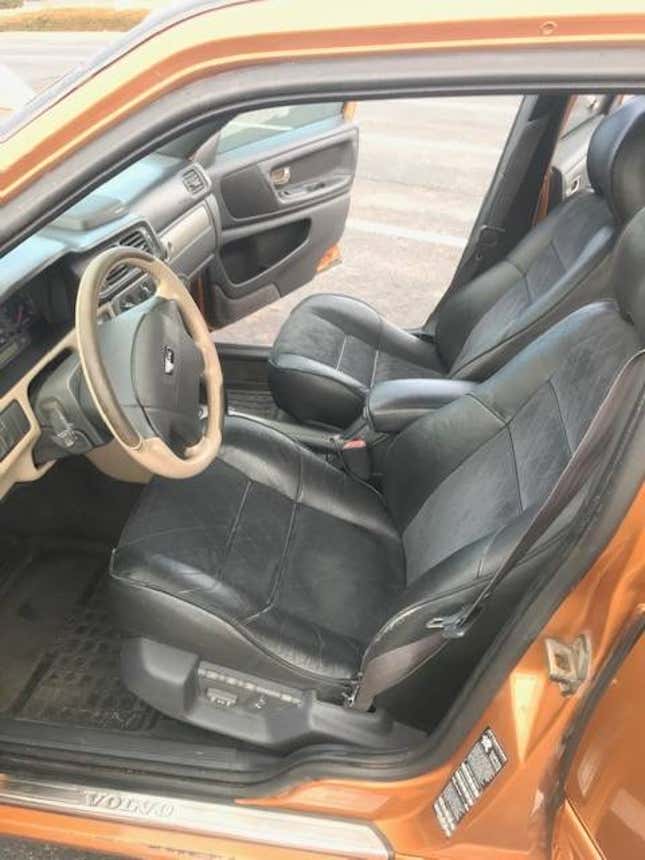 The car comes in Saffron Pearl Metallic which is a color that was exclusive to the R. It apparently left the factory with a beige upholstered cabin but that's been mostly dumped for a black interior from a donor car.
This is a 20-foot car, a fact the seller admits to in the ad, even showing areas where the paint is failing or scratches mar the surface. The anthracite alloys underpinning the car are from the earlier 850 T-5R and show some battle scars as well. The tires on those are all used and, per the seller, could stand to be replaced.
Everything looks like it would be serviceable, but this is not a show car. The interior as well could stand a good cleaning and there's that issue with the remaining beige parts of the dash and steering wheel standing out like the proverbial sore thumb in the adopted black cabin. Other notable issues include a disconnected parking brake cable, a small transmission leak, and a mystery clunk in the front end.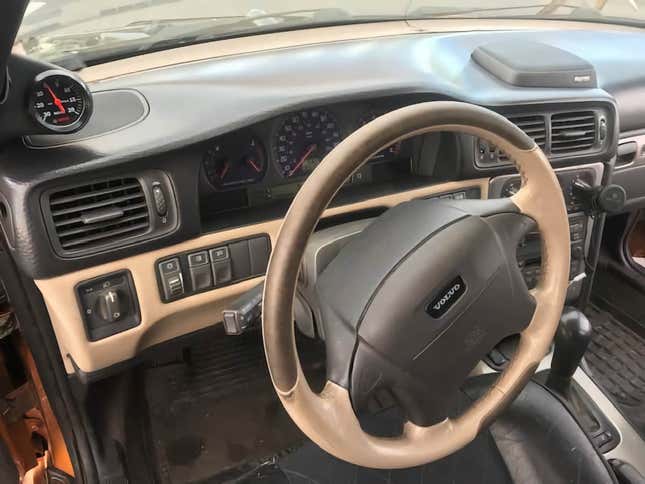 But it's not all doom and gloom. The seller says the car spent much of its life in the southwest and hence is "virtually rust-free." It comes with a clean title and the claim of no CELs or other gremlins.
The asking price for this bruised beauty is $6,000 OBO. Now, that OBO part of the price is obviously amorphous enough that we can't pin it down conclusively. We'll just have to focus on the $6K part.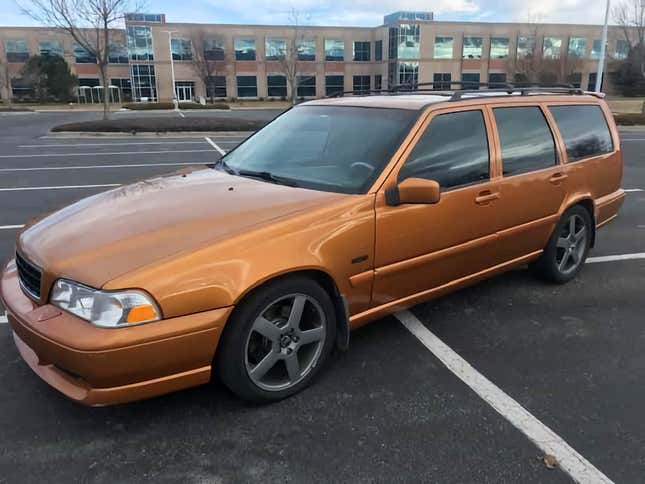 What's your take on this rare color V70R and that $6,000 price? Would you pay that much for the car in its present state? If not, what is it really worth?
You decide!
Central New Jersey Craigslist, or go here if the ad disappears.
Help me out with NPOND. Hit me up at remslie@kinja.com and send me a fixed-price tip. Remember to include your Kinja handle.