Back-to-school: 7 ways to save on uniforms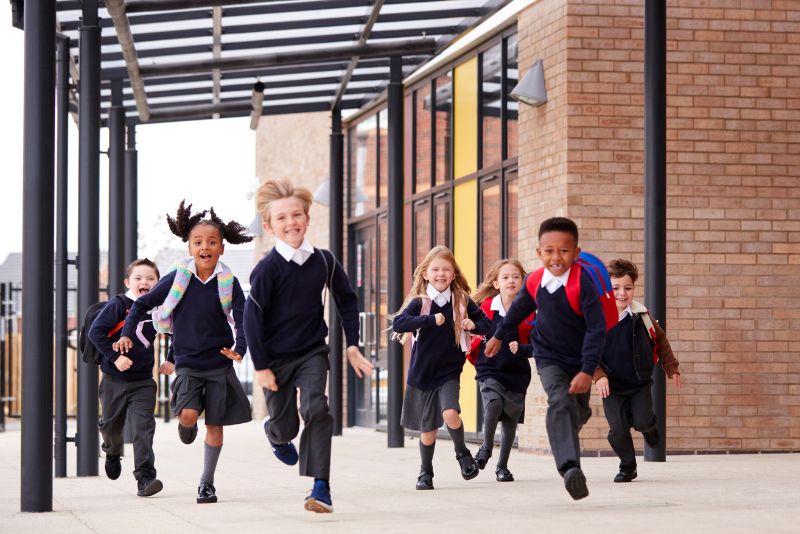 With the summer holidays well underway, it's time to start thinking about everything your family needs for September, when the new school term begins. The cost-of-living crisis is still a weight for many of us, so it makes sense to shop sensibly when you can.
A recent parent survey found that the annual cost of school uniform can reach more than £400 per child, a significant expense to factor into our budgets.
We've prepared this handy guide detailing seven ways you can save on school uniforms, to help you beat the back-to-school rush, remember everything you need and avoid having to make any last-minute splurges. Plus, keep reading to find out how you could get your child's school uniform sorted at your local A-Plan branch!
School uniform can be a significant expense for families, so many local authorities have schemes in place to help parents and carers on low incomes. These schemes can offer between £25-£200 towards the cost of school uniforms as a non-repayable grant, depending on your locality.
Generally, the minimum UK-wide requirement to get a school uniform grant is to qualify for (but not necessarily get) means-tested free school meals. To be eligible for that, you'd need to be receiving at least one of the following benefits:
Child Tax Credit.Income Support.Income-based jobseeker's allowance.Income-related employment and support allowance.Support under Part VI of the Immigration and Asylum Act 1999.The 'guaranteed element' of Pension Credit.Universal Credit.Working Tax Credit 'run-on' – paid for four weeks after you stop qualifying for Working Tax Credit.Councils may also include additional criteria such as being in a specific year group or moving between primary and secondary school.
To find out if you could qualify, check your local council's website. It's best to act quickly, as the deadlines are fast-approaching. Local authorities in England also have access to a fund to help those most in need with the cost of daily essentials, including school clothing in some cases.
Contact your local council to enquire about what support is available. You can also approach your school directly, as many offer support to families that need financial assistance, for example vouchers for uniforms.
Keep an eye out for discounts on school uniforms, especially as the summer holidays come to an end. Retailers run regular promotions, so if you time it right, you can save between 20-25% on your purchases. Shops could include H&M, Sainsbury's, and M&S.
Also consider if you need to buy everything at once. Create a list of all the pieces you need for your child or children and pick up items when you find a good deal, to help spread the cost.
July through to September are some of the cheapest months to buy uniform. In budget supermarkets such as Aldi and Lidl, you can often pick up a full set, which includes polo shirts, a sweatshirt, and skirt trousers, for as little as £5 at certain times.
Other supermarkets such as Asda, Tesco and Sainsbury's also do similar sets, throughout the year, from around £10. So, next time you head food shopping, browse the middle aisles or clothes sections to see what's on offer.
The discount prices at outlet stores often mean you can bag a bargain, compared to their high street counterparts. Clarks Outlet often has shoes at 50% off online and instore, while M&S Outlets tend to have 30% off or more.
If you've got an outlet near enough to you, you can find the same or similar styles at a fraction of the cost. Just make sure to factor in the travel costs to see if will actually work out cheaper in the long-run or not.
It's no secret that at school age, children can quickly outgrow their clothes. Since they're in their uniform five days of the week, if they have a growth spurt part-way through the school year, it's noticeable when shirts or jumpers get too small!
Buying school clothing larger than your child currently needs can allow them to grow into the items. It's a tricky balance, as you obviously don't want them to be swamped in an outfit that's way too big, but going one or two sizes bigger can work out cheaper in the long run.
Make uniforms last longer
With all the excitement of being back at school, having fun on the playground and with their friends, it's not uncommon for your newly bought jumpers, coats and blazers to get lost! Sewn-in or iron-on name tags can help keep track of your child's items, in case they get left behind at school.
What's more, it's useful to have some simple sewing skills so you can take up or let down hems and make small repairs over the course of the school year. For minor signs of wear and tear, it makes much more sense to try a quick fix than repurchasing a whole new piece of clothing.
Many schools have emblazoned clothing that are a mandatory part of the uniform, such as a logo on pupil's jumpers or blazers. These can come with a hefty price tag, so it's worth looking to see if you can get the uniforms second-hand.
Try looking on eBay, Facebook Marketplace or Freecycle, to see if you can find the specific items you need. Your child's school may also organise second-hand sales or swaps, so keep an eye out at the end of term or over the summer for these events.
School uniform swaps at your local A-Plan branch!
At A-Plan, we understand the challenges many families are facing at the moment and we're always striving to help! That's why, as part of our Summer of Fun, we're holding School Uniform Exchanges at our local high street branches.
Simply find your closest branch and pop in with any items you no longer need, browse what's been donated by other people and get what your child needs ready for September. We're also swapping items such as football boots, Scout and Girl Guiding uniforms. Contact your local branch to find out whether they are participating in the scheme – and get involved.
You could also read: