Canstar Restorations Acquires Universal Restoration Systems

VANCOUVER, BC, SEPTEMBER 11, 2023/insPRESS/ – Canstar Restorations LP ("Canstar") is pleased to announce the acquisition of Universal Restoration Systems Ltd. ("Universal"). Universal is a leading restoration company based in Prince George, British Columbia, with additional branches in Smithers, Terrace, and Quesnel.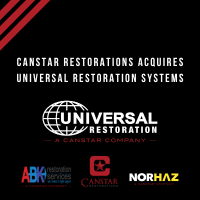 "Universal is a proven leader and brings a team of experienced professionals to Canstar, enabling even better service to existing and new customers throughout Northern British Columbia," said Canstar President and CEO, Ji Yoon. "The team at Universal offers comprehensive restoration services, encompassing everything from fire and flood remediation to mould removal, biohazard cleanup, and structural repairs. Their dedication to excellence and their aligned objectives with our own mission make them an invaluable addition.  We are thrilled to welcome Universal to the Canstar family. A special welcome to Ken Zwiers, as he joins the Canstar executive team."
Ken Zwiers, Universal's Founder and Principal, said, "We are excited to join Canstar and be a part of its growth. This partnership of both companies will allow us both to better serve customers and provide an expansive range of services. We look forward to working together to continue providing excellent service and customer satisfaction."
With the acquisition of Universal, Canstar expands its presence to a total of 14 branches, creating a Western Regional restoration platform with unparalleled expertise and resources. The Canstar Group of Companies is now comprised of Canstar Restorations, ABK Restoration, NorHaz Solutions, and Universal Restoration.
ABOUT CANSTAR
Canstar, founded in 1985, is a leading Western Canadian full-service restoration provider with 6 branches across the British Columbia Lower Mainland and Alberta. Canstar offers a complete range of building and contents restoration services, including repairing fire, water, and storm damage. Visit www.canstarrestorations.com to learn more.
ABOUT ABK
ABK has been an integral part of the Okanagan insurance restoration community for over 20 years, particularly serving Kelowna, Kamloops, Penticton, and Summerland. ABK is a trusted vendor for numerous insurance companies and adjusters throughout the Okanagan and Kamloops regions, a testament to their enduring dedication and superior service standards. Visit www.myabk.com to learn more.
ABOUT NORHAZ
Norhaz Solutions is a full service hazardous materials removal company and operates out of all Canstar/ABK/Universal offices. From industrial and mining projects through to strata and residential claims, Norhaz removes hazardous materials of all kinds, in any size project.  Visit www.norhaz.com for more information.
ABOUT UNIVERSAL
Operating out of four offices in Northern BC, Universal services the insurance restoration needs of a multitude of communities. With 19 years of local ownership, Universal combines in-depth local knowledge with the expertise and resources to deliver top-tier customer service for claims of any scale, regardless of the season.  For further details, visit www.urscanada.com.
ABOUT THE CANSTAR GROUP OF COMPANIES
The combined companies above comprise the Canstar Group of Companies. The Group proudly provides property restoration services to the insurance industry, stratas, schools, government, health care facilities, and more. With 14 offices, 150 vehicles, and over 350 restoration professionals, Canstar Group stands as the singular comprehensive solution for all restoration requirements within British Columbia and Alberta.
For Immediate Release
For more information, please contact:
Ji Yoon
President and CEO
Canstar Restorations
Phone: 604.549.0099
E-mail: pr@canstarrestorations.com