Car Industry Caper: Documentary Series Explores the Dramatic Life of Carlos Ghosn
There's a new documentary series about the rise and fall of disgraced former Nissan-Renault chairman Carlos Ghosn.The documentary is based on an investigative book published in 2022.Wanted: The Escape of Carlos Ghosn launches August 25 on Apple TV+.
Louis XIV and Marie Antoinette lived large during the late 1600s, while willfully ignoring the grumblings outside the gate of their palace at Versailles. For this, they lost their heads. Carlos Ghosn, whose turnaround skills rescued first Renault and then Nissan, threw not one but two lavish and ethically suspect celebrations in the former digs of King Louis, but he managed to escape his troubles with his head attached, famously getting smuggled out of Japan in a box to permanent exile in Lebanon.
Wanted: The Escape of Carlos Ghosn, a new four-part documentary series on Apple TV+, explores Ghosn's rise and fall. The flashes of Versailles parties illuminate a man enamored with his own glory. Ghosn made his name for being "brilliant but also relentless with a ruthless focus on efficiency and a superhuman work ethic," says director James Jones, but, "People say that over time, he lost his focus and felt like he had earned the right to enjoy the trappings of his success."
The first Versailles party was allegedly for the anniversary of the Nissan-Renault alliance (which later added Mitsubishi), but coincidentally fell on Ghosn's 60th birthday and was filled with more family and friends than executives. "When Louis Schweitzer heard about the party, he thought, 'This guy has completely lost touch with reality,'" Jones says, referring to the Renault CEO who had brought Ghosn on board and then founded the alliance with Nissan, but who was not invited to the event, which reportedly cost $700,000 of the company's money. The second party, which featured hired actors in 18th-century costume, feted Ghosn's wedding and his wife Carole's 50th birthday, and questions soon arose over who paid for the affair.
This content is imported from youTube. You may be able to find the same content in another format, or you may be able to find more information, at their web site.
Victim, Villain, or Both?
Wanted recounts Ghosn's precipitous fall from the high life to solitary confinement in prison. It seeks to paint him as both victim and villain, though it occasionally feels like it's going easy on a man who doesn't deserve it, simply because he was wealthy and successful for so long. (It also relies a bit too heavily on re-enactment shots that border on cheesy.)
Jones strives to be as even-handed as possible in his directing, acknowledging that he felt "privileged" to talk to the people he'd been researching. Ghosn, he says, is "a stimulating person to talk to" and during editing Jones says he took care "not to undermine them in a way that feels you were disingenuous in your relationship." He lets the competing narratives unspool for the viewers to decide. "Hopefully the viewer is pushed and pulled both ways over the course of the series," he says.
The series depicts Nissan executives, opposed to the full-fledged merger Ghosn wanted, as staging a coup. Ghosn was arrested on fairly flimsy charges and landed in solitary confinement, as did his underling Greg Kelly, who was held there despite needing spinal surgery in the hope of pressuring a confession out of him. The series makes much of Japan's cruel "hostage justice" system without acknowledging that around the world, including in America, there are poor people suffering in the criminal justice system as well who don't get documentaries made about them.
As you'd both hope and expect, plenty is made of Ghosn's headline-grabbing action-film-style escape in 2019. His abettors, Michael and Peter Taylor, were subsequently imprisoned themselves, although Japan allowed them to serve out their time in the United States. Ghosn's escape was followed by revelations of potentially serious crimes, including funneling $50 million of company money to himself. "The first allegations are pretty minor, but the later ones are much more serious, and he does have a case to answer to but he won't go to France to stand trial," Jones says.
"A Sense of Entitlement"
The evidence appears strong against Ghosn. But even if his actions prove not to have been illegal, "doing it without telling the company speaks volumes about a sense of entitlement," says Sean McLain, who, with fellow Wall Street Journal reporter Nick Kostov, wrote the investigative book on which the documentary was based, Boundless: The Rise, Fall, and Escape of Carlos Ghosn.
Boundless: The Rise, Fall, and Escape of Carlos Ghosn
Boundless: The Rise, Fall, and Escape of Carlos Ghosn
Now 40% Off
The in-depth interviews with Ghosn and his wife—both of whom come off as arrogant, self-righteous, and lacking in self-awareness—as well as Kelly and the Taylors are riveting but may leave viewers feeling like they're revisiting Succession. It's hard to turn away from or wholeheartedly root for the fabulously wealthy and morally bankrupt or the unquestioningly loyal underlings who enable them.
While Ghosn may seem like Logan Roy, he's also haunted by his own father's shadow; when Carlos was six, Georges Ghosn was convicted in the killing of a priest-cum-smuggler in Lebanon. The priest was supposedly delivering diamonds for the elder Ghosn but owed him money. Despite Ghosn's claims that he'd only ordered him threatened, he was given the death sentence. Despite two unsuccessful prison escapes, the senior Ghosn's death sentence was commuted to 15 years.
"It must have been formative, but he shuts down any discussion," Jones says and McLain adds that while it's impossible to determine how it shaped him, "I believe it had a deep impact on his psyche."
An American Business Sense
There are more definitive answers about Carlos Ghosn's career. After rising through the ranks at Michelin, he made his name as a cost-cutting turnaround specialist, reviving Renault and saving Nissan.
"He had an ability to identify problems, find solutions, and inspire great confidence," Jones says, but as an outsider he also made enemies in both places with his hard-driving approach that challenged longstanding workplace culture (especially with layoffs upon layoffs).
"He has much more of an American business sense, and so the work culture at Nissan and Renault—where there are company lifers and it's more like a civil service job—struck him as unnecessary and unproductive."
But bullying your way to success while refusing to play up to the old guard leaves you vulnerable. "When things did go wrong there was no one there in his corner, and when there was a chance to take him down some people jumped at it," Jones says.
Jones adds that Ghosn's grandiose view of himself means that he doesn't like thinking of himself as merely a turnaround specialist, a gunslinger in the Wild West who would clean up a town and then move on.
McLain says that after he rescued Nissan, it appeared his vision for the company's future was limited, creating "increasing discomfort and criticism in the company."
Ghosn's One Regret
The documentary examines Ghosn's lucrative offer in 2009 to rescue General Motors; but McLain says Ghosn instead tried unsuccessfully to bring GM into his alliance. "He says that not taking the GM job is his one regret," McLain notes.
"He wanted to build the biggest car empire, but he should have taken that job, earned five times as much money, and retired," Jones says.
Instead, he took a 50 percent pay cut from his $20 million Nissan salary during the Great Recession for public relations purposes. Wanted argues that his subsequent loss of focus at work and the misappropriating of $50 million came because he was frustrated by the pay cut.
"He changed then," Jones says.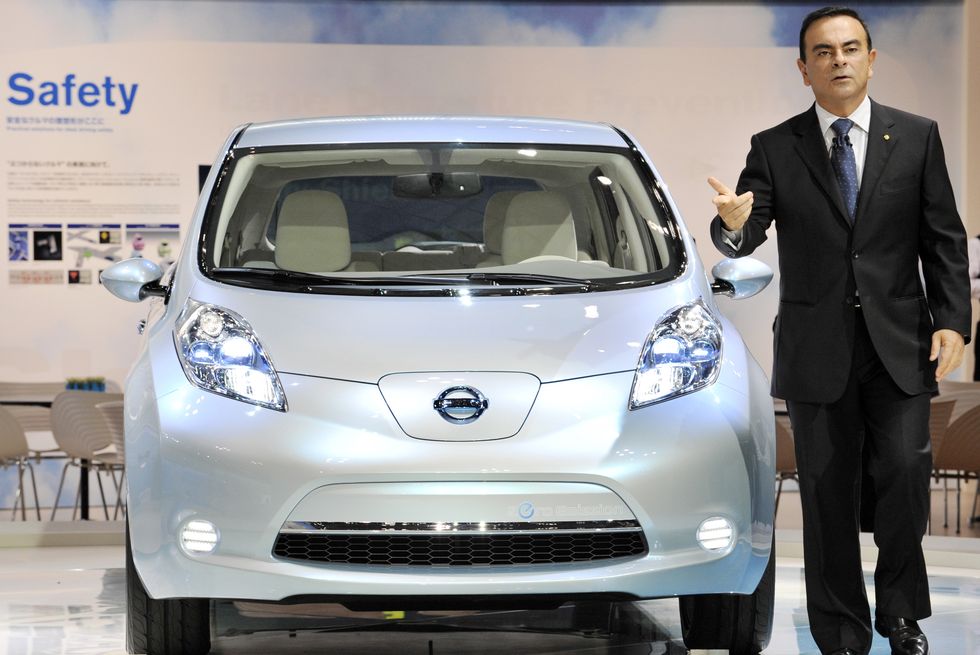 Ghosn with the Nissan Leaf at the 2009 Tokyo auto show.
YOSHIKAZU TSUNO|Getty Images
McLain sees Wanted as a Shakespearean tragedy, with Ghosn undone by a tragic flaw: "He is a deeply talented person, but he has a massive chip on his shoulder and he views pay as an objective measure of his self-worth." The documentary recounts how Ghosn's notes on his phone indicated that a merger would make him a billionaire. "That's an insight into his motivation," Jones says.
Fifty million dollars is, of course, a lot of money, but taking it still strikes McLain as a mind-bogglingly bad decision. "He tied himself in knots to compensate himself appropriately and ended up burning down everything he built."
Jones hopes ultimately viewers will see those tragic dimensions of his tale. "He will no longer be in the hall of fame of the great businesspeople of the 21st century," he says. "Instead, he'll only be remembered as the man who escaped in a box. That is devastating for someone like him."
Wanted: The Escape of Carlos Ghosn is out August 25 on Apple TV+.