2024 Nissan Titan LineupImage: Nissan
The Nissan Titan. It was never good enough to take much market share from the Big Three but Nissan kept at it anyway. Now, just over 20 years after the model made its debut, Nissan is pulling the plug.
Nissan Finally Turns a Profit
While we've been reporting on the looming death of the Titan for at least the last couple of years, this time around things seemed more legit. We were first tipped off about the ending of Titan production from a source who sent us what looked to be an internal memo confirming that the Titan's production at Nissan's Canton, Mississippi plant would end. When we reached out, Nissan confirmed the news.
Production of the Nissan TITAN is scheduled to end summer 2024 at our Canton plant in Mississippi. Under Nissan's Ambition 2030 vision of an electrified future, we are accelerating the process of transforming the Canton plant with the latest in EV manufacturing technology. This will support production of two all-new, all-electric vehicles. There will be no workforce reductions due to this action.
TITAN has been an important nameplate for Nissan in North America for 20 years, and we're grateful to the dealers, customers, and thousands of employees who have played pivotal roles throughout TITAN's lifecycle.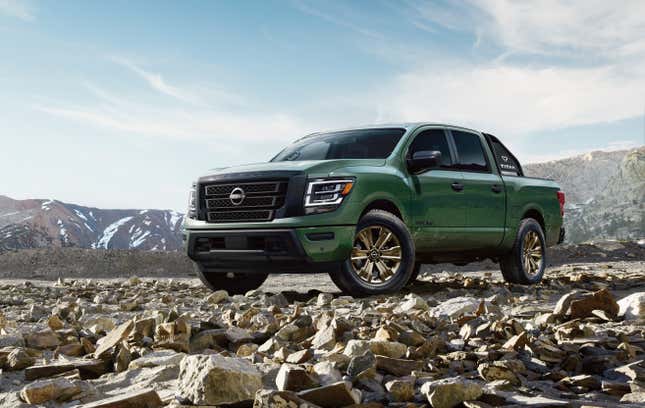 2024 Nissan TitanImage: Nissan
It's good to see that the Titan's cancellation won't be affecting any jobs. But if you've paid attention to Titan sales over the years, its death shouldn't be surprising. Aside from Nissan's EV plans, it just never sold well. Just 15,063 were sold in 2022; just over 6,500 were sold in the second quarter of 2023. It had all the right things going for it though like a powerful V8 engine, a diesel option — that was eventually dropped, and a tougher and slightly bigger XD trim.
But its weird in-between size and lack of engine and cab configurations could be some reasons it was never a big seller. It also has a high starting price: a 2023 Titan starts at $45,770. Sure that gets you standard V8 power but to people like fleet buyers that's a turn-off. So if you're one of the few people who are interested in getting behind the wheel of a brand-new Titan, act fast as it won't be around much longer.