Did Jean Girard Of Talladega Nights Race In The 2005 U.S. Grand Prix? Jalopnik Investigates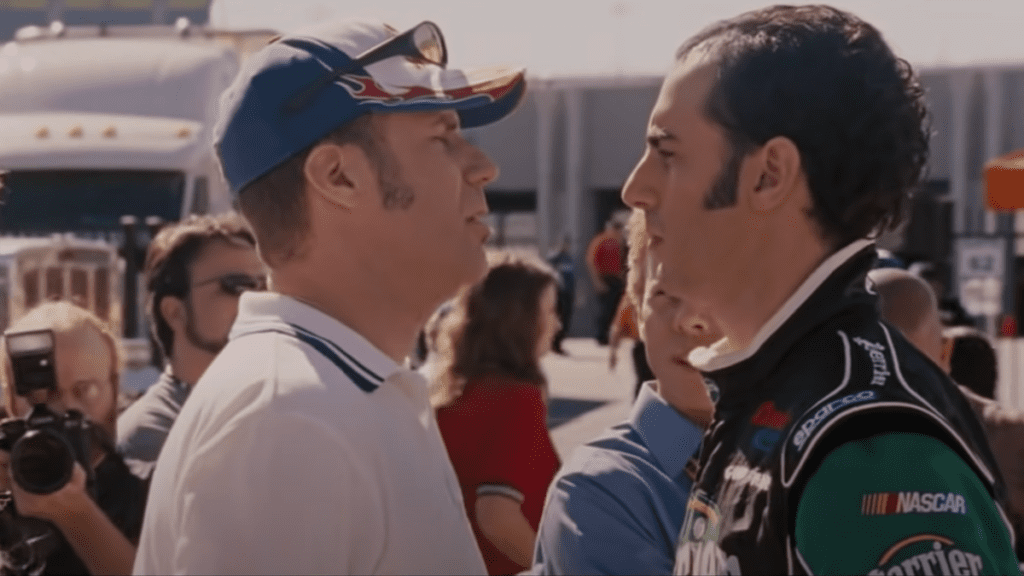 On this day in 2006, one of motorsport's finest movies hit the big screen. Talladega Nights: The Ballad of Ricky Bobby tells the story of a NASCAR driver fighting to save a career threatened by a French Formula 1 driver named Jean Girard. I recently introduced this classic of American cinema to some friends overseas, but my re-watching of it left me with one pressing question: Within the confines of the Talladega Nights universe, would Jean Girard have entered the infamous 2005 United States Grand Prix at the Indianapolis Motor Speedway?
'Duel' Is Spielberg's Best Movie, Hands Down
Allow me to establish some context, for anyone unfamiliar with what I'm investigating. A mere six cars took the start of the 2005 U.S. Grand Prix owing to the failure of Michelin's tires; basically, the road course used a little bit of IMS's oval banking, and the Michelin tires couldn't handle the strain. At that point in time, mid-race tire changes were banned, and there was no way a Michelin-shod team would have been able to safely complete a full race distance. So, the six cars that took the start of the race came from three teams associated with Bridgestone, whose tires actually managed to withstand the demands of the track. Those teams were Ferrari, Jordan, and Minardi.
Jean Girard's introduction to the film is iconic for countless reasons, but on my most recent rewatch, I was focusing less on him breaking Ricky Bobby's arm than I was on the clips of Girard's supposed F1 career.
The footage is obviously some early 2000s F1 action between a Minardi and a Renault, but to be absolutely positive I was working from the most informed place possible, I turned to my good friend Sean Kelly, who you may know as @virtualstatman on social media, to more precisely decipher the clip. He told me, "The footage in that clip is from the 2004 European GP at the Nurburgring. It appears to be Gianmaria Bruni's Minardi leading Jarno Trulli's Renault."
It's not fully clear which car Girard is supposed to be driving, and Talladega Nights offers no additional context, but neither driver was terribly impressive in 2004. Trulli scored one win to finish sixth overall in the 2004 Formula 1 World Drivers Championship. Bruni competed in every single event, failed to score a single point, and was classified as 25th overall — ranked behind five drivers who only contested a partial season.
The matter of Girard's team is critical — but perhaps not as critical as the timeline. Is Talladega Nights set in 2005, implying that the film would be released the subsequent year, in 2006? Or is the movie set in 2006? I needed to consult the archives to find out.
Filming for the movie took place in 2005, and the 2005 UAW Ford 500 served as an actual, real-life setting for a significant amount of footage featuring both NASCAR machines and crowds. That event was held on October 2, 2005 — or, several months after the disastrous June 19, 2005 running of the United States Grand Prix. If the film's big finale took place in 2005, then that discounts Girard from having raced in the 2005 U.S. Grand Prix. However, it is entirely possibly that Girard's ultimate replacement was there for the race, and that Girard would have been pleased to not be involved in such a farcical event.
I'll be honest: I was a little bit dismayed at my own discovery. The only thing that could further elevate Talladega Nights in my eyes would be the fact that one of its characters was involved in F1's most embarrassing screw-up.
Sadly, it isn't to be. Jean Girard would have been competing in NASCAR in 2005 — not Formula 1.
I, however, am not content with that knowledge alone. Presuming that Girard had a handful of years in F1, he would have been present for some of these other iconic moments:
Ferrari's disqualification from the 1999 Malaysian Grand Prix due to violating technical regulations, followed by its reinstatement, which deeply influenced the title fightThe debut of future World Champions Jenson Button, Kimi Raikkonen, and Fernando Alonso, alongside CART Champion Juan Pablo Montoya's debutMichael Schumacher's dominant 2002 season, which led to a number of artificial entertainment solutions the following yearThe introduction of the HANS device as a form of mandatory safety gearSchumacher's final World ChampionshipThe 2002 Austrian Grand Prix, where Ferrari was accused of manipulating the outcome of the race
If only Jean Girard had stuck it out in Formula 1 for one final year.