Don't Go Buy A Brand New EV Just Yet; Try Used Instead
After experiencing a sales high with buyers clamoring to get their hands on EVs, sales have slowed down and inventory is up. While that's a good thing for buyers who have been looking for certain popular models, what many EV buyers should really be doing is going used. Prices on some used EV models are very good. Here are a few used EV models buyers should definitely check out if they're in the market.
No, Mayor, Apple's AirTags Won't Save Your Stolen Hyundai, Kia
The Kia EV6 was white hot when it first came out. Buyers were lining up and dealers were piling on the markups — among other things — just to be able to get one. Kia ended up selling 20,000 its first year. While sales have cooled off a bit — just under 13,000 have been sold so far this year — those 20,000+ sold in 2022 mean there's a good amount on the used market. Using Cargurus, I was able to find 347 used EV6s for sale across the country; 40 percent of them were priced under $40,000. And with the low miles these things have, it seems like a lot of people got over ownership of them fast.
Screenshot: Wyatt Johnson VW
An perfect example and also one of the cheapest I found was this EV6 Light for sale at Waytt Johnson VW in Clarksville, Tennessee. With just under 13,000 miles the dealer wants $31,500 for it (that price is also down $4,000 in just a few weeks). The Light trim has 232 miles of range. If you need more range, an Autonation Toyota dealer in Cerritos, California has an EV6 Wind for $35,499. Sure it has almost 31,000 miles but that price is better than its original MSRP of $48,215.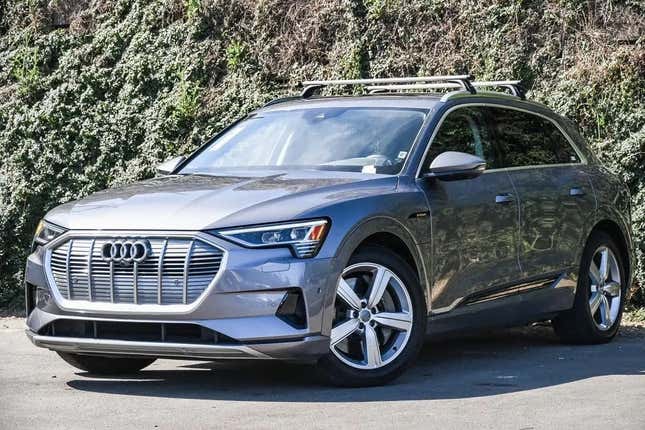 If you want a bit more luxury with your EV, you can check out the Audi e-tron. It's been on sale since 2019, so that means there are more available and they can be found for cheap. I found 833 used e-trons for sale across the whole country; just under 33 percent of those were under $40,000. The downside to used e-trons is that while the prices are good, you have to contend with higher miles on some older models.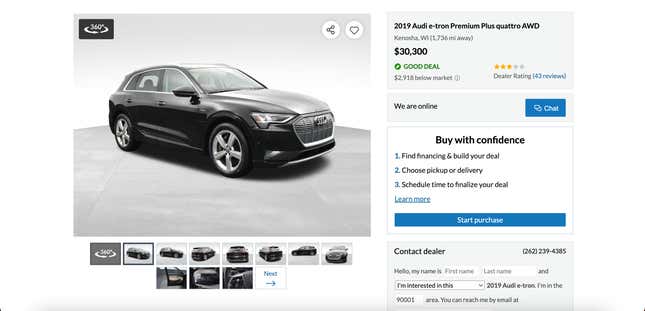 Screenshot: Cargurus
For some that might be worth it, especially if you can pick up an e-tron for just $30,300 like this example with 39,316 miles at a Nissan dealer in Kenosha, Wisconsin. Newer ones are more expensive of course but still thousands less than a new e-tron and its $74,400 starting price. Some dealers can't even move used EVs which means you can score an even better deal. This 2023 Q8 e-tron in Calabasas, California has been sitting on its dealers lot for 218 days. With just 98 miles on it the dealer has dropped the price $24,325 — to $58,940 — since it was first listed at the end of May.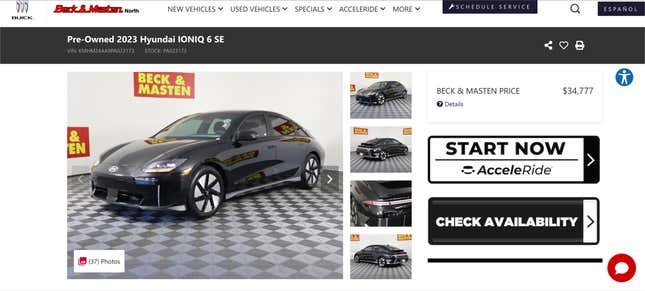 Screenshot: Beck & Masten North GMC
The Ford Mustang Mach-E is another once-hot EV model that has new ones piling up on dealer lots and used prices dropping. I found over 800 for sale in the country, over 200 were under $40,000; 87 of those were under $35,000. A Mach-E Select with 35,000 miles for $29,995 is pretty damn attractive. Other hot models like Hyundai Ioniq 5 are more or less the same. Even the recently introduced Hyundai Ioniq 6 has started to show up under $40,000, like this example in Houston with just 676 miles for $34,777. Don't even get me started on how cheap used Tesla Model 3s are.
These prices would be even sweeter if you could apply the used EV tax credit on them. But the cap for that is $25,000, which means you either have to stick with used models like the Chevy Bolt, Nissan Leaf and Hyundai Kona EV, or go with a car with some crash damage. But the prices of many of these EVs are tempting, tempting enough that I find myself looking at them (although I still think I drive too much for an EV). And unless you just have to have a new car, a used EV at the prices that many of them are at might be worth checking out.