Driver launches Corolla into second floor of a house, and cops say it was on purpose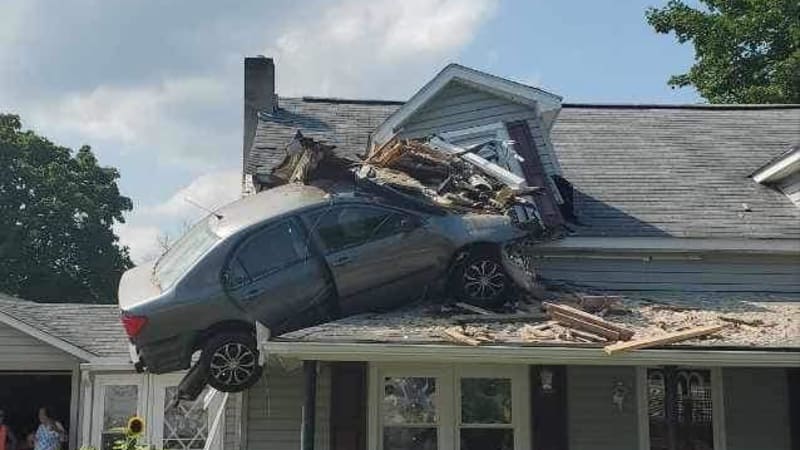 Occasionally we'll see an car crash in which some fluke of road elevation will cause a vehicle to catch big air. Just a couple of weeks ago, we saw video of a stolen Lincoln Town Car taking flight like Simone Biles in San Francisco, and it really stuck the landing. But these are accidents. Over the weekend, a 2006 Toyota Corolla defied gravity for a few seconds and crashed into the second story of a home in Lewistown, Pa. — and what's extra special about this crash is that the cops think the driver did it on purpose.
A Toyota Corolla. Who knew it had the right stuff.
Pennsylvania State Police are not saying why they think the Sunday afternoon crash was "an intentional act" or if the 20-year-old driver knew the home's occupants, but he has been arrested pending a long list of possible charges that could include aggravated assault, recklessly endangerment and criminal mischief. He was taken to a hospital with injuries.
The car wound up on a first-story roof, after poking a large hole in a second-story room. One of the occupants was home but was downstairs. The house, or target if you will, sits across from an open field, and there's a culvert that the authorities think the driver used as a launchpad. 
"The raise and elevation from the bottom and top of the culvert was enough to give the vehicle the ability to clear the vehicles in the driveway and land in the second floor of the house," the administrator of the responding Junction Fire Company told The Washington Post.
That's right, the Corolla leapt over other vehicles on the way to its destination.
Here are some photos of the crash scene, courtesy of the fire company:
It took the fire crew and a wrecker about three hours to get the car down and stabilize the structure.