Employment Exclusion Effective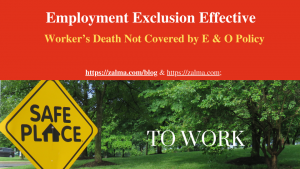 See the full video at https://rumble.com/v23v33u-employment-exclusion-effective.html  and at https://youtu.be/siX4bBOz954
To compel coverage under an errors and omissions policy, Roadway Services, Inc. sued its insurer, Travelers Casualty and Surety Company of America seeking defense of a wrongful death case claiming Roadway failed to provide a safe place to work for the decedent. Travelers argued it has no duty to cover Roadway's claim because of clear and unambiguous exclusions. In Roadway Services, Inc. v. Travelers Casualty And Surety Company Of America, No. 22-3337, United States Court of Appeals, Sixth Circuit (December 29, 2022) the Sixth Circuit resolved the dispute.
FACTS
In 2018, a driver struck and killed a Roadway employee while he was on the job. His widow sued Roadway for wrongful death, alleging it failed to maintain safe working conditions. Roadway did not seek coverage under its employment-liability insurance contract. Instead, it asked Travelers to pay for its defense out of a directors-and-officers insurance contract. Travelers refused, citing an exclusion in the policy. Roadway sued to compel coverage. Both parties moved for summary judgment and the District Court, finding the policy ambiguous, ruled for Roadway. Travelers appealed.
THE INSURANCE POLICY
Under Ohio law an insurance policy is generally interpreted like any other contract. Specific provisions govern over more general ones.
Roadway's policy covers Roadway's directors and officers as well as the cost of indemnifying them Roadway itself. It insures Roadway for losses "resulting from any claim" made during the policy period. However, the policy also contains a relevant exclusion. Exclusion A.13(d) provides that "with respect to Insuring Agreement C. only," Travelers "will not be liable for loss for any claim . . . based upon or arising out of any employment related wrongful act."
ANALYSIS
The employment related wrongful act exclusion bars Roadway's claim since the wrongful-death suit involves what the parties agree qualifies as an employment-related wrongful act-Roadway's alleged failure to maintain safe working conditions. Exclusion A.13(d), clearly and unambiguously eliminated coverage of Roadway's losses from the wrongful-death suit.
Roadway's arguments otherwise were not convincing. Because of Roadway's alleged failure to maintain safe working conditions, its employee would not have died, and his widow would not have suffered mental anguish and sued. Thus, the losses arose out of Roadway's wrongful act, and Exclusion A.13(d) applies.
A claim can both "arise out of" a wrongful act and be a claim for injury brought "with respect to" the act. Nothing in the contract of insurance suggested that the drafters intended to give the terms anything but their plain meaning, even if the meanings include some overlap.
The Sixth Circuit concluded that no conflict exists between these two exclusions, nor are the exclusions ambiguous. The district court's judgment was, therefore, reversed, and the case was remanded with instructions to enter judgment for Travelers on the coverage claim.
When an employee dies on the job the exclusive remedy available to the heirs is the workers' compensation system. To gain a larger recovery the decedent's spouse filed a wrongful death action claiming the employer was negligent for failing to provide the decedent with a safe place to work. Roadway had employers liability insurance but chose to claim against an E&O policy only to find that a clear and unambiguous exclusion defeated their claim. Why they didn't require the plaintiff spouse to be limited to workers' compensation was not disclosed by the appellate decision. Roadway sought coverage under a policy not designed to cover a wrongful death claim by an employee and, as a result, lost its claim for defense and indemnity,
(c) 2023 Barry Zalma & ClaimSchool, Inc.
Subscribe and receive videos limited to subscribers of Excellence in Claims Handling at locals.com https://zalmaoninsurance.locals.com/subscribe.
Go to substack at substack.com/refer/barryzalma Consider subscribing to my publications at substack at substack.com/refer/barryzalma
Barry Zalma, Esq., CFE, now limits his practice to service as an insurance consultant specializing in insurance coverage, insurance claims handling, insurance bad faith and insurance fraud almost equally for insurers and policyholders. He practiced law in California for more than 44 years as an insurance coverage and claims handling lawyer and more than 54 years in the insurance business. He is available at http://www.zalma.com and zalma@zalma.com
Write to Mr. Zalma at zalma@zalma.com; http://www.zalma.com; http://zalma.com/blog; daily articles are published at https://zalma.substack.com. Go to the podcast Zalma On Insurance at https://anchor.fm/barry-zalma; Follow Mr. Zalma on Twitter at https://twitter.com/bzalma; Go to Barry Zalma videos at Rumble.com at https://rumble.com/c/c-262921; Go to Barry Zalma on YouTube- https://www.youtube.com/channel/UCysiZklEtxZsSF9DfC0Expg; Go to the Insurance Claims Library – https://zalma.com/blog/insurance-claims-library
Like this:
Like Loading…
Related
About Barry Zalma
An insurance coverage and claims handling author, consultant and expert witness with more than 48 years of practical and court room experience.