Evidence Required to Prove Fraud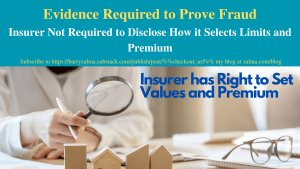 See the full video at https://rumble.com/v3ob2v6-evidence-required-to-prove-fraud.html  and at https://youtu.be/eL8T4RiOwPs
Ira Trocki sued Pennsylvania National Mutual Casualty Insurance Company ("Penn National") for fraud related to certain insurance policies. The District Court granted summary judgment for Penn National.
In Ira Trocki, trading as Jack Trocki Development, LLC v. Penn National Mutual Casualty Insurance Company, No. 22-1483, United States Court of Appeals, Third Circuit (September 13, 2023) the Third Circuit explained what is needed to prove fraud.
Trocki, the owner of a real estate development and management company, purchased and renewed commercial insurance policies with Penn National through an insurance broker from 2006 to 2014. Prior to each annual renewal, Penn National provided Trocki's agent and Trocki with the renewal policy limit and premium to review.
Trocki sued Penn National in federal court, bringing two claims for fraud, one for common law fraud and one for consumer fraud under the New Jersey Consumer Fraud Act ("NJCFA"). Trocki alleged that Penn National annually increased its coverage limits and insurance premiums without notice and that it was doing so to account for inflation. Trocki initially referred to this practice as "Inflation Guard," but now contends that he meant to refer to the practice of applying an automatic inflationary increase. The parties agree that "Inflation Guard," an optional coverage benefit that an insured must purchase separately, was not applied to Trocki's policies.
The District Court concluded that Trocki fell short of making a prima facie case for either fraud claim.
DISCUSSION
Summary judgment is appropriate only if the movant shows that there is no genuine dispute as to any material fact. There is a genuine factual dispute if the evidence is such that a reasonable jury could return a verdict for the nonmoving party. All facts are to be viewed in the light most favorable to the nonmoving party.
Trocki argued that the District Court improperly granted judgment for Penn National on his claims under the NJCFA and for common law fraud. The NJCFA prohibits certain deceptive commercial behavior.
For a claim under the NJCFA, a plaintiff must demonstrate:
unlawful conduct by a defendant,
an ascertainable loss, and
a causal relationship between the defendant's unlawful conduct and the plaintiff's loss.
A cause of action for common law fraud in New Jersey has five elements:
a material misrepresentation of a presently existing or past fact;
knowledge or belief by the defendant of its falsity;
an intention that the other person rely on it;
reasonable reliance thereon by the other person; and
resulting damages.
Trocki's argument was that Penn National applied some undisclosed inflation factor to increase the values of the properties covered by the Penn National policies. Trocki argued that the increase in building limit due to an automatic inflation increase is misleading and unclear in that it does not apprise the insured of why the building limit (and the premium) is being increased.
The Third Circuit concluded that the District Court correctly found Trocki could not make a prima facie claim of common law fraud or consumer fraud under the NJCFA. To start, prior to the renewal of each policy, Penn National presented Trocki with what the new policy limit and premium would be, and Trocki had the opportunity to review, and then paid the new premium.
Under New Jersey law there is no "duty to disclose" in a business transaction. Trocki was fully informed of the price and policy limits, and Penn National is not required to disclose precisely how it reached those numbers. Trocki failed to show, at a minimum, either a material misrepresentation, as required for a claim of common law fraud, or unlawful conduct, as required by the NJCFA. Judgment was affirmed.
Some people appear to believe that suing an insurance company is a perfect way to profit. Mr. Trocki renewed his policies annually, accepted the policy limits and premiums charged him, paid the premium and then after a few years decided to sue his insurers because Penn National failed to explain the methods it used to set the policy limits and premium. If he had a loss I doubt he would complain about the higher limits. The Third Circuit should have applied Rule 11 to this suit.
(c) 2023 Barry Zalma & ClaimSchool, Inc.
Please tell your friends and colleagues about this blog and the videos and let them subscribe to the blog and the videos.
Subscribe to Excellence in Claims Handling at locals.com at https://zalmaoninsurance.locals.com/subscribe or at substack at https://barryzalma.substack.com/publish/post/107007808
Go to Newsbreak.com  https://www.newsbreak.com/@c/1653419?s=01
Follow me on LinkedIn: www.linkedin.com/comm/mynetwork/discovery-see-all?usecase=PEOPLE_FOLLOWS&followMember=barry-zalma-esq-cfe-a6b5257
Daily articles are published at https://zalma.substack.com. Go to the podcast Zalma On Insurance at https://podcasters.spotify.com/pod/show/barry-zalma/support; Go to Barry Zalma videos at Rumble.com at https://rumble.com/c/c-262921; Go to Barry Zalma on YouTube- https://www.youtube.com/channel/UCysiZklEtxZsSF9DfC0Expg;  Go to the Insurance Claims Library – http://zalma.com/blog/insurance-claims-library/
Like this:
Like Loading…
Related
About Barry Zalma
An insurance coverage and claims handling author, consultant and expert witness with more than 48 years of practical and court room experience.