Family Businesses Support Keeping the 'Heart' in Hertfordshire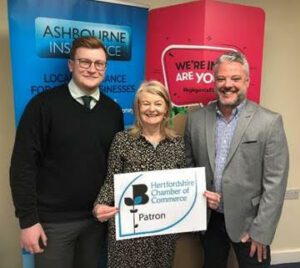 It was serendipity when two East Herts family-businesses met on multiple occasions at a number of local business networking events, including those run by the Hertfordshire Chamber of Commerce. They have embraced the chamber's 'Keep the Heart in Herts Campaign' in 2023 by working with one another and securing a commercial relationship.
'Keep the Heart in Herts' campaign was launched by Herts Chamber at the beginning of 2021 to help strengthen the local economy, showcase skills of the Hertfordshire workforce and highlight business opportunities for Herts based businesses.
Ashbourne Insurance of Hoddesdon and KGK Genix of Thundridge are both multiple generation family-run businesses, multi award-winning and fellow Patrons of the British Chambers of Commerce accredited county chamber, Herts Chamber. When they met it soon became clear that they shared similar values and wanted to do business with one another.
Jack Smits, Commercial Account Handler and 3rd generation family member of Ashbourne Insurance said, "We pride ourselves at Ashbourne, in getting to know our customers, building rapport and a meaningful relationship. After a few meetings with Graham Pitts, Group MD of KGK Genix, I felt confident we would enjoy working together and was delighted to present Graham with comprehensive and competitive quotations to help support his growing and dynamic print business. He is also one of the friendliest Director's I have had the pleasure of working with. Thank you very much to Graham for choosing to place his commercial business insurances with Ashbourne."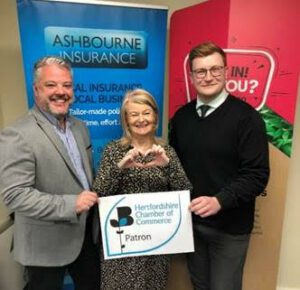 LEFT Photo (left to right): Jack Smits, Briege Leahy & Graham Pitts. RIGHT Photo (left to right): Graham Pitts, KGK Genix, Briege Leahy, Herts Chamber of Commerce and Jack Smits.
Graham Pitts, Group Managing Director, KGK Genix commented: "Our business and the county are stronger when we work together with local businesses who share common values. Since taking over as Group MD from my father in 2021, I have very much made it my mission to network locally and get to know fellow business owners and their services. At KGK we foster strong relationships with clients, staff and suppliers. I know exactly how Jack felt coming into a family business and really wanted to give him the opportunity to work with me as the 'next generation' in both of our companies. Ashbourne is underpinned by strong family values and unrivaled customer service, so it has been an absolute pleasure working together. Special thanks to Jack and I look forward to sharing many more times together at Herts Chamber events."
Briege Leahy, Chief Executive, Hertfordshire Chamber of Commerce said, "Congratulations to fellow Herts Chamber Patron's, KGK Genix and Ashbourne insurance, for embracing the first priority of the Keep the Heart in Herts campaign, which is 'buy local'. By setting an example of how we can keep business in Hertfordshire, these high-profile members will be helping inspire many others and we thank them very much. Hundreds of organisations across the county have got behind the campaign and we continue to encourage all Herts enterprises to get involved. "
Ashbourne Insurance was established in 1981 and offers a wide range of business and personal insurance along with a claims advisory service. It is authorised and regulated by the Financial Conduct Authority (FCA). Ashbourne employ an experienced team of insurance professionals, many of whom have been with the company for over ten years.
For more information visit www.ashbourneinsurance.co.uk Follow on twitter @AshInsServices and LinkedIn https://www.linkedin.com/company/ashbourne-insurance-services-ltd.