Florida Cops Want You To Know You Don't Have To Stop If The Booty Patrol Truck Tries To Pull You Over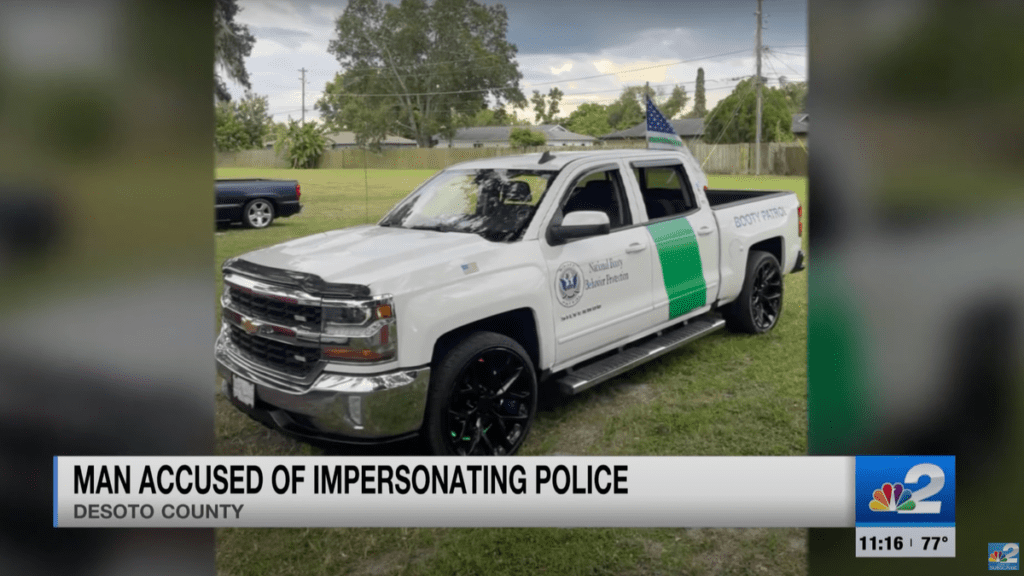 Screenshot: NBC2 News
The DeSoto County Sheriff's Office has a very important message for Florida residents — if you see a white Chevrolet Silverado with "Booty Patrol" on the fenders and a parody Border Patrol logo on the doors, the owner is not an actual law enforcement officer, and he cannot legally pull you over. The Sheriff's Office also wants you to know that this is a super important matter that it is taking very seriously.
Nick Offerman On The Freedom Of Getting An Airstream RV
Because stopping the menace that is the Booty Patrol truck is such a serious issue, they pulled the driver over on Sunday and ticketed him for having illegal lights on his truck. Not for using them or attempting to pull people over. Simply for having them. Apparently, multiple people called in following the initial post to give the cops information on where the driver was, which is 100 percent snitch behavior, and those people should be ashamed of themselves.
Look, not everyone has a cute face, slim waist and a big behind. It's OK. If you want to change that, you can always call Chris Meloni for some advice on leg day. No one's going to actually issue you a citation for insufficient booty or threaten you with jail time if you don't add more juice to that caboose. That's not a real thing. What we don't do is call the cops on a Certified Booty Appreciator. Especially not Florida cops.
Thankfully, Desoto County residents are not having it.
"Is this page satire or are you guys just a joke," one person wrote on Facebook.
"This what happens when your hiring requirement is a 'C' average," added another.
"'Suspicious vehicle'….Nobody was being duped. You are the reason why some folks feel the way they do about cops. You are not helping," wrote a third.
In fact, it ended up being a big enough story that the Booty Patrol truck ended up making the local news. And we appreciate that because otherwise, we never would have known the Booty Patrol truck existed. So in a way, we appreciate the DeSoto County Sheriff's Office for bringing it to our attention. Still, surely they have something better to do with their time. Perhaps some split squats and deadlifts?
DeSoto County deputies warn public about truck impersonating patrol vehicle