Ford Finally Gives In, Norway Can Have the F-150 Lightning
Image: Ford
Norway has worn the crown of the world's "land of EVs" for some time — enough that even we have noticed over the years. So it makes sense that the Nordic nation is home many samples of the EVs available on the planet. But they were not happy about receiving one particular vehicle… and let Ford know it. Just like the country's coordinated movement to be a leader in EVs, it rallied its countrymen to ask Ford to send the F-150 Lightning overseas. And according to the Detroit Free Press  Ford finally agreed to do it.
The Dodge Nitro Was Just a Worse Jeep Liberty
In case you missed it: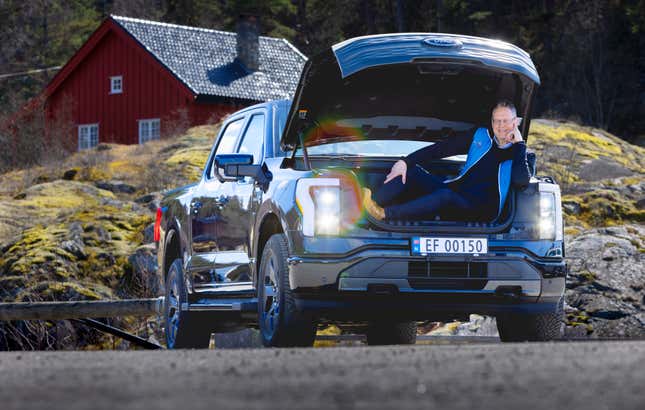 Ford Norway's managing director Per Gunnar Berg with the F-150 LightningImage: Ford
Convincing Ford to bring over a vehicle that wasn't originally designed for the market was no easy task. It took a year of customers doing everything from begging Ford to bring it over through a 4,000 member Norwegian Facebook group to going to bother Ford Norway's managing director Per Gunnar Berg.
And as Berg pointed out, the Lightning fits in most Norwegian's lives. "F-150 Lightning is the perfect match for many customers in Norway — uniquely capable of quenching our thirst for adventure while embracing our passion for protecting the environment," Berg said.
BOGO 50% OFF
Baked Bags Coned Edibles
Mellow out with these grown-up treats
Baked Bags stuff 25mg of Delta-8 THC into each cone, and 100mg per "extra strength" cone. So if you're looking to mellow out, relax, and have a good time, these treats should do the trick nicely.
Ford brought over actual Lightning owners from the U.S. to talk with potential Norwegian customers about how much they love their trucks. One owner, Jacen Craft from Ohio, shared that he and his husband run a roofing company and started their EV ownership with a Mustang Mach-E. Eventually they ended up with both a standard and long-range Lightning. He spoke about everything from the different ownership experience to dealing with cold weather, but he made sure to point out the experience isn't bad.
"Range does drop a little bit." Craft said. "We drive to northern Michigan in 20-degree weather. It does take a little longer, but we end up stopping anyway. … By the time you take out the dogs, grab food and use the restroom, we're usually done charging and we're not even done eating."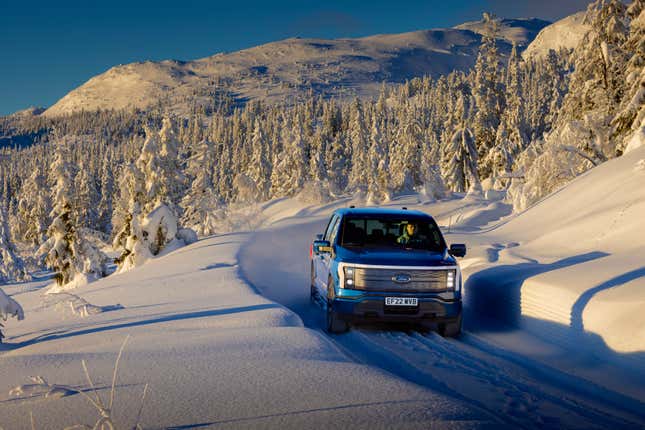 Image: Ford
Cold weather and EVs don't mix easily, but Berg mentions that the Norwegians have mastered the art — knowing when to preheat the battery for charging as well as when to properly stop and charge.
The other hurdle Norweigians may not have mastered is the price. F-150 Lightnings are already rather pricey here in the States. Berg confirmed to the Free Press that pricing is expected to start at $113,000 — including taxes and fees — when the truck arrives in 2024. For that price, customers will have a choice of one color, Antimatter Blue, with potential for a limited number of Lightnings offered as Launch Editions, also in Antimatter Blue, but as Super Crew cabs.