Ford Has The Most Recalls So Far In 2023: Report
Ford has recalled 4.1 million vehicles so far this year. Photo: Alex Kraus/Bloomberg (Getty Images)
These days, it seems like we're reporting on a new vehicle recall every week. In the past month alone, the National Highway Traffic Safety Administration has shared recall notices for everything from Dodge pickup trucks to Nissan EVs and everything in between. But so far in 2023, there has been one manufacturer that's been hit with more recalls than any other: Ford.
Electric Ford F-150 Lightning Begins Production
According to a new report from Automotive News, the Blue Oval has topped the list of automotive recalls so far in 2023 after issuing orders across 31 different models. Recalls issued in the first half of this year have covered cars like the all-electric F-150 Lightning pickup truck and the Ford Fusion, which was affected by an issue with its brake hoses.
In total, Ford's 31 recalls issued in the first half of 2023 affect 4.1 million vehicles sold. More than a quarter of those vehicles were recalled in March, when the American automaker uncovered a defect in more than 1.3 million Ford Fusion and Lincoln MKZ models. In contrast, the company's smallest recall covered just 18 F-150 Lightning pickup trucks that were hit with a battery issue.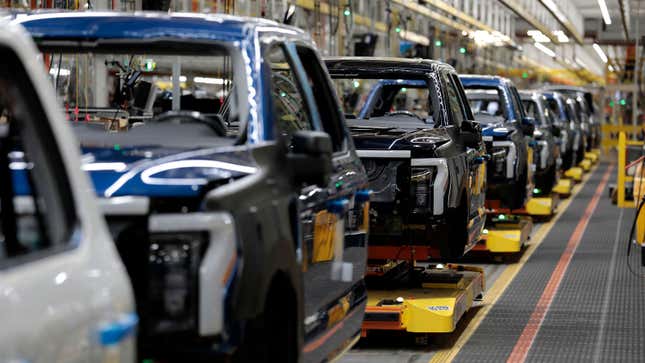 Ford recalled 18 F-150 Lightning trucks this year. Photo: JEFF KOWALSKY / AFP (Getty Images)
Ford's 4.1 million recalled vehicles accounted for roughly a quarter of the total number of vehicles recalled so far in 2023. Over the first six months of the year, 515 different models have been recalled, accounting for 16.7 million vehicles. That might sound like a lot, but this figure is actually 11 percent lower than the same period in 2022.
According to Automotive News, Stellantis came in second place for the race to most recalls in 2023. So far this year, the company issued 26 recalls covering more than 1.7 million vehicles. However, the site explained that six of these involved equipment only.
To try and knock itself from the top spot in this particular title, Ford says it is working to clean up its act and address such quality issues. At the end of 2022, Ford boss Jim Farley said that fixing quality issues was his "No. 1 priority," but warned that getting the automaker back on the right track could "take several years."