Ford to cut 1 in 9 jobs in Europe in electric revamp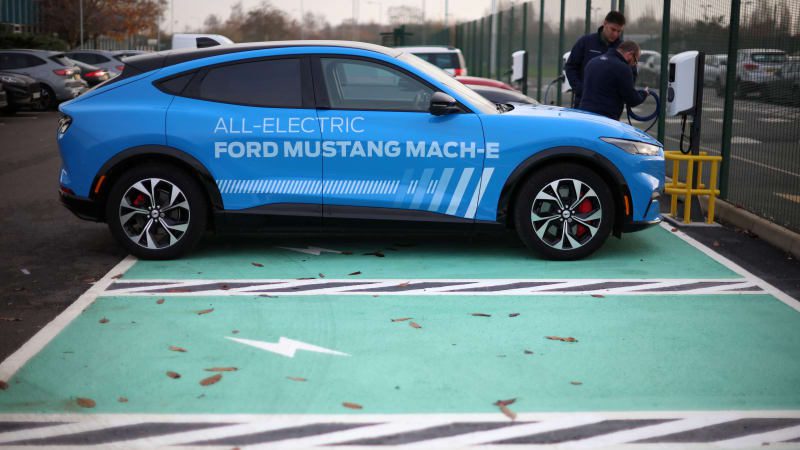 BERLIN —
Ford plans to cut one in nine jobs in product development and administration across Europe as part of a global drive to cut costs and be competitive in the
electric vehicle market, the U.S. automaker said on Tuesday.
Around 3,800 jobs will be cut in total, including 2,300 at the carmaker's Cologne and Aachen sites in Germany, 1,300 in the UK and 200 in the rest of Europe, the company said, adding it intended to achieve the reductions through voluntary programs.
The news comes as a blow to unions who said in late January the worst-case scenario was 
2,500 job cuts in Europe in product development and a further 700 in administration.
Still, the carmaker agreed to no compulsory redundancies at its Cologne or Aachen sites before the end of 2032, providing some relief to workers, works council chair Benjamin Gruschka said on a press call.
"Workers know that the reduced model palette in coming years means fewer jobs. The exclusion of operational redundancies provides safety — we are not kicking anyone out," Gruschka said.
Ford is 
spending $50 billion on electrifying its product range, pivoting to a slimmer lineup with higher prices to compensate for rising costs of producing
electric cars.
Chief Financial Officer John Lawler warned in early February that the American carmaker 
faced $5 billion in higher costs this year and said the company would be "very aggressive" in reducing expenses in its manufacturing and supply chain operations.
Lawler also said at the time that productivity of engineers in Europe was 25-30% lower than it should be.
The U.S. group will retain around 3,400 engineers in the region who will build on core technology provided by their U.S. counterparts and adapt it to European customers, European passenger electric vehicle (EV) chief and head of Ford Germany Martin Sander said on a press call.
Cuts in the UK, which amount to one in five of the workforce there, will be mostly at the carmaker's research center in Dunton, southeast England.
The cuts in Germany equate to around 12% of the workforce there.
"There is significantly less work to be done on drivetrains moving out of combustion engines. We are moving into a world with less global platforms where less engineering work is necessary. This is why we have to make the adjustments," Sander said.
Nothing has changed in the carmaker's electrification strategy, Sander added, with the goal of offering an all-electric passenger car lineup by 2030 and an all-electric fleet in Europe by 2035 still in place.
Ford is due to launch its first EV in Europe built on
Volkswagen's MEB platform in Cologne later this year and is considering bringing a Ford platform to Europe, possibly to its plant in Valencia, Sander said.
Still, the Dearborn, Michigan-based company also 
said last March that its EV business would not be profitable until the next-generation models begin production in 2025.
Ford's European staff last saw a wave of job cuts in 2019 and 2020 as the carmaker pursued a 6% operating margin in the region, a goal thrown off course by the pandemic, with pretax profit margins in Europe in the first nine months of 2022 at just 2.2% of sales.
Related video: