Here's How Lego Captures the Essence of a Real Car in its Toys
Lego has built some truly astounding model cars. This year alone, it has premiered kits that faithfully recreate the Ford GT, the Porsche 911 and a duo of famous McLaren supercars. But what does it take to transform an icon of the road into a plastic kit that can be assembled by kids and adults alike?
Max Greenfield's Advice for Road Trips With Young Kids
In case you missed it:
It turns out it takes quite a lot. Both Lego and the automakers whose car the company is replicating, work together throughout the process of translating a real life car into the kits that you might build on your kitchen table. Lego Group designers sometimes even test drive the cars to capture every detail. This, Lego says, helps designers capture "the essence" of the vehicle and develop neat flourishes for these kits, like the super springy suspension that you'll find in the Land Rover Defender model and the detail crammed into the Bugatti Bolide that was released earlier this year.
Currently my dream Lego kit. Photo: Lego
"The level of detail required in creating a set based on a real-life object is the biggest challenge, as we designers need to get the curves and specific shapes to match in Lego form," explained Lego in an email exchange with Jalopnik.
"That's often why they're built with Technic elements as it allows for more detail and molded pieces specific to the car."
These Technic elements are a departure from Lego's classic bricks and make use of cogs, gears and flexible elements that can replicate the curves of a roofline or front end. Components such as these also help recreate everything from engines and doors to the functional steering you find in some models. Lego will even, at times, design whole new parts for specific cars it's recreating.
"More often than not, we try to find ways to work in already existing elements into as many sets as possible," Lego explained. "But, when we do need a new element created, we find ways to make sure it could be applicable to other sets we are working on as well."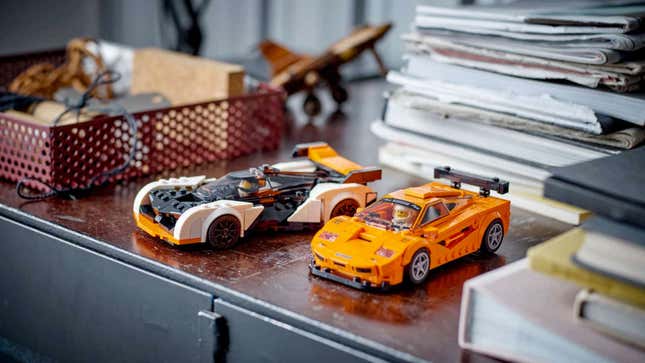 McLaren: speed champions. Photo: Lego
So far, Lego's collaboration with McLaren has seen it recreate the company's Formula 1 racer and a new Speed Champions set that includes the McLaren F1 and Solus GT. The pair even worked to recreate a full-size Lego McLaren 720s. McLaren says its designers were involved in each of these projects along every step of their creation, seeing the "project through from initial concept to final execution," the company explained.
"We talk with Lego years out from a launch about what McLaren we would like to see in Lego form," a McLaren spokesperson explained over email. "That will depend on what new product we have coming up, what we have launched previously and what special celebrations we have." These finished kits have since been well-received by McLaren's fans, the company said, and Lego explained that they're the latest incarnation of some of its earliest sets.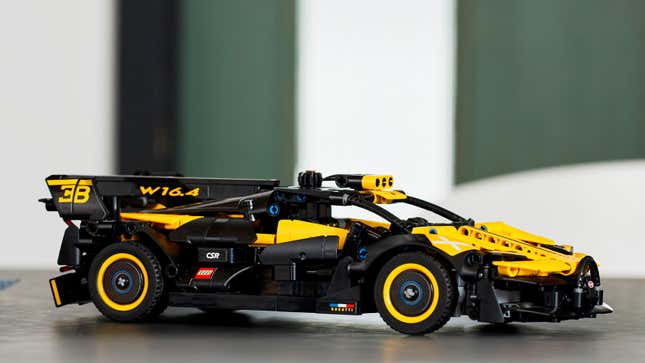 Nice Technic. Photo: Lego
"The vehicles collection is immensely popular and one of the core passions of Lego fans," the company said. "In fact, the first toys Lego Group made in the early days were often wooden toy fire trucks and cars, so to see that enthusiasm and popularity carry through is exciting."