How Would You Configure Your 2024 Ford Mustang?
Since the launch of the 2024 Ford Mustang, we've all been waiting for one thing: The moment we can finally get our greasy little mitts on the car's online configurator. Now, the time is finally here, but it carries with it some mixed emotions.
Let the World Know You Own a V8 Mustang With Ford's Remote Rev
See, I can't build my ideal Mustang in this configurator. I can get close, slap the right combination of external elements together to make a mean-looking muscle car, but the perfect drivetrain will remain forever out of my reach. That's because the new car doesn't offer the 2.3 EcoBoost with a manual transmission, leaving the prospect of SCCA D Street world domination a mere dream to be dreamed in a time gone by.
But, with that limitation on the table, what can we build?
Photo: Ford
If you're me (which I doubt, but cannot entirely rule out) then you can build this: A more-or-less fully spec'd out Mustang Dark Horse, in the debut Vapor Blue Metallic. I fell in love with this color on launch day, so there's no way I would ever do my S650 up in anything lesser. It's just so good.
I also spring for the painted hood stripe, because I'm a sucker for wide front stripes that carry over the roof and back to a car's trunk. I wish Ford offered that as a single vinyl piece, but I'll settle for the three-part setup offered on the Dark Horse.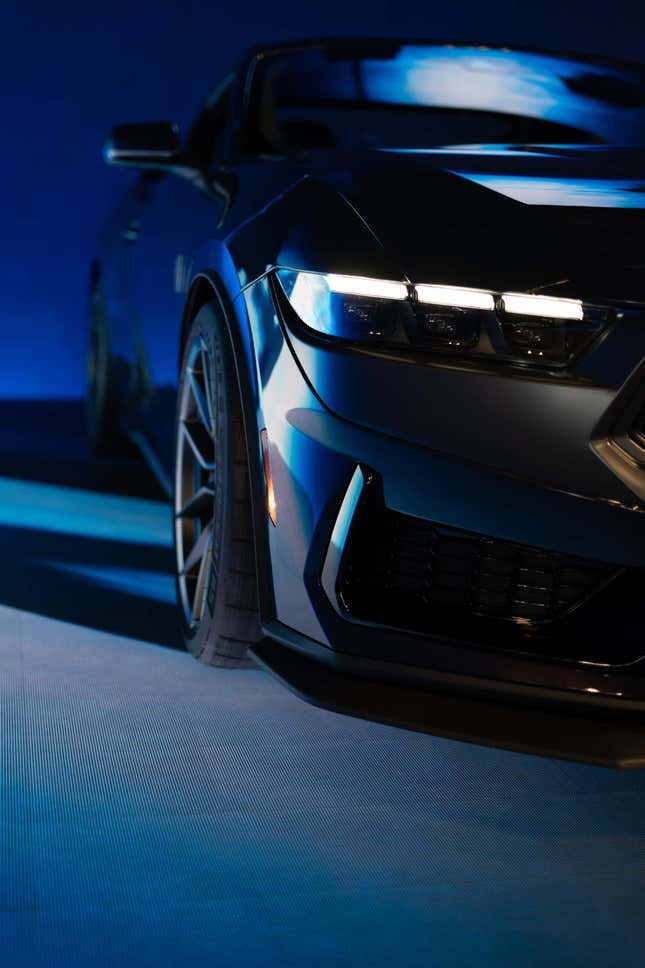 I mean, come on. Look at that color. Photo: Steve DaSilva / Jalopnik
As long as we're throwing money at this car, why not add the Dark Horse Handling Package? I'm sure the base Mustang handles fine, competent enough to make me the weak link in any track scenario, but I love me a rear spoiler with a big gurney flap. A single package that adds that and a front splitter? Bellissimo.
The Dark Horse comes with a blue-accented interior, which I could honestly take or leave (the old STi did it better), but I'm at least glad it's not just boring black. The indigo may not be my favorite color, but at least it's a color. My only interior option was the Recaro bucket seats, because the stock options looked a bit too flat for a narrow guy like me. I like to be cradled in my sports cars.
That's my ideal Mustang, thrown together for a mere — hang on, $73,000? Jesus. Well, I can dream — and so can you. Hop into Ford's configurator, and kick your weekend off by showing us the 'Stangs you'd want to drive.