If You're Going To Try To Flip A Car, Maybe Don't Try A Chrysler
Image: Cars & Bids
Flippers were a scourge of the auto market during the thick of the pandemic. Many were people with more money than a care in the world buying up in-demand models and then flipping them for profit to buyers who had more money than sense. Fortunately for the rest of us, the market has cooled off in large part, enough so that a lot of these cars either aren't selling, or they're selling for way less than expected. In yet another example of this, someone tried flipping a Chrysler 300C, and failed.
Time Magazine Turned Lee Iacocca's Face Into an Automotive Work of Art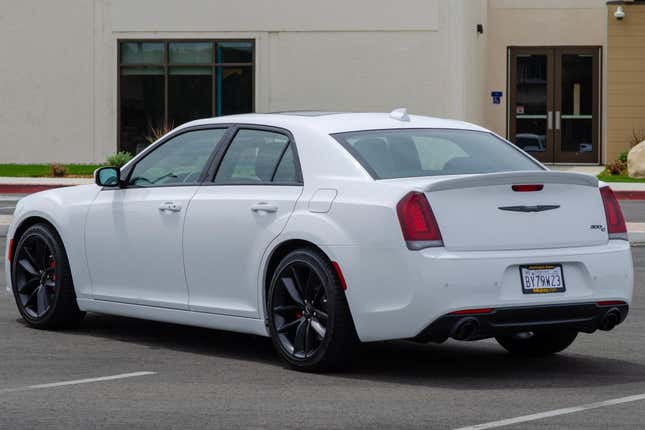 Image: Cars & Bids
If you're unfamiliar with just why someone would be trying to auction off a Chrysler 300, hear me out. This isn't just any 300. As a last hurrah before production ended, Chrysler took the 485 horsepower 6.4-liter Hemi from the Dodge Scat Pack models and threw it into the 300. They've essentially recreated the 300 SRT-8, a model that went away in 2015. Chrysler dubbed this new performance 300 the 300C. Only 2,000 were made and all of them were snapped up within 12 hours of the preorder site going live. One of those 2,000 was posted on Cars & Bids.
The description of the 300 shows that it's essentially a brand-new car with just 90 miles on the clock. The Carfax is equally clean. It's almost as if the person bought it from the dealer and drove it home. The window sticker shows an MSRP of $56,595 though it's doubtful that's what was paid at the dealer.
I purposely kept track of this auction as it was a slow crawl. The auction was up for five days and only within the last 20 hours did the bidding finally reach $30,000. Suffice to say that whoever this seller is likely lost money. The auction ended on August 15 with 18 bids and a final bid of $47,350. That's nearly $10,000 less than the original MSRP and nowhere near the reserve; whatever that was it wasn't met. To make matters more interesting, the buyer financed this car, so the loan would have had to be paid off before the keys were handed over.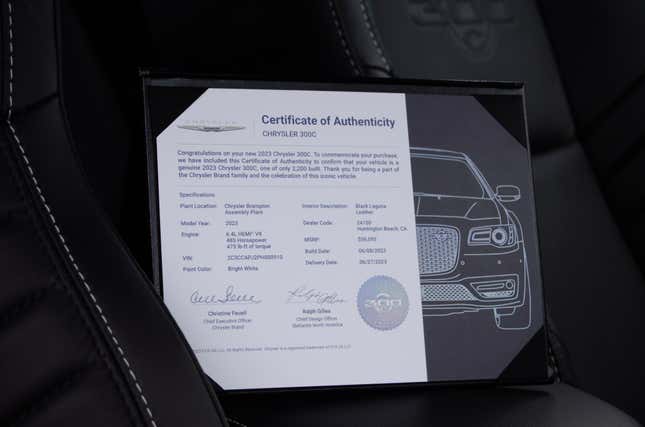 Image: Cars & Bids
The seller doesn't seem to be too concerned over it not selling. Someone asked why they were getting rid of the car after having driven it just 90 miles. "Nothing in particular. I see it as a win-win. If it doesn't sell I keep a rare nice car," he answered. Even though the auction ended, Cars & Bids said they're going to contact the high bidder and see if they can work out a deal between the seller and the bidder.
Whatever ends up happening with this 300, it's still another reminder of the realities of the market. Few people want to pay big bucks for a Chrysler, even one that is one of 2,000.