Interest in hybrid cars and trucks is rebounding in the US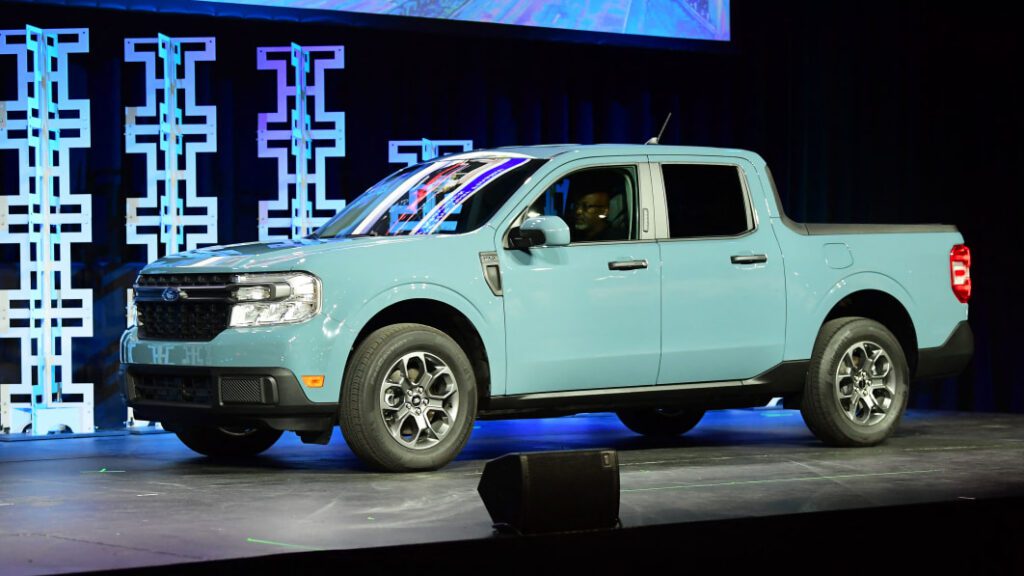 DETROIT — Hybrid gasoline-electric vehicles may not be dying as fast as some predicted in the auto sector's rush to develop all-electric models.
Ford Motor is the latest of several top automakers, including Toyota and Stellantis, planning to build and sell hundreds of thousands of hybrid vehicles in the U.S. over the next five years, industry forecasters told Reuters.
The companies are pitching hybrids as an alternative for retail and commercial customers who are seeking more sustainable transportation, but may not be ready to make the leap to a full electric vehicle.
"Hybrids really serve a lot of America," said Tim Ghriskey, senior portfolio strategist at New York-based investment manager Ingalls & Snyder. "Hybrid is a great alternative to a pure electric vehicle (and) it's an easier sell to a lot of customers."
Interest in hybrids is rebounding as consumer demand for pure electrics has not accelerated as quickly as expected. Surveys cite a variety of reasons for tepid EV demand, from high initial cost and concerns about range to lengthy charging times and a shortage of public charging stations.
"With the tightening of emissions requirements, hybrids provide a cleaner fleet without requiring buyers to take the leap into pure electrics," said Sam Fiorani, vice president at AutoForecast Solutions.
S&P Global Mobility estimates hybrids will more than triple over the next five years, accounting for 24% of U.S. new vehicle sales in 2028. Sales of pure electrics will claim about 37%, leaving combustion vehicles — including so-called "mild" hybrids — with a nearly 40% share.
S&P estimates hybrids will account for just 7% of U.S. sales this year, and pure electrics 9%, with internal combustion engine (ICE) vehicles taking more than 80%.
Historically, hybrids have accounted for less than 10% of total U.S. sales, with Toyota's long-running Prius among the most popular models. The Japanese automaker has consistently said hybrids will play a key role in the company's long-range electrification plans as it slowly ramps up investment in pure EVs.
Ford is the latest to roll out more aggressive hybrid plans. On its second-quarter earnings call in late July, Chief Executive Jim Farley surprised analysts, saying Ford expects to quadruple its hybrid sales over the next five years after earlier promising an aggressive push into all-electric vehicles.
"This transition to EVs will be dynamic," Farley told analysts. "We expect the EV market to remain volatile until the winners and losers shake out."
Among Ford's competitors, General Motors appears to have little interest in hybrids in the U.S., while Stellantis will follow Toyota and Ford's hedge by offering U.S. buyers a choice of different powertrains, including hybrids, until sales of pure electric vehicles start to take off after mid-decade, according to forecaster GlobalData.
In a statement, GM said it "continues to be committed to its all-electric future … While we will have hybrid vehicles in our global fleet, our focus remains on transitioning our portfolio to electric by 2030."
Stellantis said hybrids now account for 36% of Jeep Wrangler sales and 19% of Chrysler Pacifica sales. In addition to new pure electric models coming soon, "we are very bullish on hybrids going forward," a spokesperson said.
This year, manufacturers are marketing more than 60 hybrids in the U.S. Toyota and its premium Lexus brand are selling at least 18 different hybrid models, enabling the Japanese automaker to maintain its stranglehold on the sector.
Hyundai and sister brand Kia offer seven hybrid models, with Ford and Lincoln six. Stellantis offers just three, and GM's sole entry, due out later this year, is a hybrid version of the Chevrolet Corvette sports car.
But hybrids remain in short supply at many U.S. dealerships.
Andrew DiFeo, dealer principal at Hyundai of St. Augustine, south of Jacksonville, FL, doesn't see EV adoption hitting the levels the Biden administration wants until EV charging stations are as ubiquitous as gas stations.
"Hybrids are a great bridge to whatever the future holds," said DiFeo, adding, "I've got zero in stock (and) I've got customers that want all of them."
Related video: