It's Almost Impossible To Find A Decent Used Car Under $20,000
There are signs that the car market is slowly shifting back to normal. Deals on electric vehicles are becoming commonplace, and used luxury cars are seeing the expected depreciation drops. But if you're a used car buyer on a budget, a recent survey revealed how difficult it is to find something in that under $20,000 market.
Welp, Used Car Prices Are Rising Again
There was a time not that long ago when a buyer could get something nice like Mazda6 or perhaps a Hyundai Tucson between $18,000 and $20,000; these cars would only be a few years old with reasonable miles and likely still some warranty balance left. Even shoppers in that $10,000 to $15,000 range could pick up Kia Soul or a rental Nissan Sentra with mileage under 50,000. Now, the used car prices of 2019 feel impossibly far away, and the market for "cheap" cars has shrunk dramatically.
A study from iSeeCars.com analyzed used car sales from 2019 and 2023 to reveal a huge market shift in what buyers can expect now versus what they were able to buy then. Here is their methodology:
SeeCars analyzed over 10.8 million 1- to 5-year-old used cars sold between January and July of 2019 and 2023. List prices and average odometer readings were tallied and aggregated to compare the share of cars at various price points across the two periods, as well as to compare the average mileage of cars before and after the COVID-19 pandemic. A selection of best-selling vehicles were analyzed and ranked by the change in share of cars priced under $20,000 from 2019 to 2023.
The results are staggering, though not terribly surprising, given the supply constraints and inflated prices of the past two to three years.
Screenshot: iSeeCars.com
According to the data, in 2019, sub-$20,000 cars were almost 50 percent of the market; now, less than 13 percent of the used car market are "affordable" rides. The biggest drop is that $10,000 to $15,000 range, where about 20 percent of used cars could be found in 2019, now that is 1.5 percent. Also, if you look at the average mileage range from the 2019 market in the $10,000 to $20,000 price point, it was possible to get something and have at least some powertrain coverage remaining. If you are shopping these cars in 2023, you are looking at some higher mileage models.
A look at some of the most popular used car models in 2019 and 2023 shows some huge price jumps for what used to be very affordable models: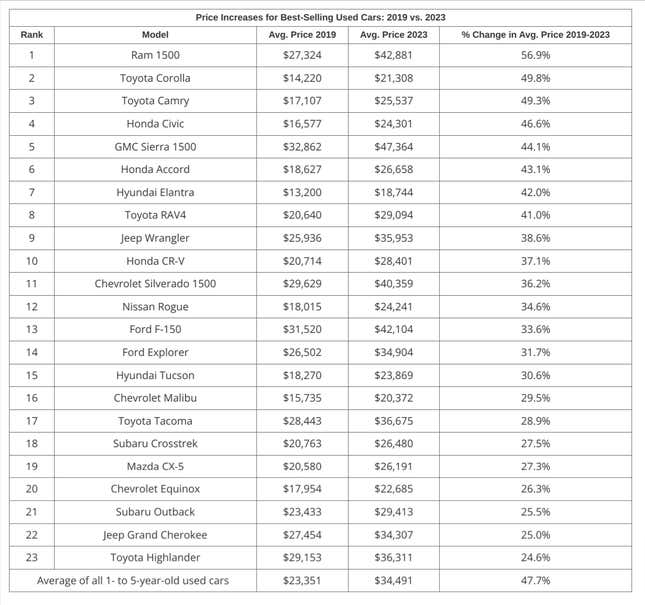 Screenshot: iSeeCars.com
Used Camrys and Civics are up to $8,000 more expensive than they were just four years ago. A used Elantra is up to $5,000 more expensive compared to 2019.
These massively inflated prices compared with the current high interest rates make shopping in these "affordable" segments super difficult for those that don't have the luxury of buying a new car. It also highlights once again how out of touch so-called "financial experts" are at giving advice.
If you do find yourself looking for a cheap ride, there is no easy solution here. Be as open-minded as possible, shop your loans around, and make sure you get something inspected before you buy it.
Tom McParland is a contributing writer for Jalopnik and runs AutomatchConsulting.com. He takes the hassle out of buying or leasing a car. Got a car buying question? Send it to Tom@AutomatchConsulting.com