Junkyard Gem: 1985 Mercedes-Benz 300 SD
Car shoppers in the United States were able to buy the proto-S-Class W126 Mercedes-Benz beginning in 1980 and continuing through 1991, and I've documented quite a few of these luxurious machines in forced retirement. Other than a gray-market 280 SEL and a pair of beat-up 300 SDs with a half-million miles apiece, all of those discarded W126s have had gasoline-fueled V8 engines under their hoods. Today's Junkyard Gem is a different sort of boneyard W126: a (relatively) low-mile example with a turbodiesel under the hood and pretty decent body and interior.
Keep in mind that "low-mile" means something different for an oil-burning W126 than it does for, say, a Hyundai Excel of the same era. This car made it well past a quarter-million miles during its career, which is respectable at best for a 300 SD. I've documented a crashed '81 300 SD with 572,139 miles and a terrifyingly apocalyptic '85 300 SD with 535,971 miles prior to today's car (surprisingly, the highest-mile Mercedes-Benz I've ever found in a car graveyard was a gasoline-burning W201 proto-C-Class) and had been keeping my eyes open for an example of the diesel W126 that wasn't quite so used up.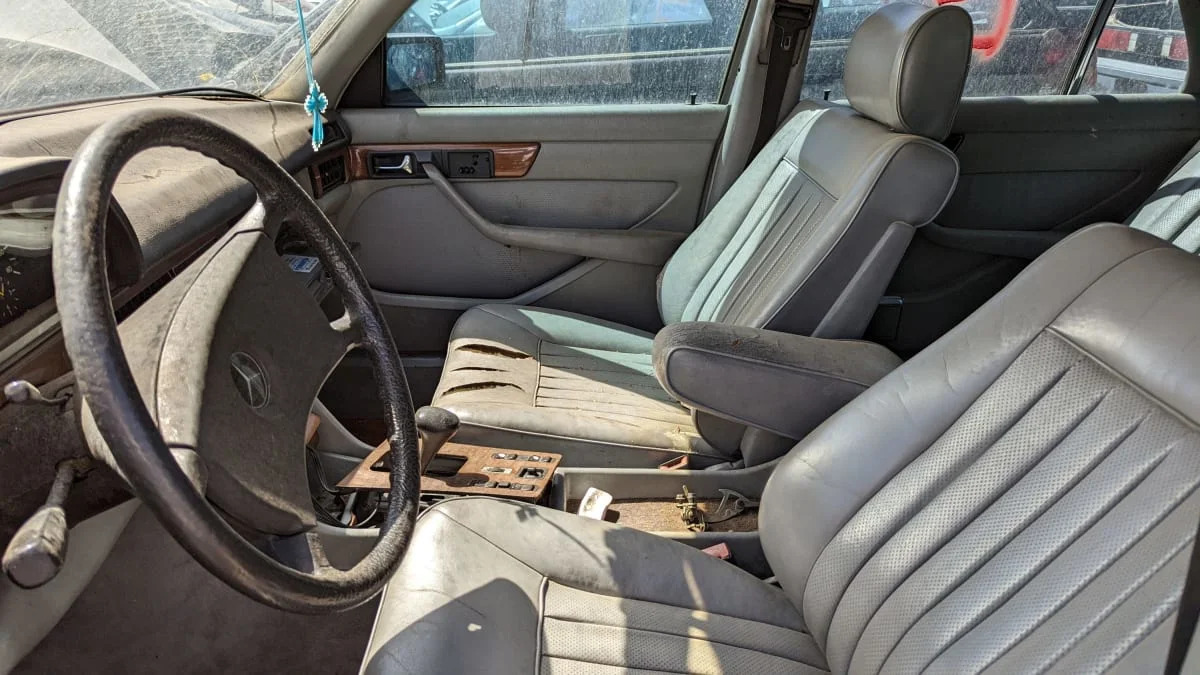 The interior is dirty and a bit sun-damaged, almost certainly from long-term outdoor storage in the harsh High Plains climate, but it could have been cleaned up without too much trouble.
The body has some damage, but these dents look like the sort that happen after a car enters the junkyard ecosystem.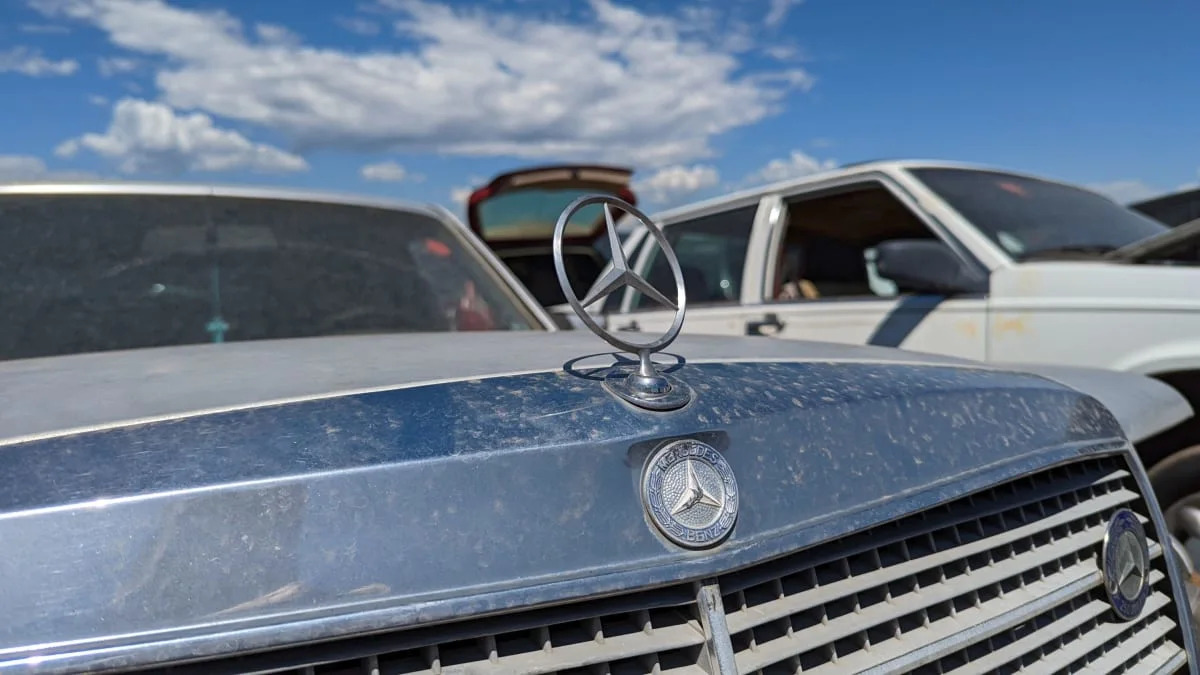 It's a good bet that some expensive mechanical problem sidelined this car years ago, and its owner couldn't or wouldn't pay to fix it.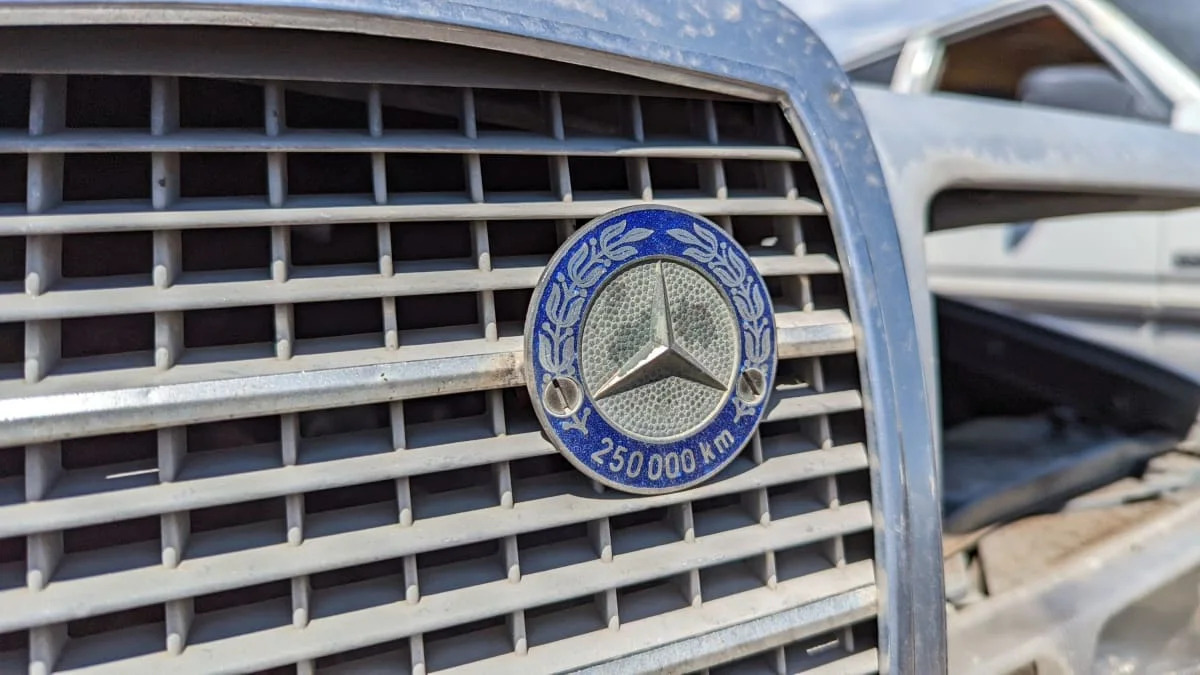 250,000 kilometers is a bit over 155,000 miles.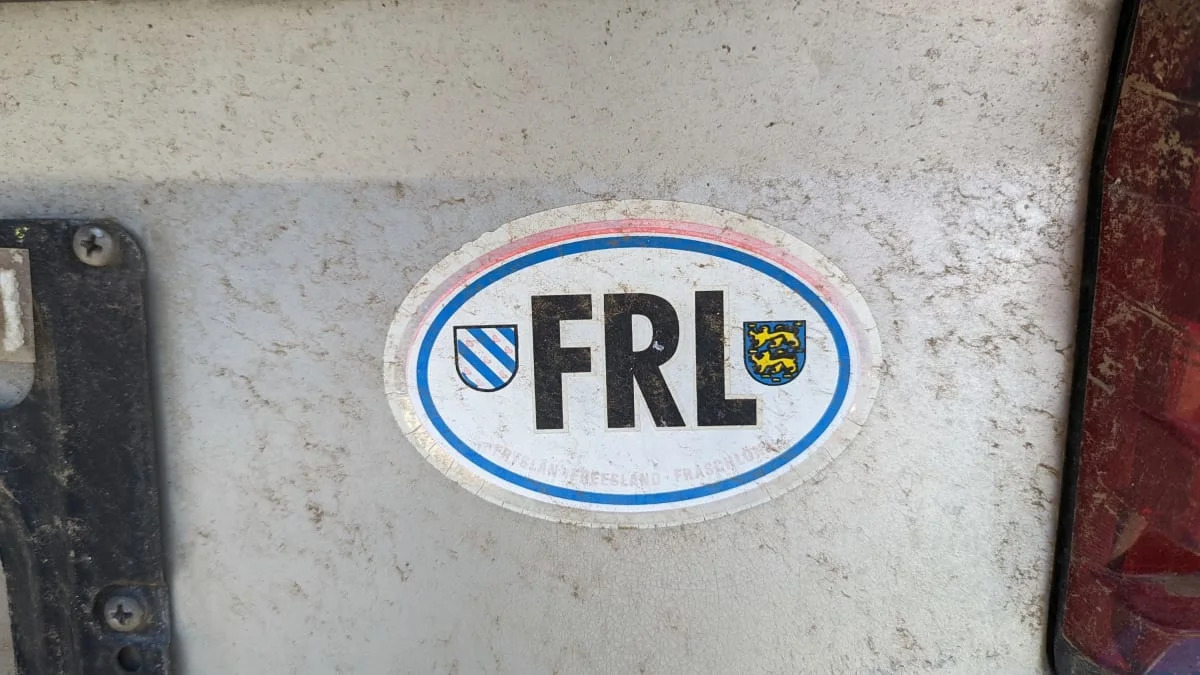 The build tag says it's a U.S.-market car, not one of the many gray-market W126s bought in Europe and converted to U.S. specifications. Still, the 250000km badge on the grille and this sticker from the Dutch province of Fryslân suggest a European connection to one of this car's owners.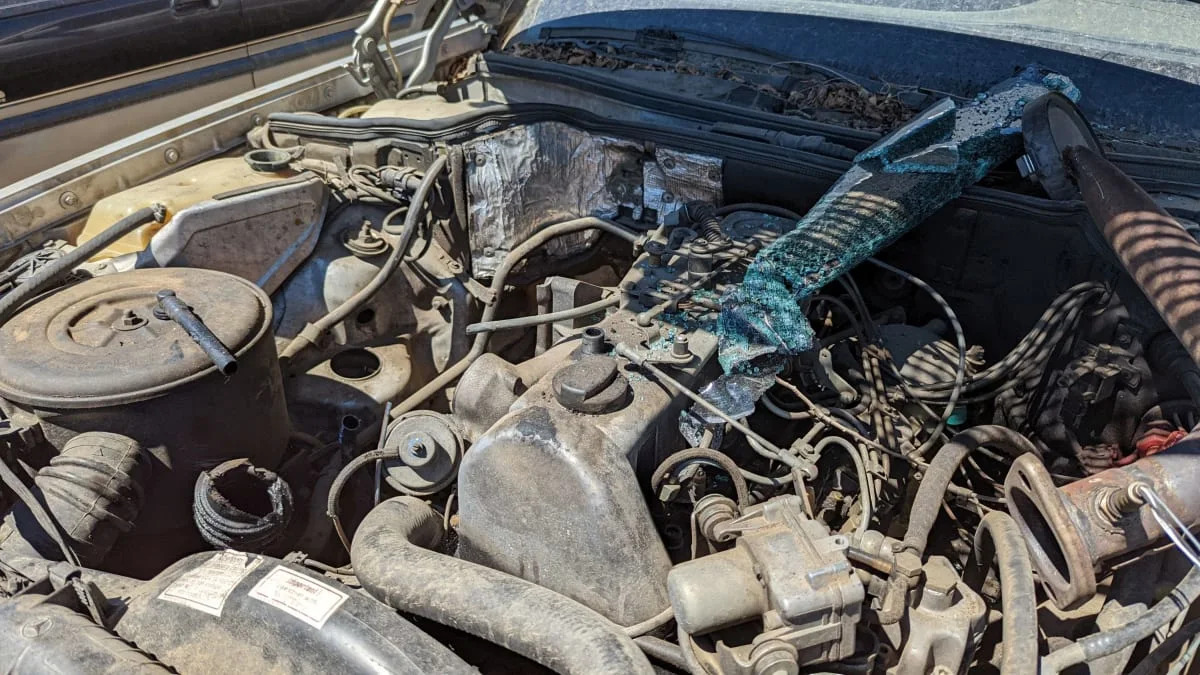 In 1985, American Mercedes-Benz shoppers could get a new W126 sedan with one of three engines: a 3.8-liter gasoline V8 with 155 horsepower, a 5.0-liter gasoline V8 with 184 horsepower and a 3.0-liter OM617 five-cylinder turbodiesel with 123 horsepower.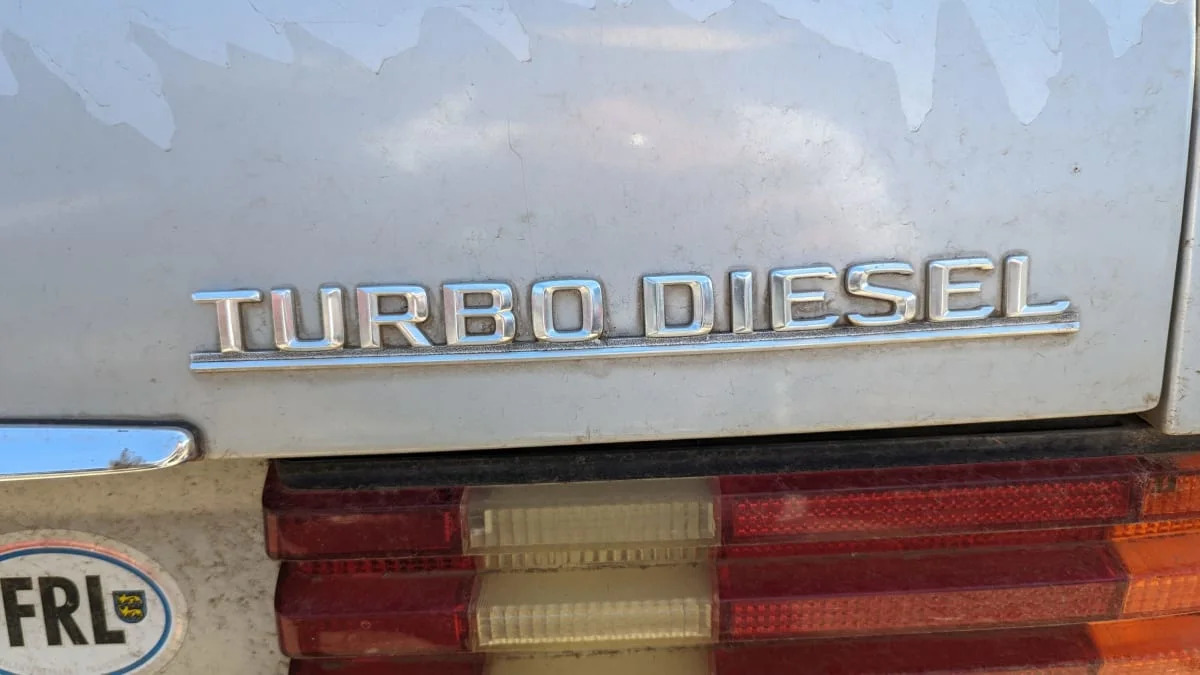 Granted, the engine in this car was rated at 184 pound-feet, which was enough to get its 3,605 pounds moving well enough.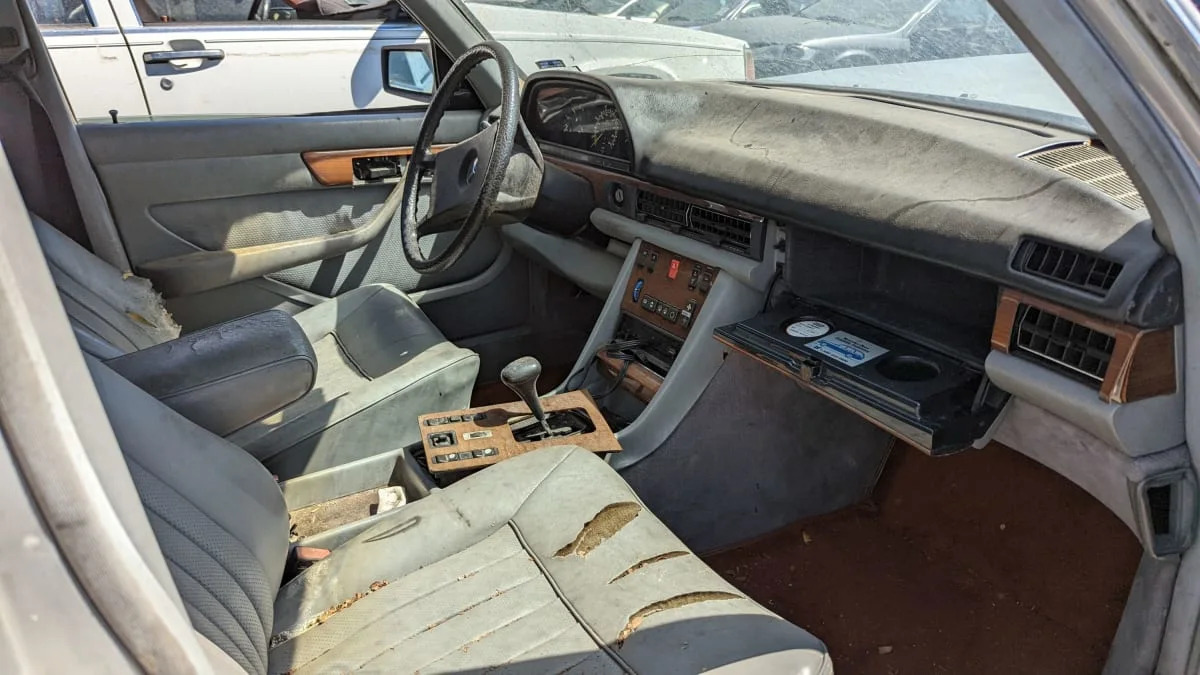 Its intimidating price tag of $39,840 (about $115,218 in 2023 dollars) meant that its original buyer must have understood the value of getting one of the most indestructible engines ever put in an automobile. It was cheaper than its V8 siblings, though: The 380 SE cost $43,030 ($124,444 today) and the 500 SEL was $51,560 ($149,113 now).
The best or nothing.