Laurent Garcia joins the WINMAR® (Canada) International, Ltd., National Corporate Team
Voir français ci-dessous
LONDON, ON, SEPTEMBER 11, 2023/insPRESS/ – WINMAR® (Canada) International, Ltd.,  is pleased to announce the addition of Laurent Garcia as our Regional Manager – Business Development Quebec, who joined the WINMAR® National Corporate Team on August 28, 2023.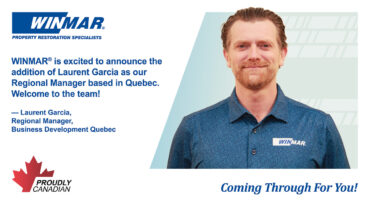 Laurent will be based out of Quebec and brings over 12 years of management and insurance experience working in all aspects of the claims process.  Laurent will utilize his extensive technical knowledge and training experience, to enhance our overall performance in the Quebec Region.
Most recently, Laurent served as an Estimation Team Leader in the insurance industry and has teaching experience in appraisal and estimation. With his strong technical background, management experience, and understanding of the insurance industry, specializing in large loss and complex claims, he will be a key asset to our corporate team for overall franchise growth and enhanced performance in the Quebec Region.
"WINMAR® continues to be focused on customer care, overall performance, and increased growth in the Quebec Region," stated Glenn Woolfrey, President. "With the addition of Laurent, we will further enhance support to our current Quebec franchises while continuing our growth in adding additional franchises in Quebec. We believe that Laurent's knowledge and background will help increase our success in Quebec."
As part of WINMAR® Canada's strategic growth, we continue to focus on the development and support of our partners.  WINMAR®                 remains committed to providing service excellence within the Property Restoration Industry to fulfill our partner's expectations of best in service.
We are excited to welcome Laurent to the WINMAR® Family.
About WINMAR®
WINMAR® is a nationwide Franchise Network of leading Property Restoration Specialists servicing insurance companies, property management companies, homeowners, tenants, and corporations since 1977. All WINMAR® franchises are independently owned, trained, and certified to provide 24/7 emergency response services and building property damage restoration caused by fire, water, and wind damage. Our internal teams, partners, engineers, contractors, and suppliers are highly skilled and ready to act in unprecedented situations with confidence. With over 45 decades of experience in restoration, WINMAR® franchises offer specialty services including thermal imaging, 360° camera services, mould remediation, building sanitization and deodorization, asbestos abatement, trauma scene clean-up, and biohazard remediation for both commercial and residential claims. WINMAR® is one of Canada's fastest growing Property Restoration Specialists, continually reviewing and enhancing its environmental sustainability with its over 90 locations coast-to-coast, serving all aspects of the residential, commercial, and industrial insurance network.
For more information about WINMAR® or franchise opportunities visit winmar.ca
Laurent Garcia se joint à l'équipe nationale de direction de WINMAR® (Canada) International ltée
LONDON, ON, LE 11 SEPTEMBRE 2023/insPRESS/ – WINMAR® (Canada) International, ltée a le plaisir d'annoncer l'arrivée de monsieur Laurent Garcia au poste de gestionnaire régional du Québec pour le développement des affaires. Il s'est joint à l'équipe nationale de WINMAR® le 28 août 2023.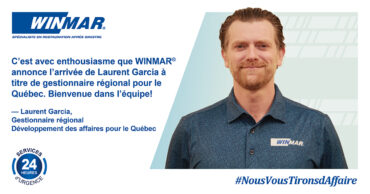 Laurent exercera ses fonctions à partir du bureau de Québec. Il cumule plus de 12 ans d'expérience en gestion et en assurance, ayant œuvré dans tous les aspects du processus de réclamation. Laurent mettra à profit ses multiples connaissances techniques, ainsi que ses expériences de formation pour accroître notre rendement global en sol québécois.
Plus récemment, Laurent a occupé un poste de chef d'équipe en estimation dans le secteur de l'assurance et a acquis au fil du temps une expertise en matière d'évaluation et d'estimation. Fort de ses compétences techniques, de son expérience en gestion et de sa grande maîtrise du secteur de l'assurance, notamment en ce qui a trait aux sinistres majeurs et complexes, Laurent sera un atout considérable pour l'équipe de direction dans ses visées de croissance globale de la franchise et de résultats bonifiés dans la région du Québec.
« WINMAR® continue de privilégier le service à la clientèle, le rendement global et la croissance accrue à travers la région du Québec », a déclaré Glenn Woolfrey, président. « Avec l'arrivée de Laurent, nous aurons l'occasion d'optimiser le soutien à nos franchises québécoises actuelles, tout en poursuivant notre expansion par l'ajout de nouvelles franchises au sein de la province québécoise. Nous sommes convaincus que le savoir et l'expérience de Laurent nous aideront à mieux nous positionner au Québec, et ce, de manière durable et réussie. »
Dans le cadre de la croissance stratégique de WINMAR® Canada, nous poursuivons nos efforts visant à assurer la croissance et le soutien de nos partenaires. En ce sens, WINMAR® entend continuer à fournir un service exceptionnel au sein de l'industrie de la restauration, tout en assurant la pleine satisfaction de ses partenaires en matière de prestation de services de qualité supérieure.
C'est avec un plaisir immense que nous accueillons Laurent au sein de la grande famille WINMAR®.
À PROPOS DE WINMAR®
L'entreprise WINMAR® est un réseau national de franchises de spécialistes en restauration après sinistre qui joue un rôle prépondérant auprès des propriétaires de maisons, locataires, grandes institutions, compagnies d'assurance et sociétés de gestion immobilière, et ce, depuis 1977. Toutes les franchises de WINMAR® sont détenues et exploitées de façon indépendante. Elles sont composées d'un effectif formé et certifié pour fournir des services d'intervention d'urgence 24 heures sur 24, 7 jours sur 7, afin de restaurer les propriétés endommagées par les incendies, les dégâts d'eau et les tempêtes. Nos équipes internes, nos partenaires, nos ingénieurs, nos sous‑traitants et nos fournisseurs sont hautement qualifiés et prêts à agir en toute confiance lors de situations sans précédent. Comptant plus de 45 années d'expérience dans le domaine de la restauration, les franchises WINMAR® offrent des services spécialisés – notamment : l'imagerie thermique, les appareils panoramiques pour photos à 360°, l'élimination des moisissures, l'assainissement et la désodorisation des bâtiments, le désamiantage, le nettoyage des scènes de crimes/trauma et les mesures pour écarter les biorisques dans le cadre de sinistres commerciaux et résidentiels. WINMAR® figure parmi les spécialistes de la restauration de propriétés qui connaissent la croissance la plus spectaculaire au Canada. L'entreprise ne cesse de réviser et d'améliorer sa durabilité environnementale dans les 90 emplacements qu'elle possède d'un océan à l'autre, afin de répondre de la meilleure façon aux critères du réseau d'assurance résidentielle, commerciale et industrielle.
Pour de plus amples renseignements sur WINMAR® ou sur les possibilités de franchise, veuillez consulter winmar.ca