Liability Insurance Only Protects Other than the Insured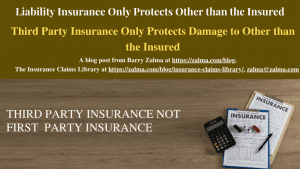 See the full video at https://rumble.com/v27z52z-liability-insurance-only-protects-other-than-the-insured.html and at https://youtu.be/rlkxxfG4QOE
Finger Oil &Gas, Inc. ("Finger Oil"), the insured, and Mid-Continent Casualty Company ("Mid-Continent") disputed coverage and the magistrate judge granted Mid-Continent's motion for summary judgment, and Finger Oil appealed the dismissal of its misrepresentation and breach of contract claims.
In Finger Oil & Gas, Incorporated v. Mid-Continent Casualty Company, No. 22-50432, United States Court of Appeals, Fifth Circuit (January 27, 2023) Finger Oil demanded coverage to its property because it was told it had coverage for damage to third parties. The Fifth Circuit resolved the dispute.
FACTS
Finger Oil is an insured under a policy issued by Mid-Continent, which provides general liability insurance. On July 19, 2019, Finger Oil was drilling at its own natural gas well, named Drushel #1, located in Jackson County, Texas when a valve failed and the well blew out. In response, Finger Oil contacted Desiree Scrimger, the commercial-lines account manager at Marsh USA, Inc. ("Marsh"), Finger Oil's insurance agent, to inquire whether it was covered for the blow out. Because Scrimger was unfamiliar with the policy, she reached out to an underwriter at Mid-Continent requesting that it "confirm that this insured has Blow Out and Cratering coverage and advise the limit." Mid-Continent's underwriter replied in an email stating: "The policy ML1419 Oil & Gas Endorsement IV Blow-Out and Cratering has a box to X if the coverage is excluded. The ML1419 for this policy is not X'd. …"
Based on this response, Scrimger emailed Finger Oil as follows: "Per the underwriter regarding coverage, the Blowout and Cratering are included within the limit of insurance. Limits are $1M occurrence/$2M aggregate. Please note that each claim is based on its own merit and this is just verifying the coverage in place."
Finger Oil, without reading the policy or seeking advice interpreting the coverage, relying on Scrimger's email as confirmation that it was covered for the incident, hired several contractors to work on the well and incurred bills for these services in the amount of $641,590.90.
THE CLAIM DENIAL
Mid-Continent subsequently denied Finger Oil's insurance claim, which was for expenses incurred while repairing property from the well blow out and the costs to bring the well under control. Mid-Continent determined that there was no coverage under the policy for these damages based on two exclusions. First, Mid-Continent stated that the policy included an exclusion for damage to property owned by the insured which excluded from coverage "property damage" to: "Property you own, rent, or occupy, including any costs or expenses by you, or any other person, organization or entity, for repair, replacement, enhancement, restoration or maintenance of such property for any reason, including prevention of injury to a person or damage to another's property."
The policy also excluded "any loss, cost or expense incurred by you or at your request or by or at the request of any 'Co-owner of the Working Interest' in connection with controlling or bringing under control any oil, gas, or water well."
THE SUIT
Finger Oil sued Mid-Continent. Eventually Mid-Continent filed a motion for summary judgment, which the magistrate judge granted in part. It dismissed all of Finger Oil's claims, except the breach of contract claim to the extent it involved Mid-Continent's failure to pay costs and expenses for repair of the well. The magistrate judge granted Mid-Continent's motion for reconsideration and denied Finger Oil's motion for reconsideration.
Finger Oil appealed the magistrate judge's dismissal of its misrepresentation and breach of contract claims.
DISCUSSION



The Fifth Circuit agreed with the Magistrate that MidContinent's statement that blow out coverage existed did not amount to an actionable misrepresentation. Finger Oil's agent asked MidContinent whether it had blow out and cratering coverage, to which MidContinent correctly replied that it did. MidContinent's statement was more akin to a general statement that the policy included such coverage, rather than it was to a misrepresentation of specific policy terms. Indeed, Finger Oil was warned in the same email to "[p]lease note that each claim is based on its own merit and" that the statement was "just verifying the coverage in place." The summary judgment evidence, therefore, did not support Finger Oil's misrepresentation claims.
In Texas, insurance policies are contracts subject to the rules of contract construction. As with other contracts, courts interpret and enforce them according to settled rules of construction and must give the policy's words their plain meaning, without inserting additional provisions into the contract. Accordingly, courts must begin their analysis with the terms of the policy because they presume parties intend what the words of their contract say. The words of the policy are given their ordinary and generally-accepted meaning unless the policy shows the words were meant in a technical or different sense.
The Fifth Circuit concluded that the magistrate judge did not err in dismissing Finger Oil's breach of contract claims. Recovering costs and expenses for the repair of Finger Oil's well was expressly excluded from the policy. The policy only provides third-party liability coverage-i.e., coverage for property not owned or controlled by Finger Oil.
The purpose of owned property exclusions in general liability policies is to effectuate the intent that liability insurance is designed to provide compensation for damages to property not owned or controlled by the insured.
It does not, nor can it, provide first party coverage for losses sustained by the insured on its own property. Finger Oil provided no basis for the court to question the clear terms of the exclusion, nor does it dispute that it owned the well in question.
This case should never have reached the trial court let alone the Fifth Circuit. If anyone representing Finger Oil had read the full policy it would have been obvious that a third-party liability policy only provides indemnity for damage to property owned or controlled by others and is not a first party policy that protects the property of the insured. The Fifth Circuit, and the Magistrate Judge before the appeal, read the full policy and reached the only decision available.
(c) 2023 Barry Zalma & ClaimSchool, Inc.
Subscribe and receive videos limited to subscribers of Excellence in Claims Handling at locals.com https://zalmaoninsurance.locals.com/subscribe.
Go to substack at substack.com/refer/barryzalma Consider subscribing to my publications at substack at substack.com/refer/barryzalma
Barry Zalma, Esq., CFE, now limits his practice to service as an insurance consultant specializing in insurance coverage, insurance claims handling, insurance bad faith and insurance fraud almost equally for insurers and policyholders. He practiced law in California for more than 44 years as an insurance coverage and claims handling lawyer and more than 54 years in the insurance business. He is available at http://www.zalma.com and zalma@zalma.com
Write to Mr. Zalma at zalma@zalma.com; http://www.zalma.com; http://zalma.com/blog; daily articles are published at https://zalma.substack.com. Go to the podcast Zalma On Insurance at https://anchor.fm/barry-zalma; Follow Mr. Zalma on Twitter at https://twitter.com/bzalma; Go to Barry Zalma videos at Rumble.com at https://rumble.com/c/c-262921; Go to Barry Zalma on YouTube- https://www.youtube.com/channel/UCysiZklEtxZsSF9DfC0Expg; Go to the Insurance Claims Library – https://zalma.com/blog/insurance-claims-library
Like this:
Like Loading…
Related