Make Your Neighbors Hate You With the 2024 Ford Mustang's Remote Rev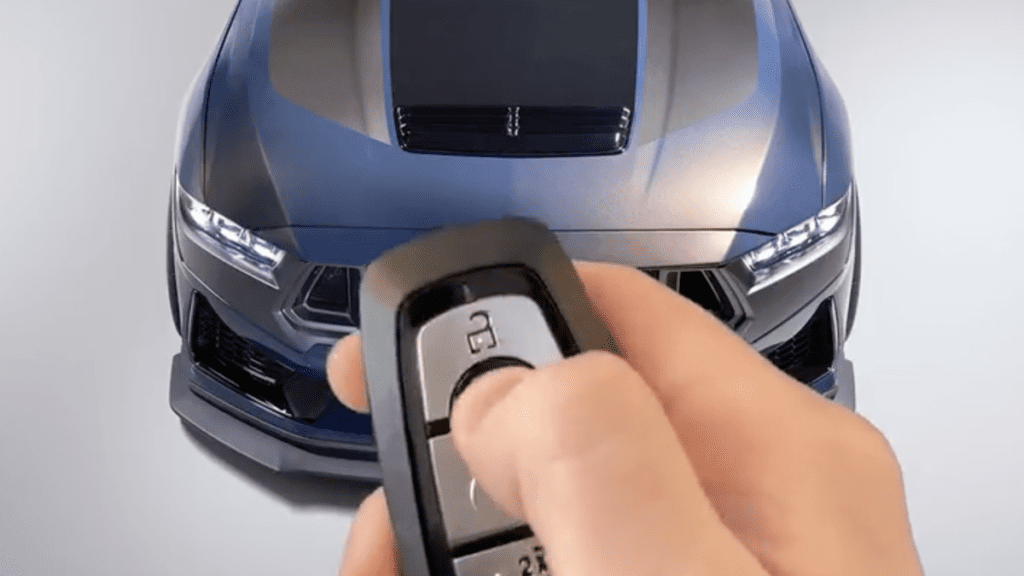 If there's one thing V8 Ford Mustang owners like doing, it's reminding people that they drive a V8 Ford Mustang. Now, The Blue Oval is making that task easier than ever. The 2024 Ford Mustang's key fob will now let users remotely rev their engines. The feature has a simple, elegant name: Remote Rev.
Ford Has Built 150,000 Mustang Mach-Es Already
In case you missed it:
We've heard about it in the past when we were at the official launch of the 2024 Mustang, but now we are finally getting to see this little piece of tech do its thing on video.
It's all a pretty simple operation. To activate Remote Rev, the user first has to remotely start the engine by pressing the lock button on the key fob once and then hit the remote start button twice. From there, the key holder has to press the unlock and lock button in that order to get Remote Rev going. Do it again, and the system will fully engage so you can spike revs at 3,000, 4,000 and 5,000 rpm. What a treat. Your neighbors are going to love you. The old people at Cars & Coffee parking next to you are going to love you. Your ex-wife is going to love you.
BOGO 50% OFF
Baked Bags Coned Edibles
Mellow out with these grown-up treats
Baked Bags stuff 25mg of Delta-8 THC into each cone, and 100mg per "extra strength" cone. So if you're looking to mellow out, relax, and have a good time, these treats should do the trick nicely.
To ring in this new key-ovation, Ford decided to take a trip down memory lane for a look back at the evolution of Mustang keys. I know, I know. That sounds a little bit boring, but trust me! It isn't! All the way back in 1964 (and a half), Ford wanted to give the original Mustang a key to set it apart. It decided to place a cute lil' pony on it to remind everyone it was the original pony car. Then in 1967, Ford introduced double-sided keys that could be put into the ignition either way. That may sound incredibly commonplace now, but back in the '60s it was a big deal. After that, key innovations took a pause for nearly 30 years.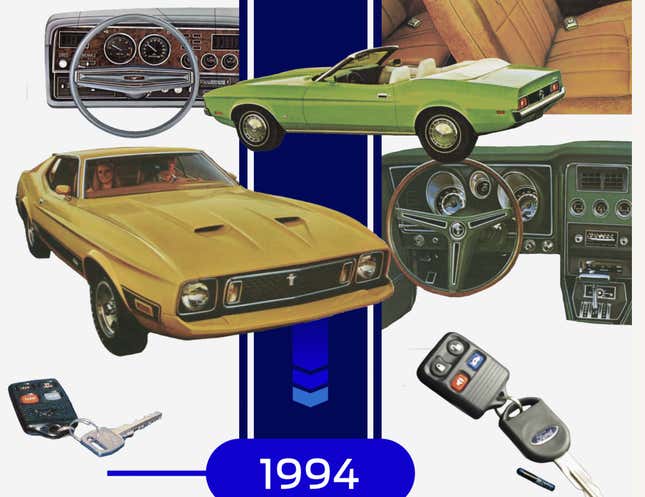 Image: Ford
Fast forward to 1994. You just watched a Lion King and Forrest Gump double feature, and you're in the parking lot heading back to your Foxbody. You click a little button and your stallion unlocks. You own the first mustang with a key fob and a passive anti-theft system built right into the key. You are a legend.
After that, key improvements go dormant until 2012. That's when Ford offered up the Mustang Boss 302 with the TracKey. Slot that into the ignition and the car's brain knew you meant business and improved the 302's performance numbers. Three years later, Ford rolled out the first factory remote start in a Mustang (the real beginning of Remote Rev). One year later, Ford brought FordPass into the mix. It's a smartphone app that lets people control vehicle functions right from their little touchscreen. How novel!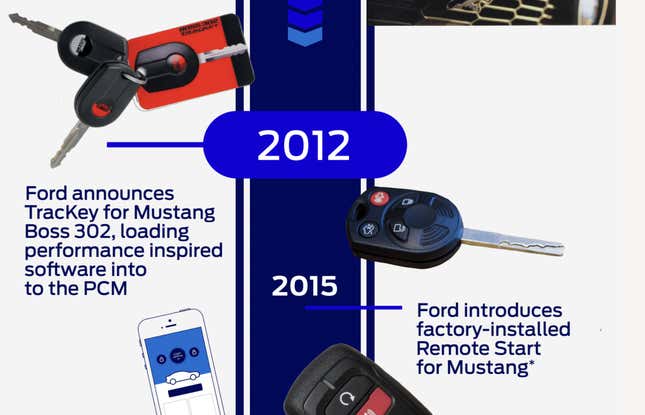 Image: Ford
2018 brought a pulsating light behind the Mustang's push-button start that made it look like a beating heart (in theory). The final key innovation was introduced fairly recently on the Mustang Mach-E. Buyers could choose to use their smartphone as a key rather than the traditional fob.
What a long way we have come.