Nissan Hardbody teased as a modern take on a retro truck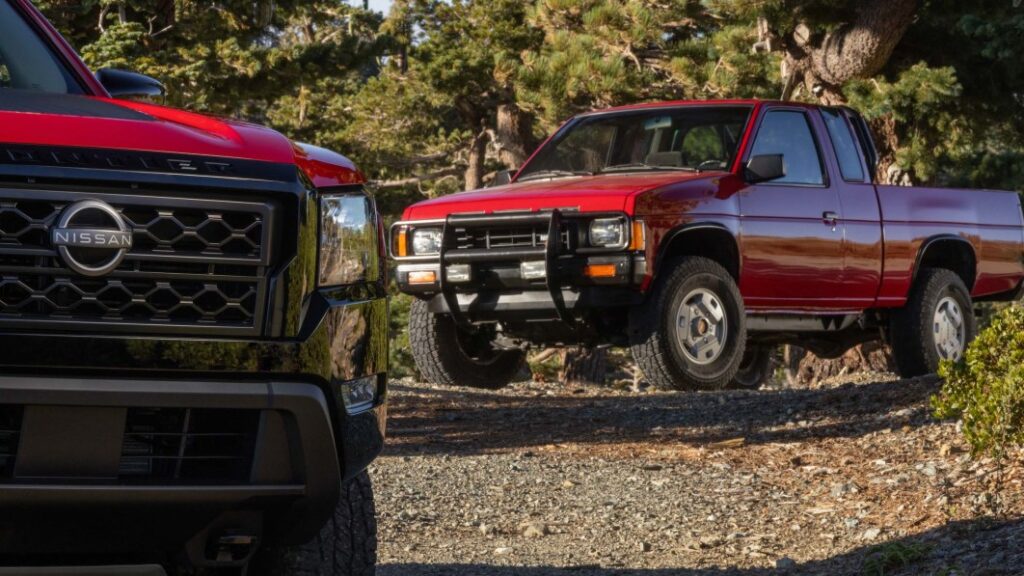 The Nissan Hardbody — it's a pickup truck, not a gym rat — was a staple on and off American roads throughout the 1980s and into the the mid 1990s before it was replaced with the Frontier line. And it seems the Japanese automaker is looking to dip into its history with a new Hardbody of sorts. Judging from the limited views we get in the lone teaser image that has so far been released, we think we might be looking at an off-road package for the current generation of the Frontier mid-size pickup truck.
From what we can see from the single offset frontal view, the reborn Hardbody bears lots of black accents (a mix of shiny at the front and what appears to be matte on the hood to reduce glare), wide fender flares, chunky-looking tow hooks and aggressively treaded off-road tires. That fits in nicely with the Project Hardbody concept truck that Nissan showed off in 2022. That truck also got a three-inch suspension lift and a sport bar in the bed with trick-looking LED lights, but we can't see enough in the teaser to know if those are present on this newer truck.
The current Nissan Frontier benefited immensely from the update it got for the 2022 model year. It boasts a modern(ish) interior to go along with the naturally aspirated 3.8-liter V6 that comes exclusively mated to a nine-speed automatic transmission. Output stands at 310 horsepower, which is competitive, but only 281 pound-feet of torque, which isn't, particularly compared with the latest crop of turbocharged four-cylinder engines from Chevy, Ford and Toyota.
We'll just have to wait and see what the future holds for this new Hardbody. For now, take a good look at the teaser image above and stay tuned for more. Oh, one more thing: we really hope it comes with the sweet retro wheels we saw on the concept truck.