Our branch superstars supporting your community!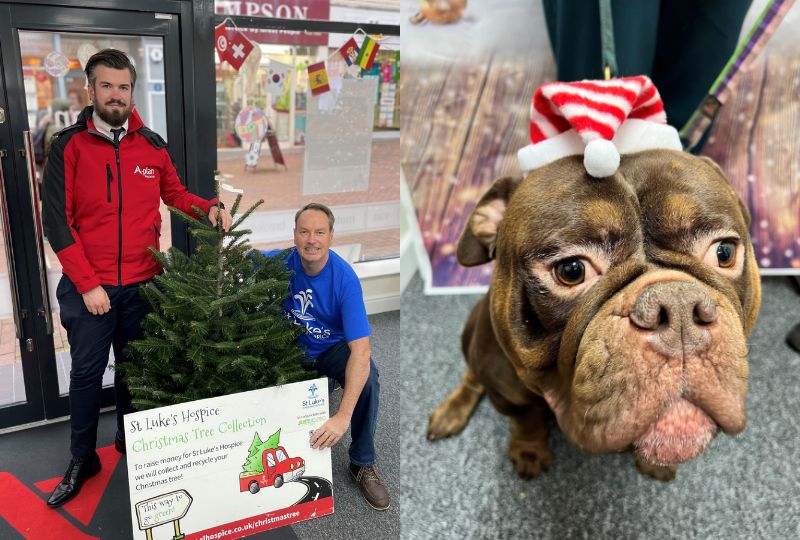 Those who know A-Plan, know that we are very much part of the communities we are based in. With over 100 branches across the UK (and growing), we certainly cover a lot of ground! We wanted to bring a little cheer to the high street this Christmas (and a challenging winter for many), so each branch embarked on ways to raise smiles, financial donations, toys, football boots, foodbank supplies and so much more.
With so many uplifting stories to tell, we hand-picked a few we thought may brighten your day!
A-Plan Horsham's great big toy collection!
Branch Manager Rebecca Williams and her energetic colleagues embarked on an ambitious toy collection scheme for their local food bank – resulting in 600 toys being donated.
A-Plan Horsham's festive focus this year was to bring support to as many families in the local community as possible using food banks. Many families were faced with the terrible decision this Christmas as to whether to focus their money on living costs, or festive food and presents. Rebecca's colleagues worked with Horsham Matters, with a goal of supplying 400 Christmas presents to children.
The team raised awareness within the local community resulting in toy donations –  the branch also contributed £4,000 towards and joined forces with The Entertainer's founder to donate a further £800!
This resulted in an evening of great fun running around The Entertainer's Horsham branch after hours, filling up trolleys of toys.
A-Plan Horsham's great big toy collection!
Rebecca remains incredibly proud of the community and her team's success, "By rallying together, our community was able to have such a positive impact on so many local families. I am so proud to be part of a team that cares so much about the community they live and work in."
The team were able to donate 600 toys to Horsham Matters. The charity responded: "We would like to say again how grateful we have been for A-Plan's support for Christmas food bank and toy provision. What you have done has been fantastic, just imagine the delight you brought children and their parents this Christmas."
A-Plan Bromley's football boot exchange scheme
Eric Flitter, Branch Manager at A-Plan Bromley came up with the ingenious Bromley Boots Exchange to recycle and reuse football boots.  
A-Plan Bromley became the focal point for their local community to donate, exchange or pick up a pair of second-hand football boots.
Eric explains: "With the cost-of-living crisis many parents or carers may find it a real struggle to keep up buying football boots for ever-growing feet. We came up with an idea to use the branch as a donation point to recycle boots that no longer fit. Donors can donate without exchanging, exchange their boots for other sizes or collect a pair of their choice. We have exchanged around 45 pairs of boots and collected around 100 pairs so far!
"The boot exchange has been a great bit of fun but is also something I am very passionate about. Not only does it help the community, it's a great example of useful sustainability."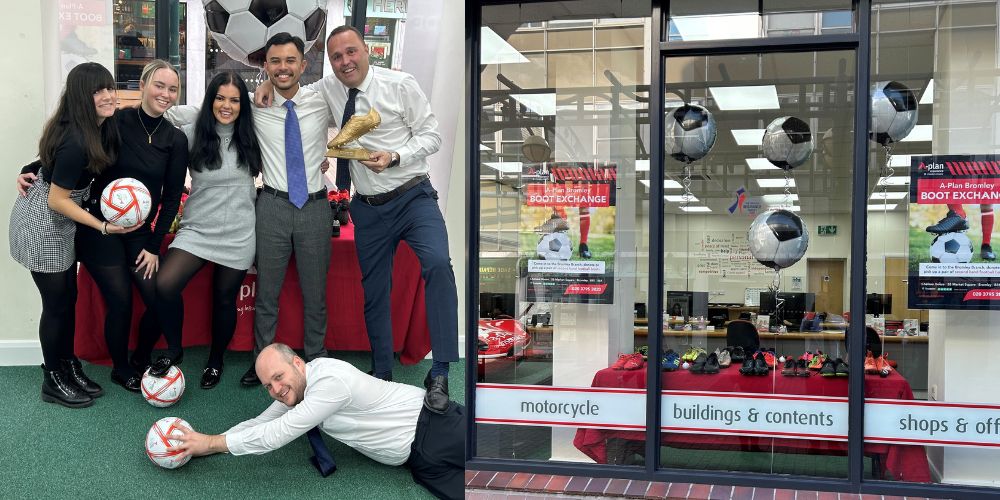 A-Plan Bromley Boots Exchange
The branch teamed up with Bromley FC and local community football clubs to promote the scheme, and local schools have also got involved.  The scheme was so successful, it remains as a permanent fixture in the branch, so if you would like to donate or collect, get in touch or pop in.
A-Plan Worcester's food bank collection
James Parker, Branch Manager of A-Plan Worcester chose Worcester Food Bank – with the aim of encouraging young people to support local families!  
The branch team has supported Worcester Food Bank for many years – with the relationship beginning when the branch was initially approached by the charity to insure their van!
Over the Christmas period, the branch team set about using the office as a donation point, using their social media presence to share details of the campaign. The team started to receive donations each week; some small, some large, and all of which went directly to the food bank and made a big difference. The food bank was delighted by the support.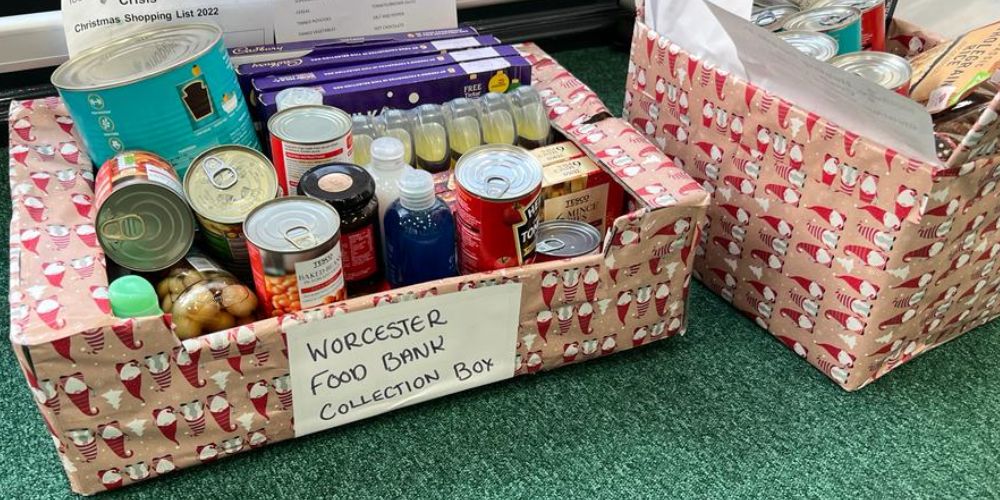 A-Plan Worcester food bank collection
Branch Manager James was particularly thrilled with one large donation from the Hereford and Worcestershire Group Training Association. "A young apprentice saw our Facebook post on a local community page – and set about organising for the young apprentices to arrange a collection, which they donated themselves. It was heart-warming to see so many young people supporting local families.
"For us this was an opportunity to support a client with a cause that helps so many over Christmas – and into the winter. The last few years have been especially challenging for everyone. To be able to do something, no matter how big or small, is a key part of being part of a community.
"We are very lucky to have the location and office space that we do and would like to continue supporting our community by sharing this space. If you'd like to be part of this, please contact either: james.parker@aplan.co.uk or nicola.suciu@aplan.co.uk."
A-Plan Newton Abbot's first Christmas!
A-Plan Newton Abbot's Branch Manager Amanda Vallance and her new team organised a Santa's Grotto to celebrate their branch's first Christmas – with 100 children visiting Santa on the day!
"Our first Christmas in branch was great", says Amanda. "We all got involved with decorating and took part in Christmas Jumper Day. Not only did we have a lot of fun, but it really made us stand out on the high street – everyone was walking past and stopping to look at our decorations, posters, and a hamper competition."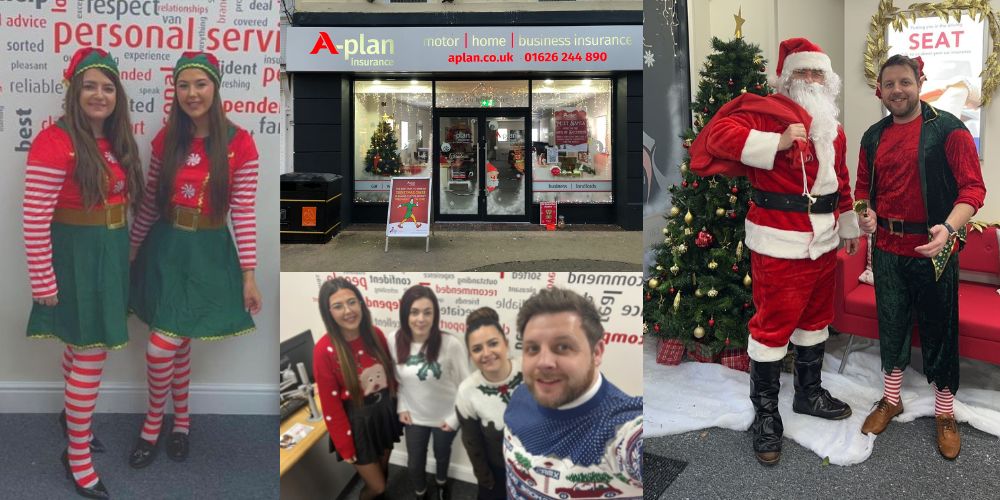 A-Plan Newton Abbot's first Christmas!
With this year being their very first Christmas, the team wanted to focus on raising community spirit and getting to know their neighbours. With the cost-of-living crisis in mind, they set about hosting a fun event that everyone could attend, without a financial cost.
"We hosted our very own Santa's Grotto on the 19th December! We were initially worried about footfall having not done this before – and social media being relatively quiet during this time. We needn't have worried as we had 100 children pop in to see Santa and receive gifts from us!
"The reaction from the children was priceless. It just made me feel such pride that I work for a company that will invest in their community and give back. Events like these always amplifies why I love my job and the company that I work for, and I am so proud of my team for really getting stuck in."
A-Plan Thatcham's best dressed Christmas window community competition
It was a very sociable Christmas for A-Plan's Thatcham branch: a best dressed window competition entry, the Great Thatcham Santa Fun Run, and the Christmas lights switch on! 
Each year Thatcham Town Council team up with Newbury Weekly News to host the window competition between businesses in Thatcham. With A-Plan Thatcham winning in 2020, this year, to celebrate the life of the Queen, the team chose 'A Royal Christmas' as their theme.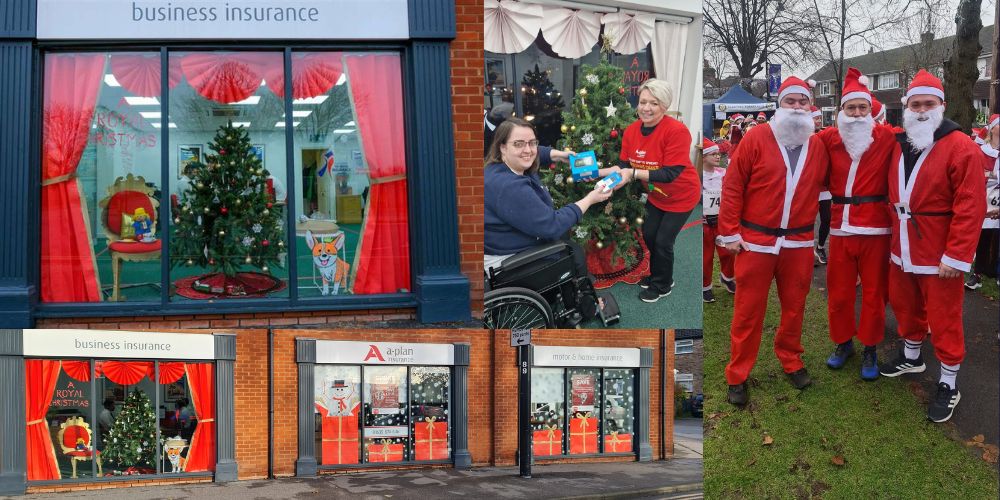 A-Plan Thatcham's Christmas window, giveaways, and Santa Run
Centre Manager Luke Mason comments, "Clients and the passers-by would stop at the windows and smile, wave and give a thumbs up to staff as a sign of approval for our display. And the local children absolutely loved it, along with the colouring in pictures we'd printed for them!"
The branch team also sponsored and took part in the 2022 Great Thatcham Santa 5k Fun Run with team members Gareth, Ben and Henry taking part wearing Santa suits and beards (with an impressive second place finish as well!). The team also donned their Christmas finest to attend the Christmas lights switch on, giving out children's activity packs and fantastic prizes, including a Ring Doorbell and Alexa Show 5.
Results now in: The branch took second place in the window competition with an incredible 454 votes, to the winners 'House of Cards' 457 votes (both taking 33% of the votes each)! A big congratulations to House of Cards, and congratulations to our enthusiastic branch team who continue to put their heart and soul into all they do.
A-Plan Northwich's Christmas tree collection
Branch Manager, James Bull, and his A-Plan Northwich colleagues turned unwanted Christmas trees into funding for St Luke's Hospice!
The A-Plan Northwich team supported a Christmas tree recycling service for St Luke's Hospice this year. January is a notoriously difficult time for any charity, so the Christmas tree recycling scheme, which generates £10 per tree collected, is an invaluable resource to the community.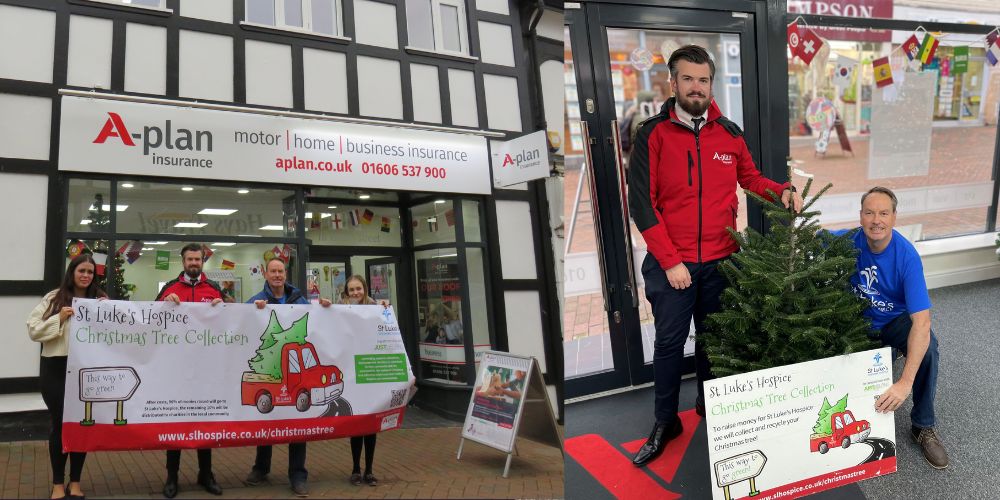 A-Plan Northwich's Christmas tree collection
Branch Manager James Bull explains why his team got involved. "Supporting the scheme was more crucial than ever this year – last year the collection team picked up over 3,200 Christmas trees from Northwich homes, renting vans to do so. With the increased price of fuel since the last collection, the scheme needs all the extra help it can get.
"St Luke's is very much part of our local community, so we invited our community to register to donate their trees to the scheme – St Luke's confirmed that at the time of writing this blog, over 3,000 people had signed up. With more wanting to be involved in the scheme, the charity also set up the option to pay for treatments directly! My team and I are so happy to have played a part in this, it gives us an enormous sense of pride."
A-Plan and Pol-Plan Tooting's pet portraits and Ukraine collection
A-Plan Tooting and Pol-Plan celebrated Christmas Jumper Day – for pets – while raising donations for food banks and Ukraine!
This year, instead of just branch colleagues wearing Christmas jumpers, the wider Tooting community and their pets were invited to have a portrait taken. Not only did participants and their pets enjoy themselves – the revelry also raised donations for Save The Children.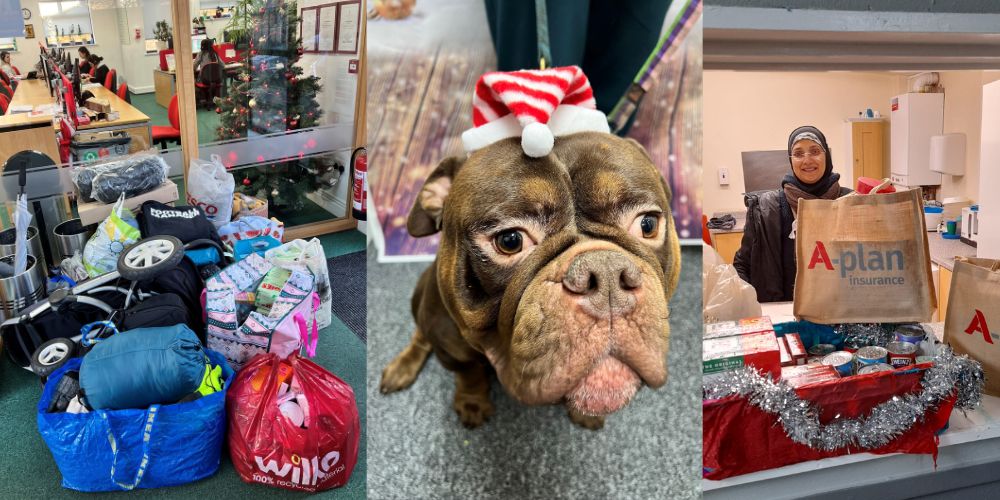 A-Plan and Pol-Plan Tooting's pet portraits and Ukraine collection
The team also set up a food bank donation station for Tooting Community Kitchen. Branch Manager, David Parker explains: "This winter, with the increasing cost-of-living, supporting those in need makes a huge difference. We are glad to see how many of our colleagues and members of local community are getting involved.
"We also didn't forget about people struggling in Ukraine. During winter, the temperature can drop to -25 C. Our colleague's friend collects warm clothes, food and sanitary products and delivers them himself, directly to those in need. Within our Pol-Plan and A-Plan office we donated first-need items, as well as sweets and toys for children. It's amazing to see how much good people can do if they see a great cause. This is the true spirit of Christmas."
Many of our branches run year-round community campaigns and open their offices up to local businesses in terms of physical space and offer spaces on their community noticeboards. If you would like to get involved, or list your business on their noticeboard, simply give your local branch a call or pop in for a chat.