Porsche 996 "Swan Car" is fanciful fun at SXSW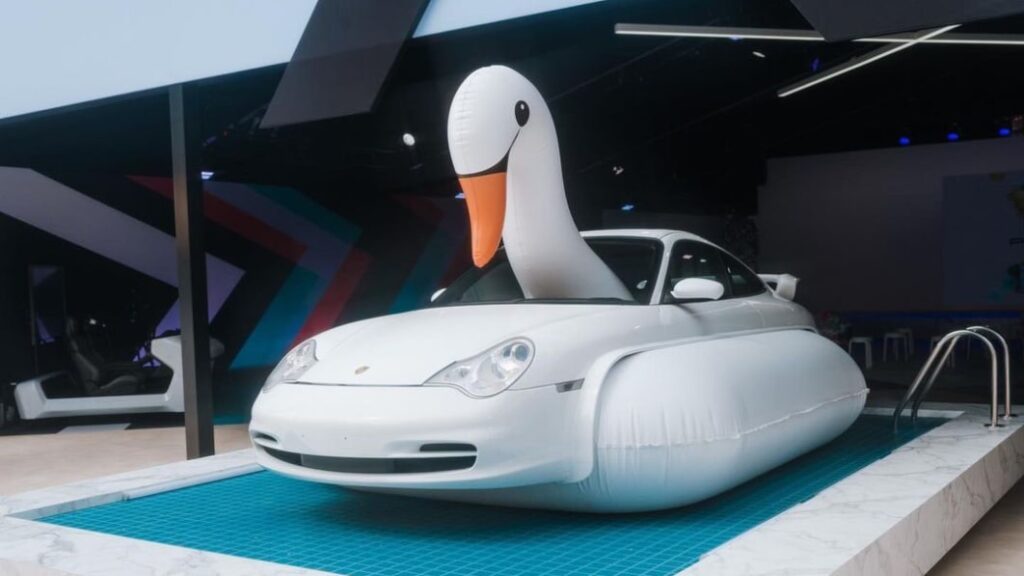 The star of the show at Porsche's South by Southwest presence was undoubtedly the Nebula 928, but Stuttgart has another another art car up its sleeve. Whereas the 928 is a serious study of Y2K-era design, the 911 Swan Car is pure bizarre fun. There's nothing nebulous about the name, either. It's quite literally a Porsche turned  into a giant white cygnus.
The Swan Car is based on a 996-generation "cracked egg" 911. Artist Chris Labrooy then went about de-wheeling the car and stripping out the interior before inserting a 8-foot inflatable waterfowl through the carcass. Its graceful neck extends out from there the windshield would be while the inflated body acts as the base, emerging from either side like puffy tank treads. 
Porsches are frequently the subject of Labrooy's work and the artist has collaborated with the company before. In 2020 his Dream Big at the Pérez Art Museum Miami featured a life-size 911 Carrera 4S placed next to a sculpture of a racing helmeted figure. It appeared as if the figure was playing with the car like a Hot Wheels toy.
He often puts his subjects in odd environments, such as a 911 Turbo nose-first in a swimming pool, its whale tail fluking out of the water. Upon looking at his works you can also find them on top of houses, on trees, in water, and on other Porsches. 
Converting cars into giant floaty toys is a favorite of Labrooy's, like when he converted an early duck-tailed 911 into a pink flamingo, or better yet, a rubber ducky. If aquatic birds aren't your thing, there's also an inflatable camel. Porsches aren't his only subjects. Perhaps you prefer a Supra as a bull, a BMW 3.0 CSL as an elephant, or a Nissan GT-R as Godzilla.
We featured Labrooy's artwork back in 2013 when he was stretching cars into interlocking pretzels. If you're worried about any of these cars, don't. All of Labrooy's works have been digital creations until Big Dreams, and the swan 996 is the first real car that he's modified for art. It looks like a GT3; hopefully it's an ordinary 996 with GT3 parts. It might be the least loved generation of the 911, but it looks surprisingly good in Labrooy's sculpture. Maybe the ugly duckling can grow up to be a swan after all.
Related Video