Rivian Has Another Recall, This Time for R1S Side Curtain Airbags
Image: Rivian
Every moderately successful electric vehicle maker deals with its share of growing pains, and Rivian's going through them right now. Supply chain constraints are keeping it from reaching its production goals. Amazon didn't come through with the big order for its EDV van that the startup had hoped for. It's shedding key executives, and it's had more than its share of recalls over the past year. You can add one more recall to that list, as the company has discovered an issue with the side-curtain airbags on its R1S SUV.
This particular recall only covers 30 vehicles manufactured between October 28 and January 21. In February, Rivian determined that one of these SUVs at its assembly plant employed defective fasteners that failed to secure the airbags to the roof rails, limiting the airbags' effectiveness in the event of a crash. After January 21, Rivian switched to different hardware. The automaker isn't aware of any injuries related to the issue at this time.
According to the National Highway Traffic Safety Administration's Defect Notice, Rivian was able to determine that only 30 trucks were affected by looking through its production records. The company will of course replace the fasteners, and reimburse any customers who may have already paid for such repairs. Dealer and owner notices are expected to go out April 28, but as always, you can check if your R1S is one of the unlucky ones by visiting the NHTSA's website and using its vehicle lookup tool.
This isn't the first Rivian airbag recall. That happened back in May and involved a buggy passenger seat sensor, which could lead to airbag deployment harming small children. That was 502 trucks. Then, another 200 for cross-threaded seatbelt bolts, followed by an issue with one of the R1T's party pieces, its powered tonneau cover.
But those all paled in comparison to the 12,200-truck recall that stemmed from an improperly torqued steering knuckle fastener, which covered every single R1T and R1S on the road at the time. Only a "small percentage" of vehicles were said to have the issue, which increased the chance of a wheel collapsing or separating from the suspension, but Rivian couldn't pinpoint precisely which did. So it called them all in.
G/O Media may get a commission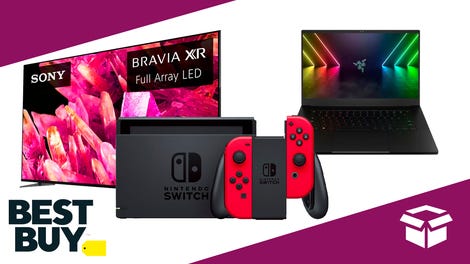 Three Day Sale!
Best Buy – 3-Day Sale
Big sale! Three days only!
Best Buy's exclusive three-day deal touches every category sidewide. If there ever was a time to buy some tech, it's now.
Today's campaign is thankfully much, much smaller, but Rivian really doesn't need this now. Not when it's trying to concentrate on doubling its output in 2023. Like its competitor and investor, it needs to get it together.