Some Dumbass Dumped A Pile Of Tires In A Cancer Patient's Driveway, Trapping Her At Home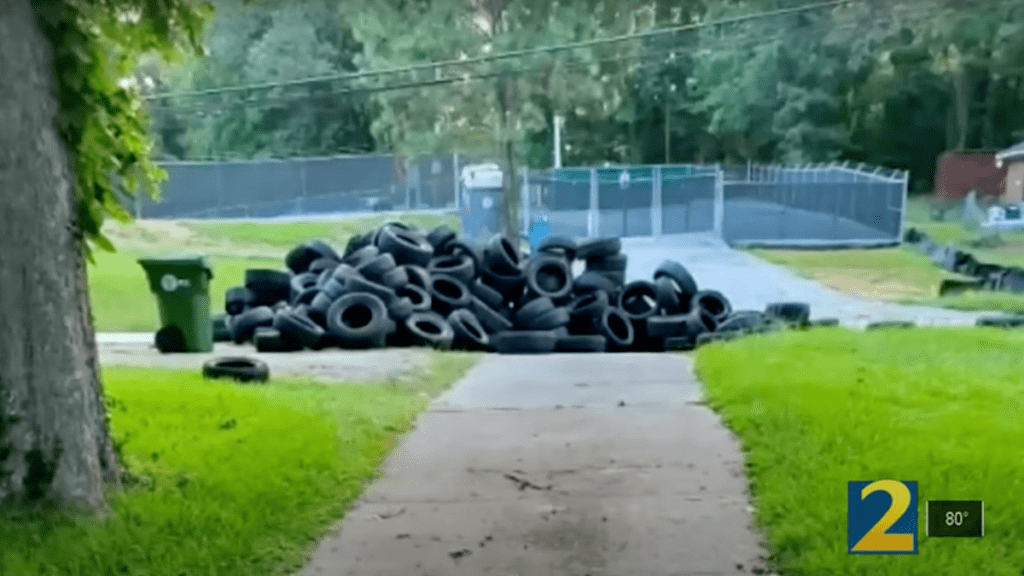 Screenshot: WSB-TV YouTube
Dumping is illegal in most places, for good reason too. You can't just take crap you don't want and dump it somewhere to be someone else's problem. But people still do it without a care or thinking about who it might affect and who has to clean it up. It happened to one Georgia woman, who not only had a dumping problem on her hands now, but couldn't even leave the house, Atlanta's WSB-TV reports.
Ride Along in the 2024 Corvette E-Ray on Track
Denise Cutts was asleep inside of her home around 2 a.m. when her neighbor's surveillance cameras captured a man stopping in front of her house to dump a very large load of tires in front of her driveway. When confronting the man — who still hasn't been identified — he told them the reason he was dumping the tires was because "his truck got stuck and weighted down by the tires."
The neighbors say they called the cops, but they don't know what happened to the man. Cutts, meanwhile, had a driveway full of tires, which meant she couldn't drive herself anywhere from the house. "The most hurtful part of it is, I'm a cancer patient and I have a lot of appointments and I was heading to one this morning and I couldn't even get out of my driveway," Cutts told WSB-TV.
By the next morning someone was kind enough to move the tires from her driveway to her lawn. But that only brought more problems, problems that weren't hers to begin with. Wednesday, Cutts came home to an illegal dumping ticket from the city that told her she had 24 hours to move the tires or legal action would be taken against her. Cutts contacted the city who said they'd have someone out by Monday to remove the tires.
This is all just a reminder to not be a crappy person and dump your things in front of someone else's house, let alone don't dump anything someplace it clearly doesn't belong. Not only is it common sense, it's just the right thing to do.