SpaceX Starship Rocket Explodes During Launch Test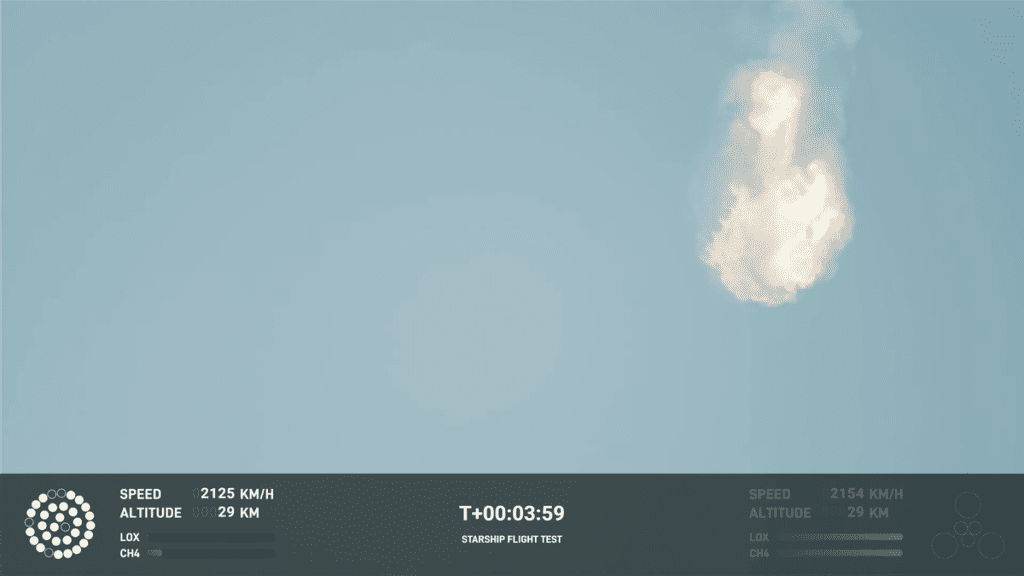 Screenshot: SpaceX on YouTube
This morning, SpaceX's Starship rocket was set to make its biggest test yet: Liftoff from the company's Starbase launch site in Texas, with reentry and splashdown in Hawaii. At first, things were going well—the rocket did manage to leave its launchpad in Boca Chica. Then, things went sour quickly, culminating in a massive midair explosion.
Ramón Rodríguez's First Car Was a $200 Mustang Called 'Death Trap'
In case you missed it:
After launch, a readout on SpaceX's YouTube stream of the launch marked a number of engine failures on the rocket. Starship's first stage, called the Super Heavy Booster, uses an arrangement of 33 SpaceX Raptor engines—three of which failed at or before launch. During the rocket's brief flight, two more engines burnt out, bringing the total to five.
Minutes into the flight, Starship began to rotate in the air, falling into a spin. Commentators on SpaceX's stream said that, by this point, the Starship flight could no longer be considered a "nominal situation." They also stated that the Super Heavy booster should have separated by this point in the flight.
Starship Flight Test
Then, three minutes and 59 seconds into the flight, Starship detonated into a ball of flame. Commentators on NASA Spaceflight's simultaneous stream postulated that the rocket may have been intentionally scrubbed, using an "automated flight termination system," but SpaceX commentators described the situation as "rapid unscheduled disassembly." It's not clear if that quip meant that the automated termination system did engage, or if something worse happened within the Starship system.
BOGO 50% OFF
Baked Bags Coned Edibles
Mellow out with these grown-up treats
Baked Bags stuff 25mg of Delta-8 THC into each cone, and 100mg per "extra strength" cone. So if you're looking to mellow out, relax, and have a good time, these treats should do the trick nicely.
As a test flight, this was still a success for SpaceX. The Starship system hadn't before cleared its launch pad under the power of the Super Heavy booster, and the data SpaceX gained from the flight is likely irreplaceable. Still, they likely would've preferred if it hadn't blown up.