Super Bowl attack ad shows Tesla slamming into child-size mannequins and a stroller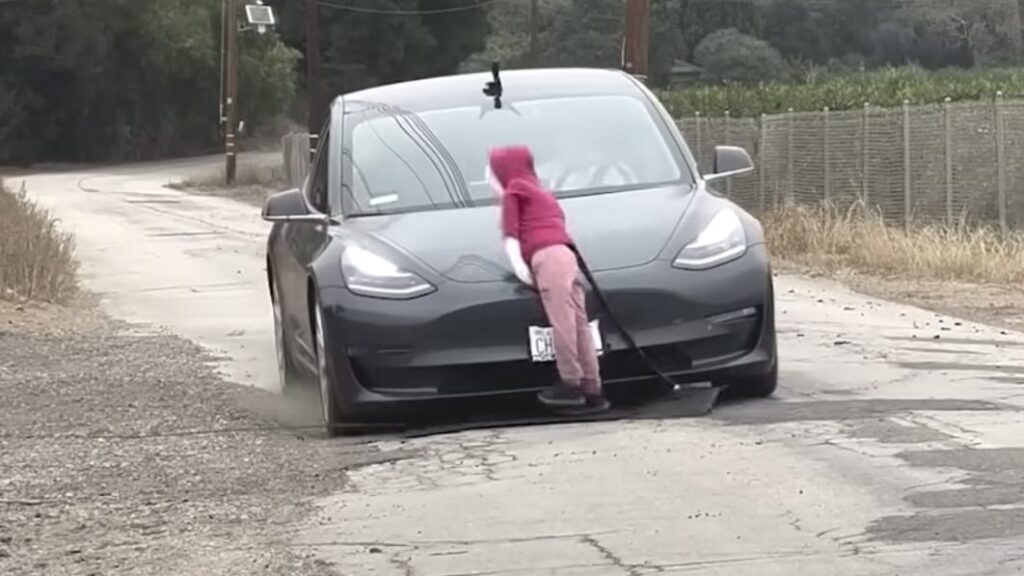 The
Dawn Project's ad shows a
Tesla hitting a child-sized mannequin.
Courtesy of The Dawn Project
A Super Bowl ad showed a Tesla slamming into two child-sized mannequins and a stroller.
It was created by The Dawn Project, a group that has long attacked Tesla's self-driving tech.
Tesla CEO Elon Musk said the ad would raise awareness a Tesla could drive itself while supervised.
An advertisement that aired during Sunday's Super Bowl showed a Tesla slamming into two child-sized mannequins and hitting a stroller.
The 30-second ad was created by The Dawn Project, an organization that campaigns to ban what it calls "unsafe software." It was founded and is funded by California tech entrepreneur and Tesla critic Dan O'Dowd, who is also CEO of Green Hills Software, a company that develops self-driving software.
The Dawn Project says the ad shows tests it performed with a Tesla using the company's Full Self Driving (FSD) feature. In it, a Tesla can be seen swerving towards oncoming traffic, driving past a stopped school bus, driving on the wrong side of the road, and ignoring "Do Not Enter" signs.
The ad also shows a Tesla slamming into a toddler-size mannequin that's being pulled over a crosswalk, hitting a stroller in a car park, and crashing into a larger mannequin that's being pulled across a road. Insider has separately viewed driver's eye footage of the test involving the larger mannequin that shows FSD is engaged.
Tesla didn't immediately respond to Insider's request for comment, made outside normal US operating hours.
Tesla CEO Elon Musk, who was pictured sitting next to Rupert Murdoch at the Super Bowl, said in a tweet Sunday that The Dawn Project's ad would "greatly increase public awareness that a Tesla can drive itself (supervised for now)."
In response to a Tesla fan account that accused The Dawn Project's testing of being "fake," Musk replied with a rolling-on-the-floor-laughing-face emoji.
Tesla says FSD enables its vehicles to automatically change lanes, enter and exit highways, recognize stop signs, and more. It's an add-on feature to the company's Autopilot software and costs $15,000 in total, or $199 for a monthly subscription.
The Dawn Project's ad said Tesla was "endangering the public with deceptive marketing and woefully inept engineering." On its website, The Dawn Project says Tesla's FSD software is "not safe for public roads."
The organization said its tests were conducted on public roads and showed that FSD "will commit a concerning array of critical driving errors."
O'Dowd tweeted Saturday saying The Dawn Project had six months ago reported that a Tesla with FSD enabled "would run down a child." O'Dowd said the National Highway Traffic Safety Administration (NHTSA) should "turn off FSD until Tesla fixes all safety defects."
The NHTSA launched a program to test fully-autonomous vehicles in 2020. Tesla has been able to avoid reporting collision data to the Department of Motor Vehicles as it maintains that its cars aren't currently classified as fully autonomous, because they still require human intervention.
It's not the first video The Dawn Project has made about Tesla's FSD, the safety of which has been questioned by beta testers in recent years. The organization released a video in 2022 showing a Tesla plowing through mannequins.