Surviving Countach from 'The Wolf of Wall Street' headed to auction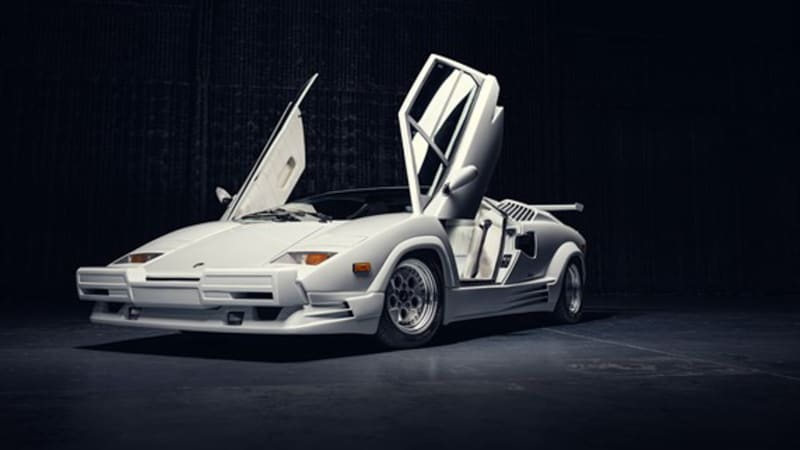 The Lamborghini Countach's rarity and status as the bedroom wall poster car of the 1980s has made it exceedingly valuable as a collector's car. That said, a few examples of the car have risen above the rest as incredibly rare and expensive, and one of these super-special Lambos is headed to auction in December. RM Sotheby's recently announced that it would auction a 1-of-12 white Countach that starred in "The Wolf of Wall Street."
The 1989 25th Anniversary Bianco Polo Countach is one of two cars used in the film, but the other was badly damaged during production. With its U.S.-spec bumpers and Bianco (white) interior, the car is considered exceptionally valuable – at up to $2 million by some estimates. The damaged car still wears its scars, but Sotheby's pointed out that the Countach in its auction sustained no damage during filming. The location and current condition of the other Countach are unknown, but as far as we can tell, no one has attempted to restore or auction it in the years since filming. 
With a 5.2-liter V12 under its rear hatch, the Countach was like something from outer space at the time. That sizable powerplant made 449 horsepower and 370 pound-feet of torque when new, which reached the rear wheels through a five-speed manual transmission. Its performance isn't all that impressive by today's standards – it takes around 5 seconds to hit 62 mph (100 km/h) from a standstill. The 190 mph top speed is quite stout, but the Countach's appeal is about more than its specs.
From its debut in the early 1970s, the Countach has commanded the imaginations of car enthusiasts, young and old. Many of us grew up in the 1980s with the car plastered on our bedroom walls, and its staggering 26-year production run is the stuff of legends. The 25th Anniversary models had styling touches designed by Horacio Pagani, and this car is breathtaking, even with its goofy U.S. bumpers — safety regulations here required the addition of awkward bumper guards on the car's nose.
Related video: