Take a Sneak Peek inside the Audi Tradition Warehouse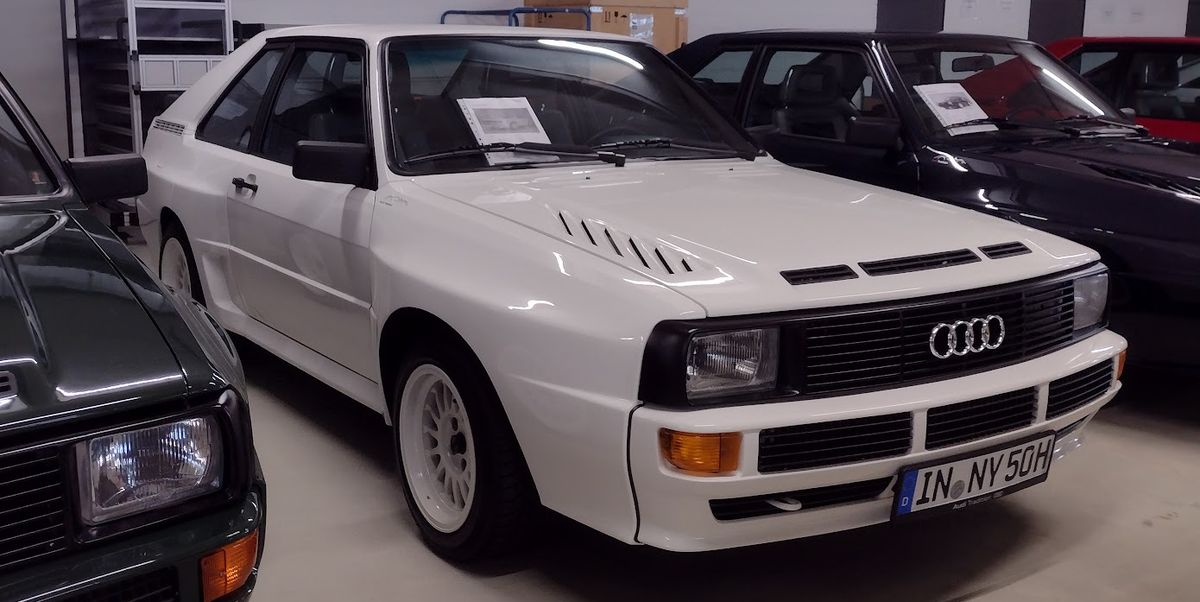 Car and Driver
Audi's home city of Ingolstadt, Germany, houses the brand's official history museum, which is open to visitors, along with a delivery center and corporate offices. There's also a lesser-known building that is typically not open to the public. It houses the Audi Tradition vehicles. They include 726 cars and some 200 motorcycles and include retired Le Mans racers and rally cars, early Sport Quattros, and the first left-hand-drive car in Germany (in 1928). We recently had a rare opportunity to take a tour. Here are some highlights.
Advertisement – Continue Reading Below
A row of Audi Sport Quattros, including this 1984 example, was particularly impressive. This Group B rallying homologation special was radically reworked from the standard coupe Quattro, with more than a foot chopped out of the wheelbase, an aluminum 2.1-liter five-cylinder turbo good for 302 horsepower, and wider wheels under blistered fenders. It was the most expensive German car when introduced and can fetch more than $500,000 today.
The first eight-cylinder Audi, the Type R 19-100 was nicknamed "Imperator" ("Emperor"). Its side-valve 4.9-liter straight-eight made 100 horsepower, but only 147 were built in 1928 and '29.
The two-door Audi 80 wagon, built from 1966 to 1968, was a contemporary of the Volkswagen Squareback, but with its powertrain at the front rather than the rear. This is a '67 model.
In the Auto Union family of brands, Wanderer was a midlevel offering, and it ambitiously went after the BMW 328 with its W25K roadster. The "K" for "Kompressor" denotes a supercharged engine that was good for 85 horsepower but also known for its mechanical fragility. Despite the swoopy styling, only 260 were sold between 1936 and 1938.
This sporting version of the Audi 80 featured a fuel-injected 1.6-liter engine good for 108 horsepower. That engine would go on to power the first-gen Volkswagen GTI.
DKW primarily built motorcycles, but in the early Thirties it branched out into automobiles like this roadster, which claimed to be the first mass-produced front-wheel-drive car. It used a 600-cc motorcycle engine and had a simple wood body.
Audi Motorsport was established in 1978, initially for the purpose of rallying. This is the first Quattro rally car, which was used as a chase car in the 1980 Algarve rally. It actually proved to be 30 minutes faster than the rally winner.
The DKW Schnellaster was the first Auto Union product built after the War, starting in 1949—predating the Volkswagen Bulli. The name, which translates to "fast transporter," was something of a misnomer, given the two-cylinder, two-cycle engine up front, sending 20 horsepower (later 22 hp) to the front wheels.
Built from 1994 to 1995, the RS2 wagon kicked off Audi's RS line of ultra-high-performance cars. A joint effort with Porsche and assembled in Zuffenhausen, all RS2s were wagons and were powered by a turbocharged inline-five making 311 horsepower. Most were blue, silver, red, or black, but any Porsche color could be had, including this striking green.
Of the four Auto Union brands, Horsch stood at the top with imposing machines like this 853 A. "A" for autobahn, signifying an overdrive transmission, which was paired with a 4.9-liter straight-eight that was good for 120 horsepower. The model was a rival to the Mercedes-Benz 540K.
This content is created and maintained by a third party, and imported onto this page to help users provide their email addresses. You may be able to find more information about this and similar content at piano.io
Advertisement – Continue Reading Below