Tesla NACS Charger: All the Upcoming Compatible EVs and Charging Networks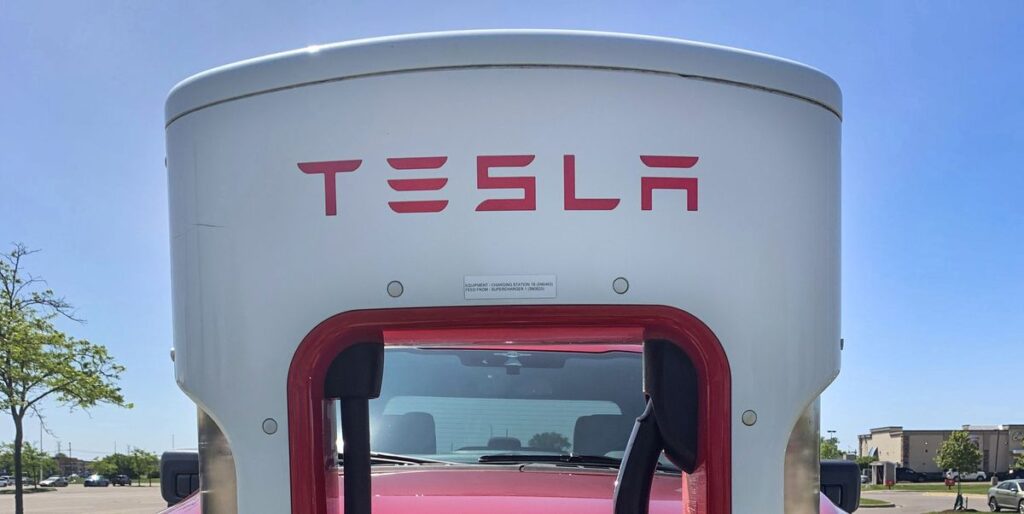 People who drive diesel- or gas-powered vehicles can pull up to almost any fuel pump and fill their tanks without having to think twice. It's not that simple for EV drivers. That's because electric vehicles currently have one of several different charge ports, from the oddball CHAdeMO to the more common Combined Charging System (CCS) and Tesla's propriety North American Charging Standard (NACS).
Tesla's NACS charge port and the company's extensive network of Superchargers are largely considered the gold standard, and it appears other automakers are ready to make Tesla's system the industry standard. Back in May, Ford was the first to agree to team up with Tesla and adopt the NACS plug, then the dominos started falling, with several other automakers recently announcing agreements with Tesla. The Society of Automotive Engineers (SAE) International also just announced that it will standardize the NACS connector.
With other automakers—and charging networks—expected to adopt Tesla's plug, we've compiled a list of them as well as those we've heard are in talks to join. We'll update this list as new agreements are confirmed or if we hear of more potential deals.
Automakers That Have Agreements with Tesla
Ford
Starting in the spring of 2024, Ford EV owners will have access to the Tesla Supercharger network. Currently, the Ford F-150 Lightning and Mustang Mach-E feature a CCS-type charge port, but an adapter will allow them to connect to Tesla's fast-chargers. Sometime in 2025, Ford says its new EVs will feature a standard NACS plug.
GM
General Motors was the second automaker to ink a deal with Tesla to adopt its charge port. GM EV owners will gain access to Tesla's Superchargers starting in 2024 with an adapter that lets their CCS ports work with NACS. GM will begin making NACS standard on all of its EVs starting in 2025. The company also said it will offer adapters so NACS-equipped models can connect to CCS chargers.
Rivian
Following Ford and GM, Rivian has agreed to work with Tesla, with the R1T pickup truck and R1S SUV getting NACS ports sometime in 2025. An adapter for those models will become available next year.
Polestar/Volvo
Polestar and Volvo are the first foreign automakers to team up with Tesla. The Chinese-owned Swedish brands will both make the NACS port standard on all of its EVs starting in 2025. Like the other companies, an adapter to make their CCS ports compatible with Tesla's Superchargers will be offered in the first half or middle of next year. Polestar and Volvo will also offer a NACS-to-CCS adapter for those who need to connect to a non-Tesla charger.
Automakers Reportedly In Talks with Tesla
Hyundai
Hyundai Motor Company, which also includes the Kia and Genesis brands, is reportedly looking into making its EVs compatible with the NACS port, per a report by Reuters. While the Korean automaker has publicly expressed interest, Hyundai President Jaehoon Chang is also said to have expressed concern over the fact that Tesla's 400-volt fast-chargers currently don't allow the higher charging speeds that Hyundai's 800-volt electrical architecture is capable of on other chargers.
Stellantis
Stellantis executives have confirmed that the company is considering adopting Tesla's charge port, according to a report by Reuters. However, an official deal has yet to be announced. In the U.S. market, the automakers that are part of Stellantis include Chrysler, Dodge, Jeep, Maserati, and Ram.
Volkswagen
Volkswagen is said to be considering a deal with Tesla, as reported by Reuters. The automaker's decision to adopt a NACS port would likely impact other brands under its umbrella, which in the U.S. market include Audi, Bentley, Bugatti, Porsche, and Lamborghini.
Charging Networks Adopting NACS
Along with the automakers who have announced agreements with Tesla, some public charging networks have also inked deals to offer the NACS connector at its stations.
ChargePoint
ChargePoint has announced it will add the NACS-type plug to its charging stations. However, the company hasn't revealed any specific details about when that will happen, other than simply saying it will be "soon." ChargePoint also said it will continue to offer other types of chargers.
Electrify America
Electrify America, which is owned by the Volkswagen Group, has announced that it too will adopt Tesla's NACS connector. The charging network said it plans to offer the new plug at its stations in 2025. It will also continue to offer other types of plugs.
Following the NACS Movement
Senior Editor
Eric Stafford's automobile addiction began before he could walk, and it has fueled his passion to write news, reviews, and more for Car and Driver since 2016. His aspiration growing up was to become a millionaire with a Jay Leno–like car collection. Apparently, getting rich is harder than social-media influencers make it seem, so he avoided financial success entirely to become an automotive journalist and drive new cars for a living. After earning a journalism degree at Central Michigan University and working at a daily newspaper, the years of basically burning money on failed project cars and lemon-flavored jalopies finally paid off when Car and Driver hired him. His garage currently includes a 2010 Acura RDX, a manual '97 Chevy Camaro Z/28, and a '90 Honda CRX Si.